Average Ratings
---
11 out of 14 people recommended this car.
---
Got jipped
by A-- from Delaware | October 28, 2015
As a pizza delivery driver, I was looking for the best available gas mileage along with the best reliability. I bought a 95 Honda Civic DX with 5 speed standard trans. It had 159,000 miles on it. I drove it for a year and put about 30k on it and didn't really have any issues. I was pretty disappointed with the power of the car, especially delivering pizza in a very hilly area where everyone likes to floor it all the time. However, I really can't complain since the gas mileage was amazing (50mpg hwy, 30ish while working). Anyway, on to the important stuff I began experiencing issues around 193k. First the master cylinder went bad. Had to have a shop remove the old one and install the new one due to the brake lines being rusted to the old one. Next was the valve cover gasket and grommets. Both axles needed replacing, as well as some other parts of the front end. Oil pan began leaking. Transmission leaks. Oil pan gasket was replaced and continued leaking. Car stinks like coolant despite not finding any leaks in the hoses or under the car (heater core? water pump?) Car grinds when shifting into reverse. Doesn't like to shift into 1st unless car is stopped completely. After missing much work and putting lots of money into it, I now have smoke billowing up from under the hood along with the strong stench of coolant and I can't find any sign of a leak. In any case I have given up on it and buying something else. I completely expected to get at least 250k out of the car after hearing so many people raving about it. It was very well maintained, regular oil changes with full synthetic and Lucasoil. Basically, if you want a car with a good, reliable engine, then this is for you. However, be warned that EVERYTHING ELSE falls apart with time just like any other car.
Purchased a new car
Uses car for Work
Does not recommend this car
---
One of the best cars ever
by Loves Hondas from Mid-South | July 30, 2015
Bought one of these new, still have it, still love it. It's 20 years old and I'm routinely stopped in parking lots by people wanting to buy it. GREAT gas mileage; low, stable ride; holds lots of cargo; fun, zippy manual shift; super reliable.
Purchased a new car
Uses car for Just getting around
Does recommend this car
---
Non Vtec
by willyEG5 from Lace City, MI | December 15, 2011
This car has a D16y7 which is a swap from the d15 but the Y7 which is the head code and the non Vtec 1.6l head.
Purchased a new car
Uses car for N/A
Does recommend this car
---
i own the exact car
by shwobs from new york | November 17, 2010
its very hard to find a 95 honda civic lx with abs, i personally own one with abs but seen many others with out it, mines rare because it comes stock with factory all wheel dic brakes. not quite sure about this one but it seems like a good car
Purchased a new car
Uses car for Just getting around
Does not recommend this car
---
Owned the Si for 4 years, excellent car!
by Wistful_EH3 from Southern California | September 9, 2010
Oh, How I will miss this car's performance and reliability! Excellent bang for the buck! I admit I did a little above and beyond the standard maintenance and aggressively chased oil leaks and other issues, but this car NEVER failed me, and I beat up on it in the most loving way that I could. VERY reliable. I put about 50k miles on it during my ownership. It's lightweight, so great gas-mileage and great response to performance modifications. You haven't LIVED till you've thrown a front-sway bar and some decently matched springs and shocks on this thing, and thrown it into some corners. It is ultimately an economy car, though, and mine was 15 years old. Wind and road noise are significant issues compared with newer cars. However, for the hardcore do-it-yourselfer, I have read that new rubber seals on the doors and the addition of "brown bread" to the stripped chassis did wonders in making the vehicle more comfortable. Bottom line, if I had a spare garage and even a little extra cash, I would have LOVED to still have this car, and would lovingly have continued to improve it and modify it for both comfort and performance. Good bye, little hatch! You will be missed sorely!
Purchased a new car
Uses car for Commuting
Does recommend this car
---
Oooh, if I could find another new one of these....
by TPTB from Miami, FL | July 26, 2010
I bought this car new and drove it for 10 years. When I sold it it had 270,000 miles, and the only thing I'd ever done to it other than routine maintenance was change the CV Joints. I went through a lot with this car and it never once let me down. One time I had a tire blowout while going 75mph on interstate 40 and I could barely feel it. The car was smooth the whole time.
Purchased a new car
Uses car for Commuting
Does recommend this car
---
Undeniably BEST VALUE!!
by Honda DEVOTED from Fircrest | June 25, 2010
I have owned two Honda hatchbacks in the past. The first (1991) for 12 years, my current (1995) for 4 years and counting. I have saved bundles of money because these cars just go and go and go. My car is comfortable and the style gets comments (mostly from the younger set!). I have three dogs. They have plenty of space in the hatch area! Not only that, but I've hauled plants, dressers, landscape plants, bags of garden soil, camping equipment, cement blocks... AND gone skiing along with lots of hiking in the mountains. This car is the greatest.
Purchased a new car
Uses car for Just getting around
Does recommend this car
---
92 civic vx/dx
by civiclifer from minnesota | February 7, 2009
I bought a 92 civic vx (92 hp)with 89,000 miles for $4.000 and drove it with very minor repairs to the car the whole time I owned it. The car got 35-44 miles to the gallon and had plenty of passing power. I recommend a three piece stabilizer bar kit though in my opinion it improves the stability for cornering. I wont drive another civic without them. I did hotrod the car at about 260.000 miles and blew an injector and water pump. The civic motor interchangeability is awesome. I swapped a dx (107hp)motor and ecu with only 60.000 miles from a friend of mine for $400 and back on the road I went I sold the car with 280,000 on it I sold it for $4.000 only cause of a paint bubble starting from a rock chip(worst mistake I have made. "I miss my car.")
Purchased a new car
Uses car for Just getting around
Does recommend this car
---
THIS CARS BEATS V6 AND V8 IS AMAZING!
by JDM ENTHUSIAST from BOSTON MA | March 25, 2008
GREAT GAS MILEAGE, PERFECT INTERIOR SPACE THE SITS FOLD DOWN AND YOU HAVE A WAGON, PARST ARE DIRT CHEAP I BEAT THIS CARS EVERY DAY AND ALSO I USE FOR TRACK RACING , NEVER FAILED, THIS CAR IS THE PERFECT SLEEPER ANY HONDA OR ACURA 4 CILYNDER ENGINE FITS IN THIS CARS, GREAT TUNNER CAR IF YOU WANT TO GO FAST QUICK BUY AND SOUP IT UP, MY MAKES 300 HORSE POWER TO THE WHEEL , 0-60 IN 4.5 SECONDS WITH A BIGGER ENGINE THIS CAR IS AWESOME!!!!
Purchased a new car
Uses car for N/A
Does recommend this car
---
Car was good for only 3 1/2 years
by dre2008 from Houston, Texas | May 9, 2007
I had a 95 honda civic for 3 1/2 years from my junior year in high school until my junior year in college which I am still in right now. I had a few minor problems like the breaks needed replacing and my AC leaked in my car, but this year I was driving home and my car started over heating and smoke was coming out of the car. The engine died and the car needed a new radiator. I replaced the radiator just 4 months before this happened and the car was acting up. I always changed the oil and filters every 3000 miles. The car had only 128, 540 something miles.
Purchased a new car
Uses car for N/A
Does not recommend this car
---
People Who Viewed this Car Also Viewed
Select up to three models to compare with the 1995 Honda Civic.
2012 Rolls-Royce Ghost
Asking Price Range
$114,684–$205,620
Compare
2009 Mitsubishi Lancer
Asking Price Range
$4,013–$11,817
Compare
2008 Infiniti G37
Asking Price Range
$10,198–$20,166
Compare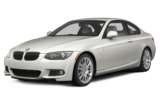 2013 BMW 328
Asking Price Range
$18,043–$32,687
Compare
2014 Chevrolet Spark
Asking Price Range
$6,832–$12,412
Compare
Featured Services for this Honda Civic