The Honda Insight has performed well.

So well, in fact, that it may disappear to make room for more Civic Hybrid gas/electric vehicles in the lineup.

"We'll see how long it continues, but Insight has a limited future. It was meant to introduce the hybrid concept and has served that purpose," Tom Elliott, executive vice president of Honda, said in an interview.

Introduced as a 2000, the two-seat Insight was Honda's hybrid pioneer and proved that the combination of gas/electric power was superior to batteries-only systems as an energy source.

Pure battery-powered electrics may emit zero emissions, but after about 100 miles of driving, the batteries needed to be plugged into a socket for many hours of recharging to put you back on the road.

If the batteries delivered 100 miles of energy but Granny's house was 101 miles away, you walked the last mile or had her put dinner on simmer until a six- to eight-hour recharge allowed you to continue.

"There's no future for pure electrics, not with the limited driving range," Elliott said. "But the internal-combustion gas engine supplemented by an electric power pack has a long future."

Insight is powered by a 1-liter, 63-horsepower gas and 7-h.p. battery-powered electric motor. Because the batteries recharge as you drive, Insight's range is governed by the occasional and quick stop for gas. Insight is rated at 61 m.p.g. city/70 m.p.g. highway, so stops for gas are infrequent. Only problem: Insight holds only two people.

After educating the public about hybrids with Insight, Honda brought out the Civic Hybrid in March as a 2002 model. The Civic is powered by a 1.3-liter, 85-h.p. gas and 13-h.p. electric motor. The fuel economy rating is 48 m.p.g. city and highway, and its batteries also recharge as you drive. But it holds four adults or two adults and two to three kids.

Insight proved the theory works, but Civic proved seating the family works better.

"Insight is a low-volume car. We only sell about 5,000 a year. It's built at the same plant in Japan that produces the Civic Hybrid, whose sales are now at 2,000 a month. With Insight in the same plant, we can't go higher on Civic output without lowering Insight volume," said Elliott.

With demand at 2,000 a month, versus 5,000 a year, well, you do the math and calculate Insight's longevity.

With Civic doing well, what about another Honda hybrid, maybe a larger sport-utility or minivan to take advantage of high mileage and low emissions?

"You can do a hybrid for higher fuel economy or for higher performance with an electric boost to the gas engine.

"Our next hybrid could be a performance model, it could be an Acura, and it could be soon," Elliott said.

This year at the Detroit Auto Show, Acura unveiled the RD-X concept that combines the performance of an Acura RSX sports coupe with the all-wheel-drive of an Acura MDX sport-ute.

The RD-X h as a 2.4-liter, 200-h.p. 4-cylinder gas engine that powers the front wheels and a 50-h.p. electric motor that powers the rear wheels to create an all-wheel-drive "urban adventure vehicle" that delivers a combined 250 h.p.

Later, at the New York Auto Show, Acura unveiled the concept DN-X with a 3.5-liter, 300-h.p. V-6 that powers the rear wheels and a 100-h.p. electric motor that powers all the wheels to create a 400-h.p. AWD sports sedan.

Elliott said while Honda's next hybrid could be a sport-ute, its current SUVs, the four-cylinder Honda CR-V and V-6 Honda Pilot/Acura MDX, offer good fuel economy. So there's no sense of urgency for hybrid power in its SUVs like there is at General Motors or Ford with their huge, V-8 powered machines.

"We're looking at several platforms for our next hybrid, I'm just not going to say which," Elliott said.


---
People Who Viewed this Car Also Viewed
Select up to three models to compare with the 2002 Honda Civic.
2016 Toyota Sienna
Starting MSRP
$28,850–$46,410
Compare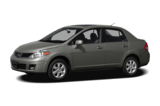 2007 Nissan Versa
Asking Price Range
$2,974–$8,718
Compare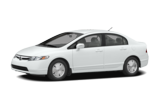 2008 Honda Civic Hybrid
Asking Price Range
$3,782–$11,030
Compare
2007 Toyota Highlander
Asking Price Range
$6,155–$15,623
Compare
2007 Chrysler PT Cruiser
Asking Price Range
$2,002–$8,018
Compare
2002 Chevrolet Cavalier
Asking Price Range
$590–$5,322
Compare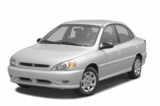 2002 Kia Rio
Asking Price Range
$68–$6,268
Compare
Featured Services for this Honda Civic