Average Ratings
---
25 out of 29 people recommended this car.
---
2008 Element SC Review
by The Last In Line from Chicago IL | April 13, 2015
So, I bought a new 2008 Honda Element SC. It was hard to find the SC trim but I did find a couple of dealers that had it. I have 100k miles on it now and figured I'd write a review. Pros: Carries everything! I hauled a Church Pew home in this thing. Take the seats out and drop the tailgate and it has LOTS of room. I like to do landscaping at my home and I have used this to haul numerous bags of dirt, bricks, paver stones, whatever. The doors open a full 90 degrees so loading and unloading is easy. The flexibility of the rear seats. Up, down, In out, recline back. Whatever. The XM radio with the various speakers and the built in Subwoofer up front is great. Very comfortable front seats. So-So- back seats. Very nimble and tight turning radius Smooth ride on a decent road (See below CON section) Great heater. Great AC unit. Reliable. 100k miles and the only thing out of the ordinary that broke was the Throttle Position Sensor. That was about $250 at the dealer to replace the entire throttle assembly. Cons:: Gas mileage is not as good as I would expect for a 2.4 liter engine. 22 to 24 mpg. My 5000 LB Land Rover Discovery II I had before this with a 4.0 liter v8 and full time all wheel drive got 17 mpg. The ride is THE WORST! Very jarring at times. Maybe because I have the SC, which has the stiffer springs and the lower profile tires it's rough. It handles bumps well but it's the small depressions in the road it does not. The material the seats uses shows stains very easily, even thought it's black. I think the EX and LX had those easy to wash seats. The SC has normal cloth seats that are hard to clean. My problem here in the north is the Salt used on the road in the winter. My kids get in the car and often times snow that gets on the seat melts and leaves salt stains. They are hard to clean off. Ketchup and such is hard to clean off too. The plastic used for the interior parts is very cheezy. Barely bump it with anything and you'll leave a gouge. Could be better in the snow. Again, I contribute this to being an SC model. The SC only came as Front Wheel Drive and has wider, more sporty tires. My wife's Civic with thinner tires is better in the snow.
Purchased a new car
Uses car for Commuting
Does recommend this car
---
AMAZING!
by Jenn from Cecilia, KY | February 4, 2015
I had a 2008 Honda Element EX. I bought her in Alaska and drove her through two winters. I then moved from Alaska back to my home state of Florida. With me, my mom, 2 dogs (80 and 100 lbs), my ferret (complete with his ENTIRE enclosure), and drove almost 6000 miles. She never failed or faltered. I bought her in 2011 and her until Feb 2015. She moved me from FL to KY when I got a new job and made numerous road trips throughout that time from Central KY to FL and back for a total of 3 trips. I kept synthetic oil in her and she was great for my dogs and our outdoorsy lifestyle. I loved the AWD and put 98,600 miles on her and never had to replace anything except for normal wear and tear. The only reason I traded her in was the gas mileage, I was lucky to get 21-23 mpg on the highway and I moved outside of town and my commute with spending that $$ in gas was getting ridiculous. My only other complaint is the console. I bring my dogs (a total of 4 now) whenever I can, we go to the dog park, pet stores, hiking, etc and I can't have a drink in the console without them puncturing it (a cup and lid obviously) and that was annoying. But she served her purpose and I will miss her but I decided to upgrade to the fuel efficient and spacious 2015 Honda Fit. :)
Purchased a new car
Uses car for Just getting around
Does recommend this car
---
excellent except
by keith stone from Massachusetts | January 28, 2014
most of what everyone says here is true. I have a 2008 lx. its excellent alone for its functionality. Another thumbs up I have to mention is its amazing ability to stay on the road in snow.. when it has good tires, the traction control system is amazing.. its reaction time is nothing like I have seen on any other car. the 2 problems I have are safety. 1:the front pillars create a dangerous bind spot in the front corners.. it took me a year before I noticed this.. mostly in slow speeds, navigating a parking lot.. someone can be walking at just the right pace and they fit inside this blind spot.. I have almost run a couple of people over already. 2: and by far the most annoying.. apparently a design flaw.. the rear brakes prematurely wear.. I have done 3 rear brake jobs and only once in the front.. that s WRONG.. I have also to replace a rear caliper and ironically i road tested a 2007 before I bought the 08 and that one had the right rear side brakes wiped out. it only had 11k miles on it.. I made honda pay me the 1st time and they really didn t put up a fight.. i expect they know about the problem.. I have heard from other people that they have not seen this problem but these experiences were from owners in a part of the country that did not get snow or cold weather.. regardless it shouldn t happen.. based on my experience it seems to me that the calipers are hanging up and keeping the pads against the rotor.
Purchased a new car
Uses car for Just getting around
Does not recommend this car
---
a great rugged vehicle
by luv my element from Suffolk County, New York | November 24, 2013
If you don't like simplicity then this is not a car for you. This is perfect for someone who likes the outdoors and who likes to be unique. It quirky but perfect for me and ready for my next adventure. It is very reliable, spacious and great on gas.Too bad Honda discontinued making this vehicle in 2011. My 2008 EX is equipped with 4wd, air conditioning, xm stereo, water resistant seats and interior can be hosed down if necessary and still looks brand new. Very happy with my purchase.
Purchased a new car
Uses car for Having fun
Does recommend this car
---
Best camping vehicle for 2/3 people.
by Camping vehicle #1 from Seattle | September 2, 2013
LOVE this vehicle. It's a bit gutless and I would like if it was a bit longer, but it really meets our recreation needs. I really wish they would bring the car back with some redesign features. The car spend most of the time with at least one of the seat folded up. I love that I can swab it out.
Purchased a new car
Uses car for Outdoor sports (hiking, cycling, etc.)
Does recommend this car
---
Incredible little truck!
by Honda Joe from Greencastle, PA | May 15, 2013
I dont know why Honda stopped making these! IT makes so much sense. Practical, easy to clean, great on gas! I cna throw hay in the back and hos eit out when I get home. Plywood...you nake it fits nicely. Yet a comfortable ride, great seats and quiet.
Purchased a new car
Uses car for Having fun
Does recommend this car
---
great utilitarian car and fun!
by sexy ugly from chapel hill, nc | February 27, 2012
Very comfortable, peppy, and nimble to drive. Loads of fun, and really practical. Can throw two bikes in the back. Easy for camping, and the four wheel drive is a big plus. Wish the gas mileage were slightly better, but I am used to driving sedan.
Purchased a new car
Uses car for Commuting
Does recommend this car
---
Reliable, Roomy however could do better in MPG's
by Robert from Olney Maryland | January 3, 2012
Love it.....recommend it....Honda is not making the Element anymore....last model is 2011. Therefore, buy one, keep miles low, and it will be a classic in the future.
Purchased a new car
Uses car for Commuting
Does recommend this car
---
Fun to drive with lots of room
by FG from Morgan Hill California | December 12, 2011
After doing much research the Honda Element has been a great first car for my kids. Its also a kick to drive now and then from my Ford Expedition. So much room inside you would think your in a full size SUV, comfortable seats and a good ride. You have to get use to the door thing but if you don't want your kids having passengers as its law in Ca, its a great deterrent. Really not that bad. With the seats down or better yet out you can put lots of cargo with plenty of room for the front passengers. We have put 4k miles on the Element over the past three months. Plenty of power to get you up to and stay at 70-80. I was very surprised. We have got a go as 27 MPG and as low as 22. AT 60-65 we average 25 on a regular basic. We did a long haul with the cruise control set a 60 and got 27. Not too bad. The element handles good with a little body lean with standard tires. One we wear the new tires out we will put some aluminum rims as I hope to extract another MPH with them being less weight. Brakes work well and stop the car very well. The body looks great thought it is prone to door dings since they are so flat. We have the plastic fenders and are great wit the new drivers. They really don't care where they park. Additions I would recommencement are fog lights as the normal driving lights don't light as much as we would like. Arm rest for the driver seat as it seem you want to lean to far in this spacious interior. It make a long haul much more comfortable. Ipod connection and a GPS. My kids love it along with myself when I can get to drive it.
Purchased a new car
Uses car for Just getting around
Does recommend this car
---
Most Practical Car Ever Built
by Flying Dutchman from South Milwaukee, WI. | September 19, 2011
2008 Honda Element EX AWD. Terrific vehicle, it has everything you need and nothing that you don't need. Element is a blast to drive, has great visibility, a very small turning circle, and is easily manuvered into tight parking spaces. Car converts from four passenger SUV to cargo van in seconds by tilting rear seats up and to the sides. It is extremely easy to drive, easy to clean, and easy on gas. I average 24 mpg in city and 28 mpg on highway. Full time four wheel drive is a bonus for Wisconsin winters. Wife stated car was the ugliest she had ever seen, but now will not give it up, so I bought another (2005 EX AWD) for myself. We have four cars and one truck, but the two Elements get used 95% of the time. They are just too practical and too much fun to drive to be left idle in our garage. While initially targeted for the yournger crowd, we are in our mid 60's and the Element suits our needs in every respect. I think Honda made a huge mistake in not advertising this car more and is making an even bigger mistake by discontinuing the Element at the end of 2011. I will certainly try to make ours last for many, many years to come.
Purchased a new car
Uses car for Just getting around
Does recommend this car
---
People Who Viewed this Car Also Viewed
Select up to three models to compare with the 2008 Honda Element.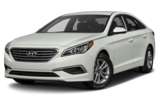 2017 Hyundai Sonata
Starting MSRP
$21,600–$34,350
Compare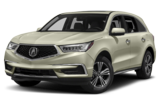 2017 Acura MDX
Starting MSRP
$43,950–$58,400
Compare
2017 Ford Fusion Energi
Starting MSRP
$33,120–$41,120
Compare
2014 Honda Crosstour
Asking Price Range
$17,470–$28,406
Compare
2017 Lexus GS 200t
Starting MSRP
$46,310–$53,980
Compare
2017 Audi A4
Starting MSRP
$34,900–$39,400
Compare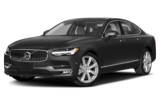 2017 Volvo S90
Starting MSRP
$46,950–$56,250
Compare
2017 Lincoln Continental
Starting MSRP
$44,560–$64,915
Compare
Featured Services for this Honda Element