Average Ratings
---
23 out of 25 people recommended this car.
---
Great Utilitarian Car
by Stick Shift Afficionado from Naples, FL | May 8, 2016
My 2010 Hyundai Accent is an incredible automobile. Love to have a stick shift that reminds me how Volkswagens used to be. Sorry VW. I have 96,000 miles on her and have taken many 17 hour trips in her. Also drive an hour to work and lots of fun trips. Great around town. Great at highway speeds. A very agile car when I have needed to swerve to avoid other vehicles veering into my lane. My first 2010 was totalled by a Ferrari and I am grateful to Jesus for such a great car and to have walked away from such an accident. All the airbags functioned beautifully. I love having a hatchback that I pack full of renovation supplies, gardening stuff, steel drums, garvage bins to transport kindling, and it is also handy to help folks to move their belongings. Rear-seats collapse, but not completely, to allow for cargo. I have placed a 1960's cabinet record player in the back, and anything else that I need to transport. The only thing the hatchback needs is some place for tie-downs/bungie cords but I simply drive slowly with the hatch open or cinched onto the license plate frame. Spacious enough in the back-seat for quick jaunts but not for serious roadtrips with friends. One person in the backseat could probably manage alright. Last week I was in Washington DC and loaded her with 70 bricks from a house that was being renovated. She cleans up easy. I love my Hyundai Accent. I am not a fancy girl. I am an artist, a motorcyclist, bicyclist and love the simple things in life. She is the perfect car for me.
Purchased a new car
Uses car for Commuting
Does recommend this car
---
96000 miles and still going
by joek from milwaukee, wi | January 1, 2016
I bought this car new in 2010 and have put 96000 miles on it so far. I have done all my own maintenance except for changing the timing belt. The only issue I have had so far was changing out the sway bar stabilizing links - $30 part and 30 min to swap both of them out. Otherwise this car has been cheap to own and very very reliable. I have the 5 speed so I can open it up a bit to get better acceleration when needed and slightly better gas mileage. I plan on putting 250000 miles on this car. Even the battery remains strong after 5 years.
Purchased a new car
Uses car for Just getting around
Does recommend this car
---
Great Ride--Great Value!
by TexAS2boots from Ormond Beach FL | November 15, 2014
I bought this car used two weeks ago and it rides very smoothly, accelerates smoothly too. Very responsive steering and braking. The radio that comes with it (has a Sirius option) delivers superb sound quality. The panel display is easy and quick to read. The cabin has a lot of extras---overhead case for sunglasses, two map lights, a plug for a smart phone and a USB port for a laptop. The trunk is roomy and the space between the two backseats folds down to provide cup holders. I got the 4-door sedan with 5-speed manual transmission, which I prefer. The only reason I didn't give the car a fifth star on comfort is that I'm short and it's always a stretch for me to reach the clutch, but I'm willing to put up with that because I like a 5-speed. Gas mileage has been great even around town.
Purchased a new car
Uses car for Just getting around
Does recommend this car
---
I love my little guy.
by emmyyy from Pa | October 20, 2014
My little guy has been great to me. He doesn't accelerate very well at first but once you get him going hes a speed demon. The interior is alright although its gray so stains show up pretty easily. Its great as a college car and hopefully it'll last much longer than college. My car has been so good in the rain. Its also good at emergency stopping.
Purchased a new car
Uses car for Commuting
Does recommend this car
---
2010 Hyundai Accent GLS
by Emily from Little Rock, AR | July 13, 2014
I had this car for about 2 1/2 years and bought it used with 30,xxx miles on it. Traded it in with about 75,xxx miles on it. This car is a great car for someone that doesnt have a lot of money to spend. Great MPG, I got around 33. Pretty roomy for when you want to haul people. Nice sound and cool that it came with USB and aux ports. However, only buy this car if you can't afford something more expensive. I bought it and the resale value on them is garbage. You will definitely lose money if you don't plan on keeping it forever. It is slow... as in no get up and go at all. Only has your basic features, not even power door locks, which I thought just about every car has now a days. It definitely isn't anything to look at and there is a lot of plastic inside, which scraps really easy and looks bad. All in all, reliable cheap vehicle but nothing to go out and brag to your friends about or show off. I would spend the extra money and buy something nicer personally.
Purchased a new car
Uses car for Commuting
Does recommend this car
---
Too Fun and Versitile
by KDM (Korean Domest Market) Enthusiast now xD from All over Florida | May 11, 2014
My family bought two of these around the recession when we lost a 05 Mercury Grand Marquis V8 and a 01 Hyundai Sonata. Both were 2010 Hyundai Accents. One was a Blue 2 door hatchback and one was a GLS sedan. In all honestly I never realized that one could purchase a vehicle with nothing in it besides AC or no AC. I'm still also thinking about how we bought it with no radio but it still has 4 speakers... The Hyundai deal of a new car and free XM subscription for three months had me confused but is a funny joke. 2 years of owning it though we did put a radio in it and the speakers in that car are amazing The Blue is surprisingly roomy even in the backseat. The layout of the interior is very convenient and comfortable for everyone. Driving the Blue in comparison to the GLS sedan everyone will notice the big weight difference in the cars. The Blue will get up and go especially with CVVT (Continuous Variable Valve Timing) on the exhaust system. This car can and will out perform many basic stock cars on the road (in my opinion on handling but not a 0-60). Superb handling and power (when it is just the driver and nothing else in it). Funny enough everyone thinks this is a Civic Si when it is driving around even though it isn't. The GLS automatic just like the Blue has just as good as an interior. Noticeable differences is the transmission really. That and the steering. The Transmission being auto I suppose it has longer gears but with "O/D OFF" displayed the GLS will kick it up a notch. An impromptu sports mode I would call it as it does zip in and out of traffic. With "Eco" displayed though it is a very smooth ride for the family and friends. The steering is much heavier than the Blue however. Parked side by side the displacement of the tires look the exact same so 4 doors or 2 I don't think there is a difference there for the steering. The weight difference is significant in my eyes though. I don't know about suspension being different though. Both cars are very smooth and quiet. Both cars a responsive and quick once used to them especially is only the bare minimal is carried in them. Both have great sound systems. The maintenance on both are exactly the same for wear and tear. Only noticed thing that came up with a recall on the GLS for a computer tune that fixed a misfiring cylinder. Other than that both needed to have ignition coils replaced at 90K mile marks that also cause engine misfiring. Both cars have been used for extreme long distanced commuting for work (120 miles a day min) and point A to B driving for college (10 miles a day min). Even though both lack many things like cruise control, traction control, Anti Locking Brakes, power locks and windows, alarm systems, powered seats and even a center console arm rest (single armlet attached to driver seat only) both the GLS and Blue are some very safe, reliable, and fun cars to drive. Yes even without TCS and ABS I find this a very reliable and safe car. Yes I've locked up my tires, yes I've spun my tires out but learning how to drive this is the rain really has made this a great car. In heavy rain the car can start in it's 2nd gear to avoid spin out of tires at a light. Down shifting can help slow the car as well in the rain as well. Once one gets used to it and drives with respect to traffic they realize how nimble and responsive these cars are. My only regret about them is that a sports version wasn't released to the USA. I hear that Canada had an Accent SR that looked awesome. Overall an amazing car that many will admire and have fun with as a auto, manual, hot hatch, or sedan.
Purchased a new car
Uses car for Just getting around
Does recommend this car
---
hey you
by what da from east bumshoe | December 16, 2013
this car is listed as scrapped. stay away from it. no warranty from manufacturer. not the kind of vehicle with low mileage you need unless they sell it for $200 bucks
Purchased a new car
Uses car for N/A
Does not recommend this car
---
Great value!
by Big Daddy from Kansas City, MO | October 25, 2013
Surprisingly roomy interior and large trunk; smooth ride at highway speeds; quiet, great gas mileage. Perfect for my daughter to take to college!
Purchased a new car
Uses car for Just getting around
Does recommend this car
---
Hyundai Accent GS
by Charles from West Palm Beach, FL | August 5, 2013
We just purchased a used 2010 Accent GS for my 18 year old daughter as a replacement for her minivan. LOL. The car is perfect for her, gets great gas mileage and pretty roomy inside for a little economy car. The only negative thing that I have to say about the car is the lack of acceleration. But that is to be expected when you compensate for the gas mileage without going to a hybrid or big money car that gets both great mileage and can accelerate quickly.
Purchased a new car
Uses car for Just getting around
Does recommend this car
---
Killin it!
by Big Ben from Ft Myers, FL | June 12, 2013
So far, amazing. I would say overall it's the greatest bang for your buck if this is the style of car you're into. Mine is black and it looks slick and drives equally as so. Personal thanks to Tatum in Punta Gorda for helping me through this process and realizing that some of the cars I was interested in weren't the best for me. I appreciate that he was more interested in my well being than a sales.
Purchased a new car
Uses car for Having fun
Does recommend this car
---
People Who Viewed this Car Also Viewed
Select up to three models to compare with the 2010 Hyundai Accent.
2015 Audi A3
Starting MSRP
$29,900–$38,600
Compare
2006 BMW 330
Asking Price Range
$5,217–$14,429
Compare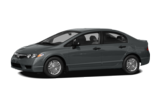 2010 Honda Civic
Asking Price Range
$6,369–$13,273
Compare
2005 Volkswagen Jetta
Asking Price Range
$2,253–$8,901
Compare
Featured Services for this Hyundai Accent