Average Ratings
---
33 out of 34 people recommended this car.
---
AWD Turbo a winner
by DougDED from Ocean Springs, Ms. | April 11, 2016
I find the Santa Fe one of the best cars I have ever owned. Mileage is good, great with Amsoil. Handling and performance excellant, added a K&N filter, opened up that turbo. Only issue .... I will look for slightly stiffer struts eventually. Highway ride is a little spongy. AWD makes for fun backroad Sundays. Infinity sound is the best I have heard in a factory non-luxury car. I use a thunbdrive for music and it sounds spectacular. I would buy another!
Purchased a new car
Uses car for Just getting around
Does recommend this car
---
Some engineering designs should be looked into
by bubba from New Hudson, MI | August 15, 2015
Not as well constructed as my 2012 was. Drivers seat, bottom framework had to be replaced, broke. Same problem with drivers side weatherstrip door. Had to replace , torn. All in all, still a great car and I will purchase another one.
Purchased a new car
Uses car for Just getting around
Does recommend this car
---
Another surprise!
by DJ honest from Arlington heights, IL | July 4, 2015
I bought a Santa Fe sport a few weeks ago and it is my third Hyundai in two years. I was initially impressed with my 2012 Genesis, my wife was happy with her Sonata. I had to look for a SUV for other purposes and bought the Santa Fe sport without any doubt in mind. Guess what! I love it more than my Genesis! It is incredibly well built car and i am happy with it 99% so far. The only flaw i found was a little wind noise when cruising on a highway but not too bad. I would strongly recommend this SUV for anyone who wants not to waste their money and make their hard earned money worth!
Purchased a new car
Uses car for Transporting family
Does recommend this car
---
poor performance
by tim from Evergreen Co | March 12, 2015
The black trim on this car is impossible to clean. After taking to car wash and using a brush at home, it still looks dirty and car is only 6 months old. 4 cylinder gets poor mileage and has inadequate power for mountain driving. molding on drivers door wore thru in three months. I had it replaced and it is wearing out again. Chrome exhaust trim rusted and was replaced after three months. Sirus XM radio installed is a joke. 90% of songs on that station suck and good luck trying to cancel service if you sign up for more after the initial three months free. Poor service from the dealer I bought it from, now I drive an extra 10 miles to different dealer. Blue Link is totally worthless.
Purchased a new car
Uses car for Just getting around
Does not recommend this car
---
Best crossover for a smaller family
by Tristan from Baltimore, MD | February 21, 2015
Introduction: This was our 3rd Hyundai purchase and each model has impressed me more then the one before. When it came time for our 2nd Child I traded my 2010 Genesis Coupe for the Santa Fe Sport 2.4L Base model with AWD. I spent considerable amount of time researching various "crossover" type vehicles knowing my situation was changing and we really needed two cars capable of transporting our family of 4. My wife had a 2011 Sonata with the same engine as the base model Santa Fe. After almost 4 years and 90k miles it was the lowest maintenance and most efficient car I had ever seen. The reason I selected the Santa Fe sport was mostly because I was able to get the exact same engine in a crossover which also looks better then most of its competitors. Initial Impressions: After deciding on the Santa Fe Sport I found my local dealer had the exact car I wanted. A base model with AWD in black. Unlike some other manufacturers I was able to drive off the lot with a "base" model and only had to pay $1,750 extra for the AWD option. If you look at dealer inventories for these vehicles you'll see the AWD models move much faster then their FWD counterparts. I consider it to be completely worth the extra cost for 2 reasons: The performance difference in bad weather/ peace of mind and resale value. In 10 years if i decide to sell this vehicle I'm sure no one will care if it has heated seats as long as it has AWD and was well cared for. Status after 7 months and 7k miles: I have already changed the oil twice even though it may not be required by the manufacturer. Overall MPG has averaged from 20 (daily driving around town) to 25 on longer highway trips. Just like our Sonata there have been no issues, check engine lights and I have yet to see a recall notice in the mail. Side Story: The biggest and most understated advantage of this vehicle is its winter performance. I have a job where I'm forced to work long hours during the winter and always have to be able to get to work. In the morning when I left there was a winter storm warning and I knew I'd be at work much of the day. By the time I left in the late afternoon we already had half a foot of snow and the temperature was under 20 degrees (catastrophic by mid-atlantic standards!) The Santa Fe sport in AWD lock mode took the hilly and winding backroads like a champ! I passed numerous stuck vehicles on the trip home of approximately 20 miles. Even my coworker who left earlier with a 4wd/full size SUV told me how bad the roads were, particularly one hill on my way home which is a significant incline over 1/4 to 1/2 of a mile. About 3/4 of the way up the Toyota Highlander in front of me panicked and turned around. There was a 3 car accident at the top of the bend and he told me on the way down he'd take a different way. Just then horns blared behind me as a Cadillac crossover came up the hill, apparently concerned that if they slowed down or stopped that they might not make it the rest of the way. I dropped a gear and managed to get around the stuck cars at the top of the bend. My traction control/AWD system kicked in at one point as it strugged towards the top but kept me going straight and over the hill. The Cadillac behind me made it over as well but quickly fell behind my rear view as we continued down the road home (and I swear I'm not a fast driver!) Bottom Line: This vehicle is not in the same class as the Escape, Rav4 or CRV but costs about the same amount if options are selected wisely. A very stylish crossover with good color choices and options for those who expect more features. Excellent safety features and plenty of room for a family up to 4 people (plus a dog, who rides in the back). Reliability of the 2.4L engine is amazing. Gas mileage is not as good as a sedan but excellent by AWD/SUV standards. This vehicle is very enjoyable to drive and I recommend anyone in the market for a crossover to consider it as an option.
Purchased a new car
Uses car for Transporting family
Does recommend this car
---
Am still smiling
by lizdec from Pittsburgh, PA | December 31, 2014
Great Crossover. Comfortable, great set of interior controls and features on this vehicle that were not even on my top end foreign crossover which I traded for the Hyundai. After 4 months in, I'm still loving it every time I'm behind the wheel. Love the BlueLink feature and the interior layout.
Purchased a new car
Uses car for Commuting
Does recommend this car
---
Love it, with one reservation
by jbprojects from Raleigh, NC | December 25, 2014
I really like my Santa Fe, with one incredibly frustrating reservation. It's comfortable, has nice performance, and looks good. The controls are well thought out. The one thing I hate is the "voice activated" features. I've gotten to the point of "just doing without," right up until I want to try again. In short, the capabilities to control my phone, whether as a phone or as a media player, falls WELL short of the less-than-$200 Pioneer after-market unit I had installed in my previous vehicle. Given the overall sophistication of the electronics in the vehicle, I find this not only frustrating but genuinely baffling. If hands-free operation of certain systems is important to you, try this out and ask questions before you buy.
Purchased a new car
Uses car for Commuting
Does recommend this car
---
You'll love the Santa Fe Sport!
by Tom Terrific from Wyoming | November 8, 2014
I've had my Santa Fe Sport for six months and about 3,600 miles now, so I've had time to get to know it pretty well. The verdict is.........I wouldn't trade it for any other crossover on the market. It's quiet, comfortable, easy and fun to drive, and I personally think it's the best looking vehicle on the road. My only criticism is that the gas mileage is a little less than what I'd hoped for--but everything else about the vehicle is perfect, so who cares.
Purchased a new car
Uses car for Just getting around
Does recommend this car
---
Great Car
by Hyundai Sports Lady from Tennessee | October 20, 2014
I love my new car. It drives good in the city and on the road. Performance is great. I would recommend this car to everyone!
Purchased a new car
Uses car for Just getting around
Does recommend this car
---
Took this rather than Lexus RX350 and Caddy SRX
by Former Cadillac Owner from Naples, FL | October 2, 2014
Tried out many vehicles but took this one. Great value for the money. Very easy to drive, good in tight spots, peppy engine and transmission, comfortable, loaded with everything except turbo - not needed. Love the sky roof, back-up camera, visibility. GPS is fussy, too much tech, spend too much time in manuals, wipers have too many settings and various controls are spread everywhere but once you get used to it, it's bearable - would probably buy another one. The 10 year warranty and price makes it a no brainer.
Purchased a new car
Uses car for Just getting around
Does recommend this car
---
People Who Viewed this Car Also Viewed
Select up to three models to compare with the 2014 Hyundai Santa Fe Sport.
2015 Toyota RAV4
Starting MSRP
$23,680–$29,850
Compare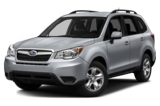 2014 Subaru Forester
Asking Price Range
$15,535–$27,503
Compare
2015 Mazda CX-5
Starting MSRP
$21,545–$29,220
Compare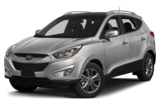 2014 Hyundai Tucson
Asking Price Range
$13,674–$23,442
Compare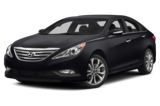 2014 Hyundai Sonata
Asking Price Range
$10,675–$19,719
Compare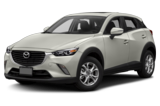 2016 Mazda CX-3
Starting MSRP
$19,960–$26,240
Compare
2014 Kia Sorento
Asking Price Range
$11,959–$28,331
Compare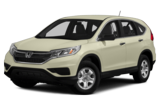 2015 Honda CR-V
Starting MSRP
$23,445–$32,895
Compare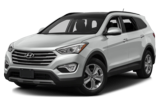 2014 Hyundai Santa Fe
Asking Price Range
$19,529–$31,497
Compare
Featured Services for this Hyundai Santa Fe Sport