Average Ratings
---
21 out of 23 people recommended this car.
---
So much to like
by Highway Cruisin from Michigan | October 9, 2014
I bought this car used but still well within the warranty and had it for about 6 years. Had I not been a dummy and traded it in, I would absolutely still have it. This car served many functions for me - it served as a commuter car (both while I was in school and when I began working), was taken on several long distance trips (think 12+ hours of driving), and was used for around town errands and such. The car I had was fully loaded - 6 CD changer, moonroof, BIG engine, etc. The good - this car is a champion in the bad weather - seriously, awesome. The ride is super smooth and comfortable. The inside cabin is really spacious and I moved many large pieces of furniture in this car like it was nothing. The design - i know its not for everyone but I always thought this car was great looking. The engine made this car feel like a sports car - just slightly tap the gas and the car would take off... great for merging onto highways. To date, have never had a car that felt this powerful. And, probably more important than anything else - safety is amazing. I was rear ended on a highway at a high speed - the car not only suffered very little damage but I was fine too. The bad - not really much of anything. Had some mechanical issues but nothing that I think is symptomatic of issues with this car in general. Gas mileage (while commendable for a car this size and with such a large engine) was probably my biggest complaint and ultimately why I traded mine in which as I said earlier is something I absolutely regret. All in all - this car is a major winner. The warranty is fantastic, the car is awesome, and I would not hesitate to buy this car again if I were in a position where I didn't need a commuter car.
Purchased a new car
Uses car for Commuting
Does recommend this car
---
Poor engine design
by Firefly from Louisiana | March 11, 2013
Bought the car new and have had problems since the beginning. Crank sensor every 6 months, throwout bearing destroyed the clutch, timing belt shredded, power steering pump froze up, has used a quart of oil every 1500 miles since new, and the list goes on. Extended warrany paid for itself many times over. The car has the most comforatble seats I have ever found in a car. There is a hole somewhere and mice keep getting in the car, wish I could find that hole. I love the car, but the poorly designed 4 cyl engine can only be depended on to break down with no warning. Manual tranny and 4 cyl, only 23 MPG combined. Hyundai never again.
Purchased a new car
Uses car for Commuting
Does not recommend this car
---
04 Hyundai Santa Fe 3.5L
by toen316 from Kansas City, MO | December 13, 2012
My wife has an '01 Santa Fe and it's been one of the most reliable vehicles I've ever seen. We LOVE it and when the opportunity to buy a vehicle came up, I pounced on another Santa Fe. With the exception of disappointing gas mileage for my 3.5L Santa Fe, I couldn't be happier.
Purchased a new car
Uses car for Commuting
Does recommend this car
---
Too Big and it's a Gas Guzzler
by Wary Driver from Wilmington, DE | October 25, 2011
In 2008, I totaled my 2003 Hyundai Sonata and picked up one of these used. It's the 3.5 Liter V6 version and it gets terrible gas mileage. Driving this SUV makes me very uncomfortable because it is too big (I like smaller cars). It's comfortable inside with the climate control, heated seats, and sound system. It has too much power for me. I have to be very light on the gas or I spin the tires. The backseats fold down but the cargo area is too small to be used for 8 foot lumber. I would not recommend this model of this car. The V4 model may be reasonable, but this is a pain to drive and fill up.
Purchased a new car
Uses car for Commuting
Does not recommend this car
---
all around great SUV
by Specilum from Chicago, IL | February 3, 2011
Good Gas Mileage. (4cyl) very reliable and well worth your money. I have had 2 cats replaced on this vehicle already. that is the only problem I have had. 2004 SantaFe - FWD 4 cyl.
Purchased a new car
Uses car for Transporting family
Does recommend this car
---
Best Used Vehicle I've Owned
by First Time SUV Owner from Pittsburgh, PA | December 18, 2010
Vehicle handles well. Roomy interior with mid size exterior. Great functionality inside with rear seats. Any seat in car has ample leg and head room so you don't feel cramped. Very satisfied with vehicle.
Purchased a new car
Uses car for Just getting around
Does recommend this car
---
Best car ever
by trtle grl from Port St Lucie | September 22, 2010
174400 miles and am just doing major repairs on it. New timing belt, head gasket, spark plugs and wires. Love the car, great mileage, comfortable, fun to drive, spacious and reliable. Took it to the dealer for the work and they gave me a free loaner (2011 Sonata). Great car, great service from Hyundai. I loved this car when it first came out and bought one in 2004. My next car will also be a Hyundai!
Purchased a new car
Uses car for Commuting
Does recommend this car
---
the best suv
by Nathy from Pennsylvania | February 23, 2010
is a very good suv is 4x4 and is very good in gas just what i need. Very good on the road and the body style is unique.
Purchased a new car
Uses car for Work
Does recommend this car
---
Love it - but lacks a little exterior quality
by Mom of 3 from Cincinnati | July 28, 2009
I've purchased my '04 Sante Fe in Jan 05. As of July 2009, it has close to 100k miles on it. Overall very reliable. Cruise control had to be fixed in year 2, and one button has since broken off. O2 sensors had to be replaced at 60k miles - a few hundred miles after the warranty expired. Original tires lasted until 100k. I'm a little disappointed on how well the exterior is holding up. It was garaged the first few years, then not garaged. The trim paint (windshield wipers, window trim, etc) is peeling and starting to look bad. Cargo room has been amazing - the only thing I haven't been able to fit is a solid 4x8 sheet of drivewall or plywood. Overall, it still looks good and drives well. I'd buy it again in a heartbeat.
Purchased a new car
Uses car for Commuting
Does recommend this car
---
most reliable car i have
by jt from | May 20, 2009
i would get this car anytime i have 2 already i like the 200 horse power works great with that suv just get 12s in the back and your good
Purchased a new car
Uses car for N/A
Does recommend this car
---
People Who Viewed this Car Also Viewed
Select up to three models to compare with the 2004 Hyundai Santa Fe.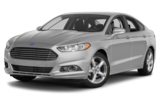 2014 Ford Fusion
Asking Price Range
$11,658–$21,606
Compare
2016 Honda Pilot
Starting MSRP
$30,345–$46,770
Compare
Featured Services for this Hyundai Santa Fe