Average Ratings
---
76 out of 80 people recommended this car.
---
Great but...
by Char from Nanaimo | June 17, 2015
1st time I have ever written a review but I'm doing so in the hopes that the vehicle can evolve as I really do like it. My 6 pet peeves... 1) I keep accidently turning my headlights off due to the location of the switch. It's hard to tell when it happens - especially in the city and I have actually been pulled over by the RCMP for it! Scary. 2) The head rest on the drivers side is angled forward too far and its uncomfortable to drive in any position (for me) . 3) Dash/Interior scratches very easily. Hoping they can use a better quality product next time. 4) The windshield wipers - or is it the angle of the windshield? creates terrible visibility when it rains. 5) The signal sound needs to be louder (perhaps there is a way to change it already?). When merging or turning slightly the signal does not turn off when straightening the wheel and because you can hardly hear it click you drive for miles with it still on. 6) Gas mileage is not that great - but I do own the All-Wheel/7 seater - so par for the course. Otherwise... I am really happy and have had no parts or mechanical issues. I have historically driven Fords & Chev's and they are usually falling apart by this point (heading into year 3) I would recommend this vehicle to others and my family has really enjoyed the long travel holidays taken in it so far
Purchased a new car
Uses car for Transporting family
Does recommend this car
---
LOVING IT
by 2013 Hyundai Santa Fe Sport Turbo from Middletown, PA | March 1, 2015
I purchase my Hyundai used with around 8000 miles on it. Very surprised by the power it has. Great features include heated seats and steering wheel, panoramic sunroof, navigation, back up camera, and more. My only dislike is the steering, can t seem to get used to it.
Purchased a new car
Uses car for Just getting around
Does recommend this car
---
Very good vehicle with three flaws
by yurnvs from Boynton Beach,Fl | November 20, 2014
We've had the Sante Fe GLS for a year and a half and are very pleased with the ride and quality of it. There are three things Hyundai needs to address: 1) The gas mileage is not even close to what Hyundai advertises it to be. The salesman was very honest about this, however. 2) Hyundai does not offer a powered rear door to open and close at the push of a button like other companies do. 3) I had a problem with a rat getting caught inside the air conditioning system. According to the service department, this not uncommon and they did remove the carcass and replace the cabin filter. Other than those three relatively minor problems I am satisfied with my Sante Fe GLS and would buy another one.
Purchased a new car
Uses car for Commuting
Does recommend this car
---
exterior trim cleaner
by s from Florida | October 26, 2014
I had similar problem cleaning the black trim on my sante fe. I used a product call Black Max purchased at Walmart. The product brought the trim back to a nice clean appearance.
Purchased a new car
Uses car for Commuting
Does recommend this car
---
Exterior maintenance
by Indiana8 from New Lenox, il | August 23, 2014
Has anybody had problems getting the section of black trim that goes along the bottom of the vehicle (which I assume is to protect it from rocks, dirt and gravel) clean? No matter how many times I wash the car or what cleaning solution I use, I can't seem to get that part of the car clean. It always looks dirty, not a true Black. Also is there a product that will keep it clean, like Armour All, which didn't work by the way.
Purchased a new car
Uses car for Just getting around
Does recommend this car
---
The Honest Truth
by Average Joe from Fresno, CA | August 20, 2014
I purchased a 2013 santa fe sport fwd. I have driven it extensively and here is my conclusion after 40k miles. The milage is far below advertise. You can get about 25mpg at the very best on long trips (over 100 miles). On average it is about 20-22 mpg. The gas cap sensor will keep popping up telling you the fuel cap is open when it is not. The upward design of the back window does get in the way of your blind spot. Passenger front seat does not fold all the way down for easy lengthy storage (surf boards and similar). There are no memory on the seat setting so if you share the car it is annoying to have to fix your seat every time. If you have kids and the car seat is in the back then you have no cup holders. The cup holders are in the center of the back row and cannot be lowered if there's a car seat in the middle or on the side. On the up side, the car handles very well and I do love the design. It is roomy and comfortable. It is powerful going up hill. The car is very stable and I feel very safe driving my family in it.
Purchased a new car
Uses car for Transporting family
Does recommend this car
---
VERY HAPPY WITH OUR SANTA FE
by MARC from chaleston sc | July 23, 2014
we own a 2013 santa fe limited (6) seater. we have 8k on it now and we love it. drove it to gatlinburg TN last month and it did great in the mountins. we averaged 27.2 mpg for the trip (charleston sc to TN). love the captians chairs in the second row very comfortable. my wife actually rides in the back with the baby because she loves the second row of this car. my only wish with this car would be that it had more storage. the center console is too small and there are not enough cup holders. If this means anything to anyone, i work for honda! i'm a service advisor for them for the past 7 years and i picked the santa fe over the pilot. i actually paid $1200 more the the santa fe then i did the pilot because of my discount with honda. we could not be happier with our choice.
Purchased a new car
Uses car for Transporting family
Does recommend this car
---
Tow hitches are available
by Happy GLS owner from Fort Wayne, IN | March 5, 2014
Boat and Trailer. I bought my Santa Fe GLS (V6) about 6 months ago. I agree the dealer and Hyundai are not very helpful about the hitch. However, if you look online, there are several retailers that sell hitches and the wiring harness. I purchased the Curt hitch and wiring harness. I installed it myself in about 1-2 hours. It is easier if you have someone to help hold it. The Santa Fe GLS is excellent in every way. Two minor complaints. The auto headlights don't come on soon enough in low light. You have to manually turn them on. The navigation/radio screen makes you click the Accept button each time you start the car. Winter mileage about 19-20. Hopefully in Summer it will go up a little.
Purchased a new car
Uses car for Commuting
Does recommend this car
---
Some Inexcuseable Compromises
by FrankG from Ancaster, Ontario. CANADA | February 25, 2014
I traded in my '06 Hyundai Tucson for this 2013 Fe and found there be some obvious short comings by comparison to this, Hyundai's flag-ship vehicle. 1) The front passenger seat doesn't fold all the way forward and neither does it reline back far enough to allow 8ft. long stock to be neatly contained and concealed within without having to extend out an opened rear tailgate. 2) the counsel storage cover extends too far which makes it difficult to easily retrieve items from narrow storage recess below it such as a pen or nail file. 3) Fuel economy ratings are far from realistic. I'm getting nowhere near what was promised from the 2.4ltr.engine. 4)Both left and right rear visibility is restricted by the narrow upward design configuration of the rear side windows. 5) Front window defrost seems to take forever to clear just a light covering of frost and almost an eternity of windshield ice. My 4-star rating herein is one of kindness attributed to the comfort and overall quality of the build, but, that's where it ends.
Purchased a new car
Uses car for Just getting around
Does recommend this car
---
2013 Santa Fe GLS Towing Capacity
by Boat Trailer from Vero Beach, Florida | February 17, 2014
Don't buy this vehicle to pull anything other that very light weight tows. I bought this vehicle to replace a Dodge Durango for towing and better mileage. The salesman tried to get me to buy the Sport Turbo, saying the Turbo engine would give comparable towing capacity to the stated 5,000 pound capacity of the GLS. I told him I wouldn't tow my boat with a 4 cylinder engine in a 3,500 pound capacity vehicle. I wanted the Santa Fe GL which has stated 5,000 pound towing capacity, and has a V-6 engine. I was also told that the Santa Fe is prewired for the hitch. I drove home in the vehicle and have been very satisfied with the Santa Fe GL When I contacted the salesman in a day or two to discuss getting the hitch installed, he was not straightforward with me. He said he wanted me to speak with the service manager, but that conversation never took place. He kept trying to steer me to an aftermarket hitch installed elsewhere. I tried to research a hitch as an accessory on the Hyundai website but was not able to find a hitch for the Santa Fe GL I called Hyundai support and the young woman who took my call was very nice, but not even able to understand what I was asking about. She tried to read me something which had to do with the carrying capacity inside the vehicle. She read very well but told me nothing about the towing capacity of the Santa Fe GL. I finally called and spoke to the Service Manager at the dealership. He told me the only hitch he could find for the Hyunday Santa Fe was a Class II hitch (rated at 3,500 ponnds for the Sport. When he spoke to someone at Hyundai heaquarters he was told that a Class III hitch would be rated at 5,500 pounds and he could not install such a hitch on the GL because it would be over the rated capacity of the GL which is 5,000 pounds. They had no solution for how the GL could be equiped to tow the advertised 5,000 pounds capacity. I did some research on the internet and found a hitch made by Draw-Tite which is a Class III hitch and is rated at 5,000 pounds. I asked if he could install this hitch because the hitch specs match the vehicle specs, He said he woulld have to get back to me but he hasn't and I am not able to reach him. I won't have this hitch installed by other than the dealer because if there ever should be a problem I can see that Hyundai would never stand in back of the vehicle. My impression is that Hyundai fudged the truth on the 5,000 pound towing capacity of the GL. I believe that the company knowingly did this and tries to cover up the misstatement by mumbling and stumbling after the sale.
Purchased a new car
Uses car for Just getting around
Does recommend this car
---
People Who Viewed this Car Also Viewed
Select up to three models to compare with the 2013 Hyundai Santa Fe.
2014 Mitsubishi Outlander Sport
Asking Price Range
$11,406–$19,322
Compare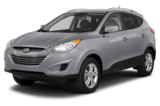 2013 Hyundai Tucson
Asking Price Range
$12,453–$22,153
Compare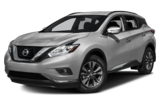 2015 Nissan Murano
Starting MSRP
$29,560–$40,600
Compare
2012 Honda Pilot
Asking Price Range
$16,334–$29,462
Compare
2016 Mazda CX-5
Starting MSRP
$21,795–$29,870
Compare
2015 Toyota Highlander
Starting MSRP
$29,765–$44,140
Compare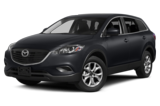 2014 Mazda CX-9
Asking Price Range
$18,490–$31,354
Compare
Featured Services for this Hyundai Santa Fe