Average Ratings
---
31 out of 39 people recommended this car.
---
I cannot be happier with this nice looking ride!
by Cruisin fool from Placerville, Ca. | May 13, 2016
With a fine glide as, it rolls down the street. It's makes you wonder why everyone doe's try one out. There are a lot of cool cars out there right now. This one is just beautiful. No complaints from me. I love it!
Purchased a new car
Uses car for Having fun
Does recommend this car
---
2012 Sonata Hybrib from new to 45,000 mile review
by tedmagman from WEST VIRGINIA | June 1, 2015
after 45,000 miles I have a good feel for this car. I have read the other reviews and don't entirely agree with them. for starters the car is reliable with absolutely no problems at all so far. Super easy oil and filter changes for DIY and no maintenance that you cant do yourself until 60,000 miles. As for the smoothness of the transmission. Some hesitation at takeoff from a complete stop is noticeable but that is it. After the car is rolling it is smooth. It has plenty of power for highway merging with solid acceleration. No neck jerking performance but typical V-6 sedan performance from the 4 cylinder and hybrid motor working together under full throttle. Now the gas mileage. It is totally dependent upon speed and ambient temperature. I can get 45 mpg on highway at 65 mph in summer. More typical is 38 mpg at 75 mph. In the winter when temps run as low as the single digits to the 20's fuel economy suffers to 33 mpg at all speeds. Expect 32-34 mpg in freezing temps. Overall it still is a great value and saves money unless you live in Alaska.
Purchased a new car
Uses car for Commuting
Does recommend this car
---
Extraordinary value for a nearly perfect car
by Paolo from Cincinnati, OH | February 22, 2015
This is our first Hyundai and we're very glad we bought it. The mileage does vary significantly depending on conditions, but compared to a non-hybrid, the mileage is still terrific. I've gotten over 42 MPG on summer trips several times. And that's with 4 adults on a long trip with no complaints about space or comfort whatsoever. Interior space is wonderful, especially rear-seat legroom and the cavernous trunk. Quiet interior with a great factory sound system Would definitely buy again, but the car does have 2 niggling faults. 1- As mentioned elsewhere, acceleration off the line is delayed, so taking off from a start requires some judgment. 2- The cruise control is a bit schizophrenic. It jumps up 3 MPH over your target speed, then settles back down to it. Nothing scary, just an annoyance as the car surges initially. No service issues whatsoever, just oil changes, etc. Bought ours Certified Pre-Owned with 12k miles already on it. Now almost 31k after a year. Hard to believe that the car is still worth nearly what I paid for it. Remarkable how much car can be had for so little money. Recommended to a friend who tried one out and bought one as well. Truly awesome car for so little money.
Purchased a new car
Uses car for Commuting
Does recommend this car
---
Super car with Great Styling
by Will from Cincinnati | October 23, 2014
The Sonata, my second one, is one of the best cars I've ever owned. Mileage is right on. 33-35 around town. A little less in very cold weather. 39-40 Highway only. If you don't drive like a "Jack Rabbit" you will get the described mileage.
Purchased a new car
Uses car for Just getting around
Does recommend this car
---
This is a DO NOT BUY
by Gesiggie from | August 2, 2014
After a year of smooth driving, the car began to jerk and shudder about a month ago. Based on the reviews I have read, this is an issue Hyundai has yet to rectify. After bringing the car into the dealership service centre 4 times, eventually having a software update applied, the dealership tells me this is normal. The shuddering occurs when the car shifts down from 4th to 3rd, which suggests a transmission issue. I would not recommend buying this car.
Purchased a new car
Uses car for Commuting
Does not recommend this car
---
Love The MPG
by Middle Aged Dad from Liberty, MO | May 29, 2014
I owned a 2014 Ford Fusion Hybrid for 7 months prior to this purchase. Browsing the web I realized I could trade in the Fusion for a similarly equipped low mileage sonata hybrid and save a large amount on my monthly payments. I couldn't be more pleased with the switch. My MPG after 2100 miles driven with the sonata is 44 overall average while the best I could get in the Fusion was 39. I was disappointed in Ford's claim of 47/47 city and highway driving. No way will you ever get 47 on the highway. Also the gas tank is 4-5 gallons smaller on the fusion so you're filling up a lot more. The sonata feels roomier and I've received several compliments on the styling and color. I owned a 2011 elantra which was a little small for the family. I love this purchase and my warranty on a used Hyundai hybid is better than the new Ford's warranty.
Purchased a new car
Uses car for Commuting
Does recommend this car
---
I LOVE my new to me car!
by Sonata Hybrid from Corrales, NM | March 14, 2014
This car seriously has it all. I knew I wanted a hybrid and I fell in love with the panoramic sunroof in the Sonata Hybrid. Luckily, I found a 2012 red Sonata Hybrid with leather interior, panoramic sunroof and full electronic package for an extremely reasonable price. This is my first used car - other cars I've owned were a Honda Accord, Subaru Forrester and Honda Pilot. Reliability, quality and value are important to me. I felt really comfortable buying a used Sonata Hybrid because of the great maintanence package and Power Train warranty Hyundai offers on their certified used vehicles. I love this car and I am very happy with my purchase.
Purchased a new car
Uses car for Commuting
Does recommend this car
---
We love our 2012 Sonata Hybrid, but ....
by jelefante from North Bend, WA | September 24, 2013
The car is fantastic though we live in the foothills of the Cascades and usually don't get the advertised mileage, probably because of all the ups and downs. Also, we've found that using a mid-range gas really help with the MPG, so we'll mix half a tank of premium at COSTCO with half a tank of regular for the best mileage. Two things to be aware of with this hybrid model: first off is its sluggish acceleration when you really need it as the car either can't decide if the gas engine really needs to perform (like you're pulling out quickly into traffic) or stalls outright. Luckily Hyundai has a firmware fix for this very unsafe condition. Secondly, and Hyundai hasn't a clue on this one, for some reason the audio on the radio or Nav just stops working. One solution is to pull the car over to the side of the road and REBOOT! A far simpler work around is to hit the BlueLink button on the rear-view mirror twice and sound is restored. Mind you this doesn't happen all that often, but when it does it's a real pain. Hyundai has replaced our entire Nav touch screen and computer twice and neither time has it fixed the problem. Unfortunately it seems that Hyundai has taken the ostrich approach on this one and is just hoping the problem will go away. IN FACT I doubt that you'll even get Hyundai to even admit that such a problem even exists. I've taken our 2012 Sonata hybrid to two Hyundai dealers and they claim that they've never heard of the problem. And of course with all intermittent problems like this, it never happens to them. But I'll give it to them that they've tried to fix it twice at a service cost of over $4k each time.
Purchased a new car
Uses car for Commuting
Does recommend this car
---
We love it.
by Joe from Indiana from Indiana | August 27, 2013
I bought this car because it was on sale. Was a 2012 leftover early this year in 2013. Its probably one of the best cars I've ever owned and my mileage is always better than the 34 city 39 highway. It usually gets around 41 on the road at pretty fast speeds. It does have a small hesitation as the gas engine kicks in but that is greatly offset by the performance and gas mileage. And even that is less noticeable with the cruise control on. My wife doesn't notice it at all. We love the car and there is no better warrenty.
Purchased a new car
Uses car for Just getting around
Does recommend this car
---
first hybrid and loving it!
by jerry from Kannapolis, NC | March 4, 2013
got a 2012 in Feb 2013 just a couple of weeks before the 2013 was available (oh well, whatcha gonna do right LOL). it was built in Dec 2012 so i'm sure it is one of the last of that model year...anyways, the car is wonderful to drive, extremely comfortable and roomy. i went from a 2012 dodge avenger to this and it was like stepping into a rolls royce in comparison. the build quality feels and sounds top notch, not tinny or clunky at all. it takes a bit to get used to how a hybrid drives, but on my daily 30 minute commute (90% highway) you don't even notice and if you do, it only feels like a gear change when the gas engine kicks on. ive been getting 37-38 mpg and about to go over 1000 miles on just the second tank of gas and have some to go, probably hit 1100 before i have to fill up again. so far very impressed with this car and i'm glad i made the switch to a hybrid
Purchased a new car
Uses car for Commuting
Does recommend this car
---
People Who Viewed this Car Also Viewed
Select up to three models to compare with the 2012 Hyundai Sonata Hybrid.
2013 Kia Optima Hybrid
Asking Price Range
$11,625–$21,213
Compare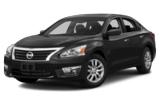 2013 Nissan Altima
Asking Price Range
$9,867–$19,139
Compare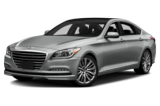 2016 Hyundai Genesis
Starting MSRP
$38,750–$53,850
Compare
2012 Kia Optima
Asking Price Range
$9,115–$18,159
Compare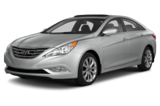 2013 Hyundai Sonata
Asking Price Range
$9,644–$18,552
Compare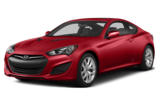 2013 Hyundai Genesis Coupe
Asking Price Range
$13,868–$24,620
Compare
2013 Hyundai Elantra GT
Asking Price Range
$10,181–$16,681
Compare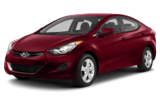 2013 Hyundai Elantra
Asking Price Range
$9,201–$16,185
Compare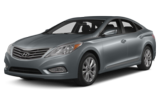 2012 Hyundai Azera
Asking Price Range
$12,969–$20,425
Compare
Featured Services for this Hyundai Sonata Hybrid