Average Ratings
---
23 out of 25 people recommended this car.
---
Best SUV ever made
by Cuzz from | January 15, 2014
The xjs (Cherokees) are by far the best trucks every built. They were made to be indestructible and I would recommend getting one to anybody. The engine has such a good reputation for a reason, dont be fooled by the 190 horse power- the IL6 these came with is an absolute beast and has ALOT of raw torque. Not only that but they are so simple to work on. I am 18 and i did nearly everything on my cherokee myself. The only bad thing about these cars is the electrical for the doors and windows. However these are safe too, I totaled mine by hydroplaning into a fence, and it still ran perfectly despite all the damage. These run like champs and if youre looking for bang for your buck take it from me and buy a real cherokee- not one of the new ugly things jeeps making now.
Purchased a new car
Uses car for N/A
Does recommend this car
---
Keep on Truckin'
by DEELEE from Knoxville, IA | October 22, 2013
I have owned several Jeep Cherokees over many years. I am currently driving a 1998 Cherokee Classic that I bought in 2001. It had 54,000 mi on it then. Now it has 207,000. I have had no major mechanical problems. I have had to replace the radiator (as well as 2 other of my Cherokees) and I have had some problems with the power locks from the Driver's door controls. Electrical set up with Chrysler products is always interesting. I live on gravel and this Jeep will go through Mud, Snow, Off-road anything with no problem. A plus too is, this Jeep has the Part-time AND Full-time 4WD option. This option is getting hard to find but is VERY handy when you are driving slick-dry-slick-dry, etc. road conditions as you don't have to move it back and forth between 2WD & 4WD. And the 4.0 straight six is indestructible. My Jeep uses no oil and I have had NO engine issues and I haven't been too good about timely oil changes.
Purchased a new car
Uses car for Commuting
Does recommend this car
---
Take it to a mechanic First - No, REALLY!!!
by JEEPDADDY from Chicago, IL | November 26, 2012
Recently I again purchased a used, 2001 Jeep Cherokee 4door. These cas are very reliable, and most prices from private parties are fair, providing the Jeep is in good working order, and not a rust-bucket. Just make sure you first ABSOLUTELY bring it to a certified mechanic to get a thorough mechanical inspection. I know these Cherokees from prior ownerships, and the one time...THIS time, I didn't bring it for an inspection, I got totally hosed by the "Honest" 1 owner folks I bought it from!! I say, if the seller is not willing to let you take it to a mechanic run, don't walk away QUICK!
Purchased a new car
Uses car for Work
Does recommend this car
---
scammers on cars.com
by Not happy from bouckville ny | January 30, 2012
Both vehicles that I was interested were put on by scammers. Same wording only one getting a divorce and the other had a dead husband. Both out of state and would ship for free seeing someone elese paid the shipping and then backed out. Yhey must think I am out of my mind for buying a car with out seeing it in person and driving it and having my husband who is a mechanic look it over first. These peopl give cars.com a bad name.
Purchased a new car
Uses car for N/A
Does not recommend this car
---
Lemon
by Back to Toyota from Atlanta, Georgia | December 24, 2011
These are the repairs I have had to made to my 2001 Jeep Cherokee. I think this is a little too much for one vehicle since I spent less on my 3 toyotas combined. 12/23/2011, $383.90, Flywheel Torque Converter Bolts, Milage: 68459 12/5/2011, $330.28, Ignition Coil, Milage:68089 10/18/2011, $165.41, Up stream O2 sensor, Milage:67284 11/20/2010, $199.31, Replace rear tailshart seal & bushing, Milage: 62011 7/9/2009, $248.18, Oil leak at valve cover, Milage:55767 2/25/2009, $623.92, Oil leak rear main seal, Milage:54115 12/14/2007, $1272.05, Installed intrument cluster, Milage: 46575
Purchased a new car
Uses car for Commuting
Does not recommend this car
---
I am very pleased with this vehicle to this point
by cherokee nation fan from Georgia | October 12, 2011
This is the first SUV that I have owned, and I am very pleased with the performance, the style(exterior and interior), and I have heard some great things about the Grand Cherokee
Purchased a new car
Uses car for Just getting around
Does recommend this car
---
Living in The Back Country of Colorado at 9,600 ft
by High Country Driver from Park County, Colorado | October 10, 2011
We have to drive on washed out dirt roads 10 miles just to get to and from our house. We have winter conditions up here 7-8 months a year. To say we are isolated, would be an understatement. To live up here, you have to have a vehicle that is dependable, rugged, and excellent in deep snow! The 2001 Jeep Cherokee meets all these demands and more. We own a Cherokee Sport with 53,000 orig. miles and plan on keeping it for a very long time.
Purchased a new car
Uses car for Transporting family
Does recommend this car
---
LOVE this Jeep!
by Jeepersx2 from NW Indiana | January 25, 2011
This is the second Jeep I've owned. The first was a 1995 Grand Cherokee. Despite the fact that the dealer lied to me about it previously being wrecked, I loved that Jeep. I just bought my 2001 Jeep Cherokee 4 days ago (used). It has great pick up. Love the body style, and the fact that I can easily switch from 2 WD into 4 WD. The stability on this Jeep is outstanding with the wide wheelbase. Roomy interior, with gauges rather than what's known as 'idiot lights' on the dash. I would definitely recommend this vehicle to anyone!
Purchased a new car
Uses car for Commuting
Does recommend this car
---
Great SUV
by Brutus from Trapper Creek, AK | August 8, 2010
Bought a used Cherokee a few months ago. The Cherokee has been nothing but great, except for a minor problem with the left-front speaker. The 4.0L is just a better motor than Jeep's new 3.8L, and I have been getting better gas milage than I did in my 2009 Wrangler. In my opinion, the new Jeeps just don't perform at the same level as the older ones do. And did I mention the Cherokee's great performance in the snow.
Purchased a new car
Uses car for Commuting
Does recommend this car
---
Love my Jeep
by Randygotajeep IL from Springfield, IL | March 30, 2010
This my first Jeep and i love it. I wanted a 4x4 and it does well. Got to play in the snow for the first time in all my life. Havent had any problems yet. When i found out it had the Inline 6 that was the key ingredient. I had another vehical with a strait 6 and it had over 500,000 thousand miles on it and did not have a bit of trouble with that engine either. I plan on keepin the jeep for a very long time. starting with 63,000. I got a long way to go.
Purchased a new car
Uses car for Just getting around
Does recommend this car
---
People Who Viewed this Car Also Viewed
Select up to three models to compare with the 2001 Jeep Cherokee.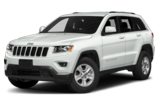 2015 Jeep Grand Cherokee
Starting MSRP
$29,995–$64,895
Compare
2015 Dodge Durango
Starting MSRP
$30,495–$43,895
Compare
Featured Services for this Jeep Cherokee