Average Ratings
---
21 out of 30 people recommended this car.
---
It's Bad Enough To Complain Online
by Greenhorn from Nashville, Tennessee | September 20, 2016
I bought one of the base models about a year ago for my second car ever. I had the: -2x4 -2.0L -5 speed manual -Sport Model The ride quality is average, acceleration is okay, breaking is ehh. Everything about this car is right at average, but there's an atmosphere of what could have been in the car. You can definitely tell what Jeep was trying to do, but its just so lackluster. The interior is way to small for how big the outside it and on top of that it's not made with the best parts and pieces. It's just disheartening to see this almost caste system Jeep has set up. "Oh what's that you don't want to buy the limited 4x4 Jeep? You just want a commuter that looks nice? No, for shame!" And then you're cursed with bad build quality and few features. No really the features of this car: -A/C -Power Steering -A Radio -If you're lucky the cruise control will work (roughly 5% of the time) Everything else about this car is manual. Windows, locks, seats, lights. It's a relic of car technology. I had originally traded a big old Ford truck in for this specifically for reliability of having a car with fewer than 25k miles on it. So for the first year it was great-ish. It did what I needed and got me where I was going. Within the first two months of me owning it the throw-out bearing went out. I didn't think much of it because I thought it was just where I had learned how to drive a stick with this car. So I went ahead and rebuilt the clutch assembly because Jeep sells a kit to replace it all and I didn't want to pull the transmission off again any time soon if I needed To replace the pressure plate, or the flywheel. That lasted another 10 months, until I had to replace another throw-out bearing, This time doing the same as the last, replacing the entire clutch assembly. So I drove it to the garage my friend has to use his lift, and while its parked outside while I'm shooting the breeze with my friend, a puddle of transmission fluid pooled underneath it. In short, after a year and 25k miles (50k total) the transmission housing cracked (still don't know from what, the throw-out bearing shouldn't do that). It was under drive-train warranty, but not without a fight.
Purchased a new car
Uses car for Commuting
Does not recommend this car
---
Do not buy this Jeep
by Jeeped out from Madison WI | April 11, 2016
I bought this vehicle new-have had the sunroof replaced twice because it will not close-after the second repair the roof drain clogged and flooded out the interior during a rainstorm-most recently the Electronic Throttle control failed at only 50,00 miles and stranded me on the highway-the worst and most unreliable car I have ever owned
Purchased a new car
Uses car for Just getting around
Does not recommend this car
---
Not their finest work...
by Alex from Dansville, NY | April 30, 2014
This is a wonderful new car, the 2.4L I4 is superb, I love the nice rally noise you get from the exhaust at high RPMs. However I can't say that much else is wonderful about it. I had a 2002 Liberty that was superb, it did everything I asked it too and it handled the snow incredibly well. Some problems I have with this though: - The flappy toggle for 4WD isn't as reassuring as the old lever on the Liberty - The arm rest is also in the way of readily accessing the 4WD switch. - Ground Clearance is rather poor, a little short for a Jeep - The A-Pillars are ridiculous, I never once thought I would have a blind spot in front of me. I have narrowly avoided two accidents in as many months simply because I can't see enough. - The inside feels very cramped, back seat has very little leg room - The throttle is extremely sensitive. The brakes, not so much - There is a LOT of road noise which, after checking the tire pressure and all the windows can only be attributed to insulation - The steering wheel is massive, it feels clumsy and is rather uncomfortable to hold for a long period of time. - The low beam headlight is still too high, I've have had people flash their lights because it's blinding them. - The lack of an actual spare tire is foolish, a space saver is a ridiculous idea for a company that likes to go off-road to take the kids to school. For some postives: - The Grill is classic Jeep, I absolutely love that -The headlights are like your own personal suns, I have never seen so far at night - The stereo is fabulous - The engine noise again is very nice - The traction control is very well designed, it could go without blinking as it draws my attention away from the road which I need to be focused on
Purchased a new car
Uses car for Commuting
Does not recommend this car
---
2013 Patriot Transmission
by Gail H from Santa Ana, CA | April 3, 2014
Initially I was happy with my purchase of a new 2013 Patriot.Dealership was nice, made the deal fairly painless. I have had the car a year and recently took a job in AZ that I drive back and forth for, twice a month. Each time I've made the trip the transmission light has come on, overheating. I've been driving at 80 MPH, on cruise control, and after two hours in, I have to start pulling off to give the transmission time to cool down. I took it in and the dealership said there was no indication that there was a problem. This trip back, it took me an hour to get 20 miles, after driving the first two hours, again due to overheating. I was in the middle of no where, at 11:00 at night, pulling off the road every five minutes. I was furious that a car a year old should be having such a hard time. I was not towing, I was the only one in the car, with nothing heavy to carry. So again, I had to leave it at the dealer, nothing showing as a problem....but the service manager tells me this model is not built for long drives. The transmission can't handle anything over 70 miles an hour, and that there's nothing to be done. The speed limit on the highway is 75 and this car can't manage it!!! And I'm not the only one bringing this model in for this issue I was told. I traded in a 2008 Patriot because I was worried about that transmission, and my friend had a 2008 that he had to have his transmission replaced! Why can't Jeep get it right!! The car is great in conditions, but you can't drive it for any distance....so if you are looking to ever take a long drive this is not the car to buy. That was not disclosed to me at the time of the sale or I would have bought something else!
Purchased a new car
Uses car for Commuting
Does not recommend this car
---
Perfect Patriot
by Patriot Lover from Charlotte,NC | January 27, 2014
The car drives and looks awesome!! It's a smaller suv, but that certainly does not mean that it's uncomfortable or not spacious on the inside. I love the fact that is has an actual electrical plug along with the cigarette lighter plug in. It drives great in town, and I cannot wait to get it on the highway.
Purchased a new car
Uses car for Just getting around
Does recommend this car
---
Jeep Patriot 2007
by Mad from California | November 14, 2013
Where to Start?? First problem was the Throttle box at about 50,000 miles. It was as if no gas was getting to the engine. The gas petal would go to the floor and no acceleration at all or would die sitting at a light while stopped. Even when putting on the brakes it would want to not run. Just randomly even on a full tank of gas. Not covered by bumper to bumper warranty. How convenient. Then the battery needed replaced. Now at 82,000 miles the engine was making a loud noise, the Deceleration Pulley on the Alternator went out. Now I am having a hard time pumping gas into my gas tank. Who knows whats that is yet. Getting sick of replacing everything. Getting ready to unload this vehicle. Will never buy this vehicle again or recommend it to anyone. I am disappointed because we have had Jeeps in our family for years. I hope this helps anyone out there having problems with there Patriot.
Purchased a new car
Uses car for Just getting around
Does not recommend this car
---
2014 Jeep Patriot....LEMOM!
by Laurab from Orlando, FL | October 23, 2013
Bought the 2014 Jeep Patriot, manual drive, for its ability to be dinghy towed behind a motorhome. Invested in Blue Ox hitch. Less than 3,000 miles on the vehicle and suffered a catastrophic failure while on vacation. PCM needed to be replaced. Chrysler replaced it with a refurbished part that failed 6 days after we picked it up from initial repair. It was just diagnosed with crank shaft indicator failure. Supposedly the car is fixed. We are stuck here on vacation with a car we longer have any confidence in. Service provider indicates their job is to repair the car, not deal with the fact that with only 3,000 miles on it......we may have a lemon. Disappointed in Chrysler.
Purchased a new car
Uses car for Towing
Does not recommend this car
---
Jeep Patriot
by Jeepie from Warrensburg, MO | October 10, 2013
Had to get the car in such a short time so this will do. The salesman was very nice and helpful---main reason to buy from this Jeep dealer...the car has a nice color and new...still adjusting to its use....
Purchased a new car
Uses car for Just getting around
Does not recommend this car
---
Dissatisfied with my 2013 Jeep Patriot
by Dissatisfied from Louisville, KY | August 13, 2013
When I first purchased this vehicle I was beyond in love with it. It drove well, even though I had stepped down as far as engines go, coming from a Liberty. When I purchased the car I was not at all dissatisfied with the change from V6 to V4 - At the time I lived in Colorado and it was great in the snow. I've had it for about ten months now and have been experiencing problem upon problem. The reason I selected this car instead of just paying cash for an older model was reliability - I didn't want to have to deal with service issues for a while. But for the past two months, it has compounded problem upon problem. Problem number 1: The back right wheel squeaks. The two dealerships I've been to haven't been able to pinpoint why or how to fix it. Problem number 2: When I bought the car, you could barely tell when the engine was on. Now the engine is very loud, it actually sounds like it needs an oil change. I noticed this issue immediately after an oil change. Problem number 3: The brakes have progressively gotten louder and louder. When I first got it they did squeak a bit, the salesman who sold it to me assured that was just because it was new. Now the problem is even worse and happens almost everyh day. Problem number 4: The windows freeze shut in the winter. This has been a problem since I purchased it in November. Problem number 5: The engine stutters. A lot. The frequency has increased over the months. It feels like it's running out of gas - even when I have a full tank. I tried putting the highest quality gas in the car, but that didn't really seem to help and one of the mechanics at one of the jeep dealer said that that wasn't necessary, so I stopped and just put in regular gas. At first it only did this when accellerating, now it does it as random times. I could be braking, going down a hill with my foot off the gas, turning without accellerating, it doesn't matter. It still happens. I've had to spend a lot of time in and out of dealerships and on the phone with Chrysler's 'support' if you can call them that, as they don't really do anything, just check to see if the problem is still occurring/tell you there is nothing they can do/tell you to go to YET ANOTHER dealership. It's all a bit of a headache so I really wouldn't recommend this car. I don't know if it's just specific to the car I got or if it's a problem all Patriots are going to face, but I am definitely not at all satisfied with the 2013 Patriot, or Chrysler as a whole.
Purchased a new car
Uses car for Commuting
Does not recommend this car
---
Fantastic Value
by Eastern Washington State from Eastern Washington State | August 6, 2013
We bought a 2.0L, 5SP, FWD Jeep Patriot new and now have 10k on it. We test drove MANY other brands and models before buying as a long distance commuter. The Patriot is very comfortable and roomy. Passengers over 6ft tall have more than enough leg and head room in the front and rear seats at the same time. Having parked next to previous model years of Cherokees, Grand Cherokees and Liberties, it appears to be about the same physical size yet devotes this room differently than the other models as we do not fit in 5 year old Cherokees, Grand Cherokees and Liberties. The frame of the Patriot it THICK and has a truck feel to it (not a tin feel) and all openings have double weather seals providing for a quiet ride. The controls are meaty, well laid out and minimalistic, just what you'd need, right where you'd expect to find it. The center console is narrow allowing access to the seat belt receptacle. The lighted cup holders are a nice touch too. The A/C is like a super chill-a-vator, it BLASTS COLD fast even when it is over 100deg outside; I get complaints from the rear seat that they're freezing. Although the rear door appears small from the outside, the rear seat sits behind the rear pillar and requires no 'folding' in and out of. The rear seats are VERY thick and supportive on long trips for 2 tall adults yet forget about the middle seat position. The rear cargo area really benefits from being boxy, lots of room for 'big box store' runs, suitcases, table saw, totes, camping gear, hunting gear, and whatever doesn't fit back there can be thrown up on the roof rack (although we haven't run out of room inside yet). Don't get me wrong, it is a smaller vehicle yet the thing has ROOM to spare and with the rear seats down, I have transported 8 foot boards, a ladder, a table saw, a food tote, a tool tote, computer and a suitcase without even getting crowded. The thing is SO much fun to drive. When my friends and co-workers ask how we like the new car, I toss them the keys and let them go alone, the reaction is always the same…'WOW that was not what I expected, it is so much fun to drive'… exactly. OK, the 2.0L has plenty of torque yet is not peppy. The benefit…I have tracking the mileage since my first tank full and average 31-32 all the time. Weather around town loaded or cruising solo down the highway, the motor response is the same and never bogs down. We liked the manual over the 2 automatic options, it seemed to us to make the power more useful. Even though ours is the 2 wheel drive, the traction, brake and roll controls are all Jeep. The dealership had me take it up and down the Wrangler trail. It held traction and maintained clearance going in and out of the gravel, turns, dirt and moguls. On road the body remains stable side to side in curves, turns and uneven hills. The hill assist is amazing in forward or reverse, just put it in gear and it hangs in space long enough for the clutch to take over. We did not buy this Jeep because of price. Over 2 years we compared more than 30 new and used vehicles including mini-vans, cross-overs, cars, small, medium and large SUV's and trucks. For the purpose of a long distance commuter that could also haul 4 people over 6 foot tall there seemed to be VERY few options (it amazed me how cramped 4 door pickup trucks were). The Patriot outshined them all by a wide margin and then turned out to be less money with the lifetime extended warranty than the next new option with nothing. And, as usual, the dealership makes a huge difference; find one with more than a couple Patriots so you can compare the different trim lines. Would I buy another? YES, and so would my wife and kids.
Purchased a new car
Uses car for Commuting
Does recommend this car
---
People Who Viewed this Car Also Viewed
Select up to three models to compare with the 2013 Jeep Patriot.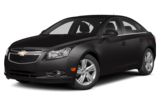 2014 Chevrolet Cruze
Asking Price Range
$10,286–$17,214
Compare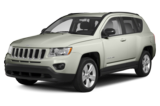 2013 Jeep Compass
Asking Price Range
$10,565–$19,517
Compare
2014 Nissan Rogue
Asking Price Range
$15,344–$25,132
Compare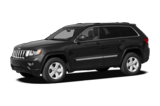 2012 Jeep Grand Cherokee
Asking Price Range
$12,661–$33,245
Compare
2013 Ford Escape
Asking Price Range
$11,492–$23,084
Compare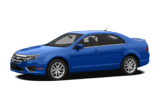 2011 Ford Fusion
Asking Price Range
$6,218–$14,694
Compare
Featured Services for this Jeep Patriot