Average Ratings
---
10 out of 12 people recommended this car.
---
Optima Hybrid Buyer
by All Star Purchaser from Claremont, CA | June 7, 2012
The car itself is good and I have had no problems as of yet. I still need to drive the vehicle more to get an accurate MPG count. so far I would recomend the car to other people. As far as deal with All Star I would say go somewhere else.
Purchased a new car
Uses car for Commuting
Does recommend this car
---
Decent car
by Wanderer from Washington, DC | March 29, 2012
OK, I had to put my 2 cents here, after driving this car for 3 months now... In a nutshell, styling is maybe the strongest point of this car, if you like it, that is. In my book, the pluses would be: - style - value for the money (with the top options) - gas mileage better than non-hybrids - decent road noise level The minuses: - Gas mileage worst than expected - Some controls not ergonomically placed (seat heat/ventilation switches, heated steering wheel switch) - QC control issues (my car came with missing bolts) - No rain sensitive wipers (really, in a 30k car is that so expensive to add) - The "premium" sound system doesn't sound that great IMHO - Not particularly fond of the leather with a cloth outline thing on the seats - And the most annoying of all – car drifts left or right badly, according to road crown (it's been to the service 3 times to no avail) Overall, you mostly get what you expect in a $30k car, but I strongly believe Kia should correct these few shortcomings, starting with the steering. Would I recommend this car? Yes and No, it depends on whether you think you can live with these minuses or not. I personally regret buying it, but I will not lose money to replace it soon.
Purchased a new car
Uses car for Just getting around
Does recommend this car
---
Great, stylish Hybrid
by R-2 from Delaware-PA Area | March 27, 2012
Very pleased with my Optima Hybrid. Love the style; getting 43.7 on highway trips and 39 to 41 around town, but I drive it easy... it's definitely not a peformance car! Very nicely equipped, interior design and comfort Great sound system, Sirus radio, and UVO system (blue tooth, radio commands, etc). Pretty cool rear camera for backing up. Cons: Front seats may be a little tight for heavier guys; road noise, stiff ride.
Purchased a new car
Uses car for Transporting family
Does recommend this car
---
after driving for a month
by doryhan from Washington, DC | March 14, 2012
My previous (or other) cars: Ford Taurus (V6), Chrysler PT-Cruiser (I4), Cadillac DHS (V8). It has been 1 month since I got my new Optima Hybrid. As mentioned above, I have driven from 4 cylinders to V8 and was planning to get something that was of hybrid. Knowing Toyota's long history with their successful hybrid cars including Prius and Camry Hybrid, I spent a significant amount of time researching and test-driving both of them. There was no surprise. Both well built cars. Especially when it comes to MPG, both of them reportedly results in the real world MPGs that are close to what they claimed (about 90% of the official EPA MPG most of times). The only problem I had with them was…I did not like them. I personally do not like the exterior design of Prius, which looks like a big pod or a toy. Also, its acceleration on a highway is simply a joke. The engine noise sounds like it were running over 80~90mph when it actually runs only around 40~50mph. A lot of wind and road noise, too. Thus, I was leaning toward 2012 Camry Hybrid (CH). The 2012 Camry Hybrid was a real car unlike Prius. The acceleration was alright and engine noise was acceptable. The exterior design was a little boring to me, but I could live with that. The surprise was the price tag. Although the base model starts from about $25K, it quickly added up to around $30K when it was decently equipped (not the MSRP but I am talking the dealer price). Believing in "you get what you paid for" I almost decided to go with a Camry Hybrid. Just before I signed the contract, I decided to test-drive KIA one last time just because I did not want to have afterthoughts like "I should have tried some other cars before committing to not so exciting (to me) but an ok car for the price." ------(ok, maybe the background was too long)----- In fact, I liked Optima Hybrid (OH) at my first glance, appearance-wise (Sleek, modern looking, but not overly done with excessive uses of curves like Hyundai Sonata. Neat but not boring). It looked nothing like KIA it used to be. The main reasons why I still initially considered Toyota over KIA were (1) I found some negative reviews complaining about low real MPG with OH and (2) well, let's face it – it is KIA, not Toyota. My test-drive with OH was supposed to be nothing more than to confirm that I would better off with Camry Hybrid. As soon as I got in OH, however, I was very impressed by the well-designed interior (it is more like of European cars than Asian ones – driver centered design) and quality materials that do not look cheap (the major material is still sort of plastic but does not look cheap like those in Prius). Even for the base model (dealer price $22K) it had a long list of standard options (Bluetooth, voice-controlled audio powered by Microsoft, backup monitor, smartkey…and so on). Driving OH brought me another surprise. It did not feel like I was driving a hybrid. When you push the gas pedal, the car actually accelerates with a decent pickup without engine screaming out like Prius does. The car was sealed airtight – no wind noise at all– rivals Cadillac's larger sedans. OH's road noise was rather larger than average, however. Comparing to Camry that was equivalently equipped for about $26K, the well-equipped base model OH for $22K was a real bargain. I did think about the slightly lower MPG I would get with OH comparing to CH, but that did not justify the price difference ($4~5K). Also, considering KIA's 10 year warranty, what could really go wrong with my $22K investment? Ok, I will talk a little more about MPG now. I drive 100% city where you have to stop at signals every 3 minute. Based on my experience with OH for a month, the MPG is between 33.8~35.1, which is very close to its official number (35 city). On highways, the MPG was about 38~39 (official highway MPG is 40). Not bad at all. However, I found a few issues that could bring negative impacts on the MPG (more talks on this follows next).
Purchased a new car
Uses car for Commuting
Does recommend this car
---
Love my Optima Hybrid
by OSU Fan from Cape Coral, FL | March 1, 2012
I had a Lexus IS 300 that I sold because I was looking for a larger family car that offered better fuel economy. I did a lot of research before making my decision to buy this car. I was going to buy the Sonata Hybrid, which is essentially the same car but different body style. The reason I chose the Optima Hybrid is because I liked the overall look of the Optima Hybrid both inside and outside better than the Sonata Hybrid and also the Optima Hybrid also offered the AC seats with the premium package. I did spend the extra money on the Premium package and I would recommend doing the same if you can afford too. Definitely worth the extra money. Over great car and I love it. No Regrets what so ever and I have owned the car for 6 months now. I Would recommend this car to anyone.
Purchased a new car
Uses car for Commuting
Does recommend this car
---
So far So great!
by Hybrid Newbie from Near Philadelphia, PA | February 24, 2012
Fourth Week of ownership and I must say I am very happy. Love the styling and the comfort. Of course I am a taller guy and moving from a smaller car to this larger model probably weighs on this. Ride is smooth! Both on the highway and secondary roads. It can be a little drifty in wind but I think that is normal. Now as it relates to the performance and Gas Mileage. Yes, its takes some getting used to, especially the starts from a stop, there is a little hesitation, but it is normal, it is the transition between the electric motor and the motor/ transmission assuming power of the drive train. No, you are not going to fly off the line, if you want that, you should go buy a muscle car. I have driven the car a few different ways over each week. And have decided that for mine, being a little more normal than soft on the pedal ( as people have said in other reviews) is the way to go. I read reports of really bad fuel mileage, and reports that you have to drive it like you have an imaginary egg between your feet and the pedal to get the advertised mileage. Not so In my case. Not sure what will work for you, but try a few driving styles to see what returns the best economy for you, based on your particular car, driving styles and your area. Certainly you can't mash the gas and expect results but if you take it a little easy and are smart about it, you can be really pleased. My daily commute has me Driving roughly 25 miles each way with about 12.5 miles in the city/ suburban streets and about 12 or 13 on the interstate. With that commute , I am getting about 550 to 600 miles from a tank and could go further , but I never like to let the tank go real low, (On board says I could go another 100 miles or so). As a result I am averaging between 36.4 and 38.6 MPG. That's while doing roughly 71 or 72 mph cruising down the highway. Hybrid even kicks in at that speed. All of that's good in my book! I do not go by the dash read out. Keep track of your miles, and when you fill up , do the math. I will say the outside temps also have a slight impact as well. I have noticed that on cold days here in the northeast, the battery takes a little longer to charge from sitting overnight, so the engine is running to help charge it , while also powering the car. But on warmer days the battery reaches charge quicker and the motor shuts off more quickly and often to run in EV mode. I should also mention that my better/ higher MPG is being realized when I am using the cruise control, drifting down hill (car will switch to EV mode), and decelerating sooner when getting off an exit or approaching a red light.( again , car will switch to EV mode). I am just offering pointers on this, but also want to convey that I am not really babying it either. But shouldn't we do those last few things I mentioned anyway?especially as gas is going up and up! In any case, two thumbs up ( so far) for my new Optima!
Purchased a new car
Uses car for Commuting
Does recommend this car
---
Gas Mileage stinks Don't buy
by Gas mileage stinks from Binghamton, ny | February 16, 2012
I just bought this - Kia Optima Hybrid - Left over 2011. I like the car but the gas mileage stinks I have an avg of 22.9 mpg. Please don't tell me it is the way I drive, I have been driving so careful just to see what mileage I would get. The eco metter never has been out of the green the only thing the car does is try to charge the battery. The battery has never been about half and it is always charging. It never really use the battery to drive the car. But I now what everyone will say "it's my fault" This car has a problem with it but I guess I must have built it because everyone says it my Fault. Don't buy
Purchased a new car
Uses car for Just getting around
Does not recommend this car
---
Great value
by Love the styling from Los angeles | February 14, 2012
My last car was a mercedes and I was considering another one. I did my due diligence in looking at cars and getting the best car for the price. The mercedes did not get the best rating but the kia optima did. I love the styling and the comfort of my car. This is my first hybrid and I am trying to get used to the lag when putting the peddle to the meddle so to speak. I didnt buy it for its quickness though but for the gas mileage and looks. It doesnt get the gas mileage as advertised but much much better than my mercedes. I would highly recommend this car.
Purchased a new car
Uses car for Work
Does recommend this car
---
Optima hybrid blows competetion in design and use
by m5tok5 from Leesburg, VA | January 30, 2012
Finally got an opportunity to migrate from bmw to hybrid. Most poeple think by design this car has to be a bmw but its not and its proudly korean original. Amazing luxury at amazing price and hybrid mileage between 30-40 for most drivers is a great thing that you cant complain about. So far so good and a veryhappy customer of first Korean car. Cooled front seats are something worth having in hot weather and on long drives. Panaromic sunroof and 12 speaker sound system also is great. The technology option is a must have.
Purchased a new car
Uses car for Having fun
Does recommend this car
---
best in class
by snowman from Tonawanda | November 14, 2011
Bought the new Optima hybrid and have been blown away by it's excellent comfort,styling and it's performance and gas mileage. I have had a new Camry hybrid and two new priuses. The KIA is by far the most enjoyable to drive and it turns heads wherever you go. This never was the case with the Toyota's.The city mileage is averaging 40+ at this point. I do have an advantage because I understand how to drive a hybrid and get great mileage without driving timid like. So far better all around than the others. The exterior and interior blow the doors off just about any other car on the road. Great car and fun-fun-fun to drive. Not like the Toyota's that were dull and lacked performance.
Purchased a new car
Uses car for Having fun
Does recommend this car
---
People Who Viewed this Car Also Viewed
Select up to three models to compare with the 2011 Kia Optima Hybrid.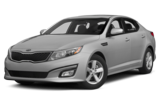 2015 Kia Optima
Starting MSRP
$21,840–$35,500
Compare
2014 Hyundai Sonata Hybrid
Asking Price Range
$13,952–$21,212
Compare
2010 Subaru Impreza
Asking Price Range
$2,411–$25,059
Compare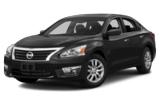 2014 Nissan Altima
Asking Price Range
$10,403–$19,427
Compare
2011 Toyota Camry Hybrid
Asking Price Range
$8,749–$18,125
Compare
2012 Hyundai Sonata
Asking Price Range
$7,884–$16,432
Compare
2013 Subaru Forester
Asking Price Range
$13,246–$23,714
Compare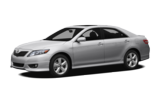 2011 Toyota Camry
Asking Price Range
$7,673–$15,605
Compare
Featured Services for this Kia Optima Hybrid