Average Ratings
---
14 out of 16 people recommended this car.
---
very upset
by heavy driver from atlanta, ga | April 15, 2015
I've put 50,000 miles on my vehicle. Had to go to the shop 3 times for various issues. Only get 20-25 mpg. And the seats are extremely uncomfortable. I would know, Im a taxi driver and i sit in my 13 optima hybrid all day after 1 year of driving it became devalued at least 10,000$ less than what i bought it for. This car looks great but that is all.
Purchased a new car
Uses car for Work
Does not recommend this car
---
Amazing Non the less
by V from omaha, ne | January 18, 2015
I've had 2013 Optima for yr and a half, @ 28000mi. I have had no Problem with it so far, Love the C.Y.A. Plan that my dealer offered, along with the on board maintenance count down really keeps me worry free. At my most efficient drive, I had the MPG counter to 62.3 and distance to empty at 637 full tank. average drive I'm getting about 33mpg city/45mpg hwy-mi.
Purchased a new car
Uses car for Having fun
Does recommend this car
---
Highly Recommend !
by Optima Bob from Yuma AZ | November 14, 2014
I now have 20,000 miles on my Hybrid. It has exceeded all my expectations. It has been completely trouble free. Most of my driving here in Arizona is interstate which 80 mph average. and my mileage is about 36-38 mph. Below that 65+ is just about 40, but then you get blown off the road. City average is 34+. Comfort is great, but the passenger seat could be higher. This is my second KIA ( I traded a 2011 Sorento in which had over 75000 trouble free miles on it) plus we have a great KIA agency. I am very pleased!
Purchased a new car
Uses car for Work
Does recommend this car
---
WOW....more value than I had expected
by New Kia Optima owner from Raleigh. NC | October 18, 2014
I have owned my 2013 Kia Optima Hybrid LX for 5 wks. and I love it. It handles beautifully and looks great. I am getting 37-37.3 mpg always. What a change from the suv I was driving. It glides silently from battery to gas engine. I am so proud that I own this car, I create errands to create a drive. The back seat is spacious and I feel that it is the safest car I have ever owned. If you are undecided about buying an Optima,BUY....
Purchased a new car
Uses car for Just getting around
Does recommend this car
---
Beautiful Car, variable mpg
by OregonCommuter from Oregon | September 25, 2014
We've driven our 2013 Kia Optima Hybrid more than 30,000 miles and we are very happy with this beautiful car. The mpg changes a lot according to the weather. On a sunny summer day we'll get 41 mpg, the same route on a cold, rainy winter day averages 34 mpg. This car is comfortable and quiet on the highway and gets excellent mileage on windy mountain roads. We have had no issues mechanical or otherwise. We've read the online reviews about the powertrain and we haven't experienced any of the rough transitions that are mentioned. The car has a lot of pep, which we enjoy.
Purchased a new car
Uses car for Commuting
Does recommend this car
---
So far a great car.
by Dallas Mike from Dallas, TX | August 4, 2014
I've owned my Optima Hybrid LX for about 3 months now and have about 4,000 miles on it. Love the look and so far it's a great car. Ride is comfortable, lots of options for the money, and I'm averaging mid-30's with manually calculated milage. Living here in Texas, i've seen the mpg go down some as we've moved into the time of year where the air conditioning is on pretty much all the time I drive. I've also noticed that trips with hills tend to pull the milage down more compared to trips on relatively flat land. The indicated mpg on the computer seems to be about 1 to 3 miles per gallon more optimistic than what I calculate. All said, coming from a Sonata turbo where I was averaging 25-27 overall, I'm very happy with the increased milage (I do miss the turbo power at times, but the Optima has plenty of power for normal driving). Blind spots on the rear corners is there, you just have to make sure you're checking them. I've put a small convex mirror up to the right of the rearview mirror, aiming it towards the right side blind spot area, and that really helps. It' one of the small mirrors they sell to watch kids in the back seat. Fit and finish is great, and I've noticed that both Kia and Hyundai have made great progress to the point that their vehicles compare well to the Japanese brands. You do seem to get a lot more for your money compared to Toyota, Honday, Nissan, etc. So far no issues that I've had to take in for warranty, but I feel secure that with the extensive warranty I'm covered if something does come up.
Purchased a new car
Uses car for Commuting
Does recommend this car
---
Test Drive Sold Me
by New Tree Hugger from Chicago Suburbs | May 25, 2014
When I started looking for a midsize sedan with good gas mileage, the Kia Optima Hybrid kept popping up. I was always concerned about how much power a hybrid would give me. Though I don't need a 4 second 0-60mph time, I wanted to be able to pass someone if I had the opportunity. As I started reading more about the Optima, I read some reviews mentioning there was a rough transition from electric to gas. With a good $$ point and lots of features, I decided to test drive it anyway just to see. I was VERY glad I did. Yes, it is LOADED with great features, even for the base model. The cabin is super comfortable and driver-centric, which I liked (the center console is tilted slightly towards the driver). Mind you, I'm coming from a base model 2004 Chevy Cavalier, but I was REALLY happy with the amount of power the Kia gives me. As far as the transition from electric to gas, I chuckled because to me, it felt like a regular gear change. I thought other reviewers were being extra picky about that. If I had to criticise anything, it would be that it was a little sluggish to kick in the extra power, but that's only if I had to be extra picky. It wasn't that bad. I am really happy with my purchase and I suggest if you're thinking/leaning towards getting a hybrid, check out the Optima.
Purchased a new car
Uses car for Commuting
Does recommend this car
---
This is a complete ride!!!!!
by topgator44 from Orlando,Fl | March 4, 2014
I traded my 2003 Lexus LS430 for this, and couldn't be happier. My Lexus was in excellent condition, but was just getting old. This car is everything! The mileage is about 38 MPG in town. But I haven't actually done the math .It handles, is quick, and rides great and quiet. It takes a lot to impress a Lexus owner. The car does it. My motto is, "I go to a gas station, and sell them back gas!!!!!!!! To boot, I bought this '13 as a leftover, and got it for a steal!!
Purchased a new car
Uses car for Commuting
Does recommend this car
---
Love the car
by Realtor from Glendale AZ | January 16, 2014
The car drives like a sports car, very comfortable. I bought the hybrid for the gas mileage, which is not as great as I expected, averaging 36 mpg, they advertise 37 to 40.
Purchased a new car
Uses car for Commuting
Does recommend this car
---
Great Change and Great Car
by Ebiron from Denver CO | December 21, 2013
Now I am on day 2, I just traded in my Kia Sorento 2011 for this car. So far it is amazing, just the gas milage alone but it is also a lot faster than I ever thought a hybrid would be, but the real key to fuel savings is all in the acceleration, if you are always a lead foot to start, your gas mileage will not be good as stated. I Will update in 90 days on gas milage, though I live 2 miles from work. But now I will need to drive somewhere...
Purchased a new car
Uses car for Commuting
Does recommend this car
---
People Who Viewed this Car Also Viewed
Select up to three models to compare with the 2013 Kia Optima Hybrid.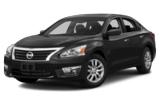 2014 Nissan Altima
Asking Price Range
$10,403–$19,427
Compare
2014 Nissan Maxima
Asking Price Range
$13,764–$27,812
Compare
2012 Hyundai Sonata Hybrid
Asking Price Range
$9,252–$16,716
Compare
2013 Ford Fusion Hybrid
Asking Price Range
$11,957–$21,577
Compare
2013 Toyota Camry
Asking Price Range
$11,858–$19,586
Compare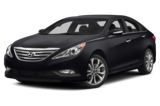 2014 Hyundai Sonata
Asking Price Range
$10,610–$19,710
Compare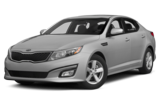 2014 Kia Optima
Asking Price Range
$10,450–$22,426
Compare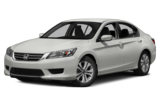 2013 Honda Accord
Asking Price Range
$12,832–$21,656
Compare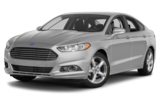 2013 Ford Fusion
Asking Price Range
$10,257–$19,973
Compare
Featured Services for this Kia Optima Hybrid