Average Ratings
---
26 out of 28 people recommended this car.
---
Great car to buy used (if previously well treated)
by pdk7297 from Overland Park, KS | May 5, 2016
Really like this car. It was my wife's idea for me to get it, but I have told her that she was right. I like everything about this car, but I do have a few "wishes" that I likely won't be granting for myself. I wish that the car had a little more power, but that is just me being selfish since it has 307 HP. The car would be nearly perfect if Lexus added a supercharged or turbo charged option to this model. It's a great all-around sports sedan that is sensible, fun, safe and provides a lot of utility. It also looks great and rides very comfortably. The technology is a bit dated but the car is 3 years old, so I can't complain too much. Lexus apparently orphaned the '13 model with some of its latest retro-capable tech, so you might consider a '14 or newer model if you can afford the higher price. Otherwise, though, the car performs admirably. Mine specifically is a 2013 GS 350 F SPORT with AWD and it handles very well and is quick but I wouldn't call it fast. Brakes are monster, and it has a big trunk and back seat. I'll probably keep this car for 5-10 years. I recommend it.
Purchased a new car
Uses car for Commuting
Does recommend this car
---
This Car Rocks
by Pwa from Greater Boston | February 28, 2016
After getting more than my money's worth on my 1998 LS-400 and aging out of the need for something big enough to function as the kids' shuttle service, I was ready for something smaller and sportier. GS-350 is a great car, acceleration and handling are excellent. Doesn't quite have the torque that my LS-400 V8 had but horsepower is almost the same in the GS and handling is significantly better. Enjoying the technology, the wide screen navigation panel is huge, rear view camera looks like high definition, stereo system is usually on public radio but when I do crank the tunes it's loud enough to make my ears ring. Highway ride is smooth as silk. Front seats are a little less cushy than the LS but probably appropriate for a sports sedan. Rear seat armrest has fold down panel so you can fit long objects like skis from the trunk into the car. Noticeable difference in performance (and mileage) when switching into Sport mode but it's pretty fun and worth a few extra bucks in gas. All in all an excellent car, not sure i'll drive this one 15+ years like the LS, but I might.
Purchased a new car
Uses car for Just getting around
Does recommend this car
---
Perfectly balanced driver's car - sport AND luxury
by Knew33 from Pennsylvania | January 22, 2016
I bought a 2013 GS 350 after agonizing between it and the A6. In fact, having previously owned two Audi's, I thought my mind was made up. After too much research, I was still intent on the A6 even though the GS 350 had risen on my radar. I recalled seeing the new 2013 GS at a car show and being blown away by the cockpit and that cool display, but that was about it. I still wanted the German feel and Audi engineering/design. When I finally drove a loaded A6 30T Prestige I was a bit underwhelmed. I can't explain why – it was beautiful and had lots of grunt off the line. Maybe my expectations were too high. My mind verified all the good things that I had read in reviews. But I was left feeling empty – and at that price point, I wanted to feel more - in my heart. Then I test drove the GS. It immediately wowed me in comparison. Again, I could not explain why, but it felt better… it spoke to my mind and heart. And oh, how that engine growl sang to me as the RPMs shot past 4,500 on the tach compared to the silence of the A6. So this sent me back to my research – exhaustive research – trying to quantify the differences so I could make my purchase with confidence. It was tough since I had such brand loyalty to Audi... and had been looking forward to getting back into one now that my kids were old enough not to trash it with spilled milk and gummy bears. But I kept hesitating. In the end, and after test driving another A6 I went with the GS 350. The deciding factors were clear… it was fun to drive, had impeccable build quality, was luxurious and sporty (lux package, thank you) and had a reputation for industry-leading reliability. It was a few pennys cheaper too (in purchase price and cost of ownership)… And I figured that it would be a rather high mileage car when the time came to sell it, and would clearly be worth more than a high mileage German car thanks to that Lexus reliability. Now that I have been driving it for a while, I can better quantify the differences over the A6 and why I love it so much. It is not the most powerful or luxurious. But it is perfectly balanced as a driving experience for me – and I suspect most drivers in the market for this class of car. Compared to the A6, it just feels better as a driver's car, tight and hunkered down with more feedback… and being able to choose Sport + mode turns it into more of a speed-racer than this dad with a past could become bored of… stomp on the gas and the sound is visceral. I'm a driver's driver, but I also live in the real world spending most of my time commuting. And I look forward to commuting with this car. The GS is my sanctuary and elicits passion, not just in the way it drives, but in the way it surrounds you in sport AND luxury. The seats are the best I've ever experienced and this is one reason the A6 left me feeling unloved. The A6 seats are flat and uninspired. The GS seats w/ the lux package hug me… literally. The leather and slightly retro/slightly futuristic cockpit in black with linear espresso wood makes me feel ensconced. And the big display is just wow… The A6 felt but sterile compared to this car. It lacked passion for me. So in the end, I am reluctant, surprised and totally satisfied GS 350 owner.
Purchased a new car
Uses car for Commuting
Does recommend this car
---
Loving it more and more!
by TN Dave from Tennessee | September 18, 2015
I've had my 2013 GS350 AWD about 4-months. It was a step up from the 2011 IS250 base. I have more power and room compared to almost the same gas mileage for both models. The GS is very quick, smooth and quiet from take offs to long highway cruising. It's better than I imagined. I'm loving it more and more! My only complaint is the track ball type menu. It's a little tedious when driving and you need to access the monitor controls.
Purchased a new car
Uses car for Just getting around
Does recommend this car
---
F Sport changes everything
by Shiner Man from Houston, TX | July 13, 2015
After driving the V6 2015 Acura TL, the GS350 is a more refined car, and more reliable then other high end cars, and when three years old similarly priced to a new TL. The F-Sport option really tightens up the suspension and ride like an M series BMW and while the BMW is faster, the F-Sport is fast enough for me. I really like how it automatically takes itself out of ECO mode when I floor it providing economy and speed. Back seat fits 4 comfortably, 5 in a pinch for short distances and if the middle passenger is 5'4" or shorter. The Mark Levinson option is similar to a premium stereo upgrade on a BMW. Great value for the money used.
Purchased a new car
Uses car for Work
Does recommend this car
---
I Love this Car!!!!!!
by Smrt5033 from Philadelphia | August 16, 2014
The car is fun to drive....excellent ride and performed well on the highway and in the city. The interior is extremely nice, and comfortable.
Purchased a new car
Uses car for Work
Does recommend this car
---
Pleasure
by Enthusiast from California | August 4, 2014
Class, comfort, performance, sound system, design, materials, technology-just a few of the reasons to treat yourself to this automobile. Lexus has done good with this model. What a treat to drive!
Purchased a new car
Uses car for Commuting
Does recommend this car
---
Impressed Owner!
by Mark - enthusiast driver from Salem, OR | July 22, 2014
I was sold on Audi A6 after test driving BMW 5, Mercedes E, Audi A6, Caddy CTS-V, Acura TL and hadn't driven Lexus at that point. Reviews were strong enough for the GS I thought I'd at least better take a test drive to rule it out. Non-Sporty, just reliable was my expectation coming in. Sport Mode on the test drive, and I was wowed! The monster 12.3" screen is amazing. Love the look of the front end - online pics don't do it justice. Gotta see it in person. Attention to detail, comfort, leather and wood trim, seats, visibility are all first class Lexus. Handling, acceleration, light feel powerful and quick (decidedly non-Lexus attributes other than LFA and new IS) this is a GS you've got to drive to fully appreciate. Interior, exterior, performance, comfort, good fuel efficiency, and Lexus reliability ... I am extremely happy with my decision. Not to mention Lexus San Diego was absolutely red carpet and impressive all the way! Highly recommend them! If you've thought about Lexus as I did (comfortable, reliable, but not sporty) do yourself a favor and test drive a new GS to see for yourself how different this car is from past Lexus cars, and it appears to be a new direction for the entire line up.
Purchased a new car
Uses car for Commuting
Does recommend this car
---
New owner that will be loyal 4 life
by Christy from Richmond Hill, GA | June 5, 2014
I want to respond to Steve's text posted a few months back about the radio taking to long to navigate. Well he just didn't know how to use it. The same control options are on the steering wheel. I love, love my Lexus GS350. I sold my 2004 Corvette to buy this car. Hated choosing, but Lexus wins-HANDS DOWN!! Think the price should be closer to $50K instead of $65K. Maintenance is over priced too!! So I'm hoping eventually maintenance and parts come down to a reasonable rate.
Purchased a new car
Uses car for Commuting
Does recommend this car
---
F Sport, Love at first sight
by ChrisMo from Chesapeake, VA | March 8, 2014
When the redesigned 13 GS came out I knew I wanted one. Had previously owned an 02 GS Sport Design package which I regretted trading in soon after doing so. Felt the next generation was a bit bland. Living in the mid Atlantic, many of the dealers were laden with AWD versions and I was set on RWD only, so I found my Starfire/Cabernet GS F Sport in South Carolina. After 11k miles and 9 months of ownership, here's my assessment. This car is one of the best kept secrets in the mid size sport sedan market. It handles well, almost light on its feet. I find the interior with the aluminum trim, LED lighting and clean dash with large screen clean and modern. The seats are comfortable and supportive, and the Cabernet red interior... gorgeous. Car gets a lot of looks and its not dime a dozen like BMWs. I do have a couple gripes. Compared to my 02, it doesn't seem as solid or well put together. Ive noticed wind noise around the drivers mirror, and a couple rattles. Also it's missing some luxury car features of the previous gen, such as power folding mirrors and power trunk. These are apparently available in the 14's. Also, while quick enough, it really needs a V8. If they come out with a F with a V8 version, time to trade up.
Purchased a new car
Uses car for Having fun
Does recommend this car
---
People Who Viewed this Car Also Viewed
Select up to three models to compare with the 2013 Lexus GS 350.
2013 Lexus LS 460
Asking Price Range
$35,770–$55,066
Compare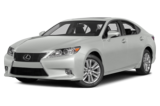 2013 Lexus ES 350
Asking Price Range
$21,783–$32,539
Compare
2013 Lexus GS 450h
Asking Price Range
$22,878–$41,694
Compare
2014 Mercedes-Benz E-Class
Asking Price Range
$22,223–$48,227
Compare
Featured Services for this Lexus GS 350