Average Ratings
---
12 out of 13 people recommended this car.
---
Best car I've ever owned.....the total package!!
by HOKIETODD from Va Beach | March 22, 2014
I already owned a 2010 ES350 which my wife drives, I was looking for a Hybrid and after test driving them all there is no comparison to the GS450h!! I still like driving her car but when I get into my GS450h it is my favorite and you can feel the upgrade compared to the ES350. This car is fast, handles awesome and is pure luxury. I cannot believe I get 25-30 mpg with the power and luxury of this car. I will keep this one until I drive it into the ground. If you are considering a Lexus or a hybrid this is the car for you. It may not get 35-50 mpg like a lot of hybrids but I'll take the speed, handling and luxury and the 25-30 mpg any day.
Purchased a new car
Uses car for Commuting
Does recommend this car
---
Simply Flawless
by Luxury Car Lover from St. Louis | August 9, 2013
Wife and I absolutely love this car. Flawless fit and finish. Smooth and fast driving. Interior is gorgeous! Don't hesitate.
Purchased a new car
Uses car for Commuting
Does recommend this car
---
lexus sports hybrid
by joe from Georgi | January 30, 2012
Best car that I've ever owned. Sports car speed with luxury car feel. Smooth no shift transmission. Unbelievably great!!
Purchased a new car
Uses car for Just getting around
Does recommend this car
---
fastest car I've owned
by mrmusicman44 from Nashville, TN | January 16, 2012
If a Lexus is in your driveway; then a Lexus Hybrid should be your next car. Lexus has done what no one else can or will do: they created a rocket with the GS450h, that gets 24 mpg city and 26 mpg hwy. Perfromance was #1 objective for this model. Green was #2 Fuel economy was #3. This GS is faster than it's V-8 big brother, yet gets the mileage of an economy car. I recommend this to anyone who has come to know Lexus quality and also want performance unsurpassed.
Purchased a new car
Uses car for Transporting family
Does recommend this car
---
ANDREW / BROKER
by SUNLITE CAPITAL from Newport Beach, CA | March 19, 2011
I am a Real Estate Broker so my job is always on a move, and buying this HYBRID makes my life so much better because I get at least 25mpg and the ride is just perfect, at a stop light my car is silent as if the engine is turn off. The car is 5.2 seconds 0-60, very fast, I hardly ever gas the car because its so responsive to my every move. My brother works at Lexus and he said that the hybrid is a very well rounded car, except for the electric battery that is warranty up to 100k miles only. But again, if you want a nice ride and good gas , good handling, don't worry about the electric battery, the cost of battery is around $15,000 , $12,000 for the battery and $3,000 for the services. Still cheaper then to maintain a Bentley gt, which cost around $20,000 for full service.
Purchased a new car
Uses car for Commuting
Does recommend this car
---
Stay Away from Hybrid
by Texas Native from Texas | January 11, 2011
This is my fourth Lexus (ES300, GS300, GS300 and now GS450h) and this has definitely been a terrible experience for me. All my other's have been excellent values for my money and I never had any real issues. But this hybrid is another story. I love the ride and the power, and the styling is incredible both interior and exterior. Right at 38k miles I started recieving this "Check Hybrid System" alert, which once I took my car in to service, they told me that I could not drive my car and they had to check this issue out. To make a long story short, since July 20 - Dec 16, 2010, my car was at the dealer five times and totaled over three months time. I average about 20k miles a year and I only put 2k on it during that time because I was in a loaner so long I almost made monthly payments on it. My car had to be completely rewired and they still never figured out what caused it. I am looking to trade now as I've read on Lexus chat that this happened to someone else and that guy's car completely stopped while driving on the highway. With small children, I cannot take that chance. After being an Lexus advocate for many years, this experience has definitely forced me to make a change.
Purchased a new car
Uses car for Commuting
Does not recommend this car
---
Wow - Just love this car.
by IndyAng from Indianapolis | September 24, 2010
Really can't sum it up any better than that. It's the total package: high-end luxury + awesome performance. The hybrid is just icing on the cake. If you're looking for a sports sedan that offers every imaginable luxury feature in a high-performance package, this is it. Drove the Audi A6 (boring!), and BMW 5-Series (boring and one at every streetcorner!). No comparison. Especially given BMW's inflated price. Still can't my head around rationale for that. Bottom line, the 450h is just a pleasure (and a lot of fun!) to drive. Plus, you're saving a bit of money and a bit of the environment while you're at it. This one will be with me for several years.
Purchased a new car
Uses car for Just getting around
Does recommend this car
---
Excellent in every way
by Fine Driver from Chicago | July 2, 2009
When I heard Lexus was making this hybrid I knew it was the right car and right timing for me to try a hybrid. I purchased the Neiman Marcus 07 edition as only 75 made in this this color and option package. I have driven BMW and Mercedes mostly, but quickly acclimated to the Lexus feel and hybrid function. All in all a very nice driving car and well appointed.
Purchased a new car
Uses car for Commuting
Does recommend this car
---
Lots of power; little fuel; tons of fun
by Barry from Ohio | October 15, 2007
I test drove it three times. To be sure, it is a bit different than the normal GS350/430. I also drove a RX400h and a Toyota Camry hybrid to see if they all behaved the same. They are all similar but the GS450h is obviously the most powerful. The continuously variable transmission is nice and acceleration from 45-90 is head snapping. Around town it will cruise on battery up to about 38mph. Best gas mileage has been 28.8; usually around 27.9. But it's really built for hugging the road and having fun. It is a head turner.
Purchased a new car
Uses car for N/A
Does recommend this car
---
Lexus refinement at its best...
by Lc from Boca Raton, Fl | January 1, 2007
I am an avid Lexus owner, Ls 400, GS400 and now Gs450h. A bit biased? Yes.. and NO.. I buy these cars because they are amazing works of art and machinery that comes in a reliable package. Why not keep buying them when that now come in the next gen technology. This car is not only beautiful.. it performs! It will keep you interested long after other cars become mundane. It offers the best of styling and performance in any class of cars. One drive and you will see. Dead silence when on battery power and a rocketship when the gas kicks in when needed. Regen braking.. finally someone has refined the process to do something will all this kenitic energy that all other cars put into brake dust! This Hybrid works great.. I WOULD recommend this car anyday- lc - Boca Raton
Purchased a new car
Uses car for N/A
Does recommend this car
---
People Who Viewed this Car Also Viewed
Select up to three models to compare with the 2007 Lexus GS 450h.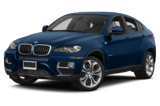 2014 BMW X6
Asking Price Range
$36,112–$55,324
Compare
2015 Lincoln MKT
Starting MSRP
$43,210–$45,205
Compare
2012 BMW Alpina B7
Asking Price Range
$20,373–$72,249
Compare
Featured Services for this Lexus GS 450h