Average Ratings
---
14 out of 14 people recommended this car.
---
This Car is Amazing!
by LoveLincolnsNow from Florida | January 19, 2015
I have had luxury cars in the past (Jaguar, Corvette etc..) but I have to say I just bought a pre owned Lincoln MKS and it blows the other brands away. The quality is amazing, the plus leather seats, voice controlled nav, heated and cooled seats, REAL wood trim, I mean I think I will always buy a Lincoln from now on, this is the nicest car I have ever owned, I'm not one to write reviews but I had to tell others what a great car this is!
Purchased a new car
Uses car for Commuting
Does recommend this car
---
2011 MKS Rocks
by Flyboy from Port Aransas, TX | September 28, 2014
Bought my 2011 MKS two months ago. I NEVER saw myself in a Lincoln -- I've owned Lexus for 10 years -- but the saleswoman I was dealing with insisted I give it a test drive. After that 20 minute ride, all I could say was "Wow!" The MKS outdoes the Lexus in every parameter. Comfort, power, handling, quietness, ride, acceleration, brakes -- the MKS is superior in every way. Fit and finish are excellent. The paint is a mile deep, and the leather is gorgeous. The air conditioned seats, automatic brights, proximity warning "radar", headlights that move with the steering wheel, stereo system -- all are superior to the Lexus we have owned and loved. The ONLY complaint I have with the car -- and it's a small nit -- is that the dashboard has developed a single squeak that manifests itself on rough roads. Otherwise, this vehicle has been flawless. My wife and I LOVE this car.
Purchased a new car
Uses car for Transporting family
Does recommend this car
---
Love my MKS Ecoboost
by Car lover from Rochester, NY | May 31, 2014
Amazing car. Performance is amazing for the money. I love using the paddle shifters. I've heard negative reviews about them, but they are fun to use and fast in response (owned a 2006 Grand Prix GXP and there was gear change lag). It's pretty easy to pass cars with this car. The car drivers like a dream. Hear little to no road noise. You don't feel bumps in the road, so the suspension is amazing. Also, it handles well on the corners. Having AWD with 19 inch tires helps for safe driving in horrific Western NY snow conditions. I have yet to slip or spin out in a snow storm (have cruised by many others off the road with this car in storms). MPG: Rated at 25 highway... Crusing at 55 I've gotten 31 MPG before. Combined is rated at 20 MPG, and driving it enthusiastically I average 22 mpg, when i have driven for economy I have gotten 23 MPG combined. One way to work for me is 40 miles highway and city... Also, if you're good with paddle shifters you can improve MPG if you know how to change the gears for economy. Many reviews state this car lags in luxury, and I fully disagree. The car warns you of a crash, and you can set how far away you want the car to warn. The adaptive cruise control is great. It slows down and speeds up amazingly. Cooled seats are nice during the Summer. Navigation works well, and can be used though voice. You can even listen to pandora from your phone on the amazing 19 speaker sound system. love the dual panel moon roof. lastly, there are so many snesors on this car, it is near impossible to hit something backing up without hearing them, and when parking or driving slowly forward it warns you if you're near another car or object. Comfort: I've read complaints about the front not being comfortable. i don't see this I'm 5 feet 11 and fiance is 6 feet 4. We are perfectly comfortable in the car. Both seats have all power adjustments., and driver has memory. Back seats have lots of space with heated seats, and a sun shade. The trunk is huge, but the opening is odd, so it can be frustrating to get stuff out. There is a cool button on the trunk to open. As long as you have your key it will sense it. This is the same with unlocking the doors, no need to get key out, for it will be sensed. Then get in with push button start. However, remote start is odd. It works well from far away, and with the rain sensing wipers on will wash snow off your windshield while it heats up. The odd thing is once you open the door the engine shuts off. Reliability... I've had to have the heat pads on heated seats changed, and I hear this happens often. Also, the heat shield bushing broke (Ford needs to use better bushings 3 of 4 2011 and newwer cars of theirs I've owned bushings have broken). This is a huge problem with the 3.5 litter ecoboost (friends f-150 had the same issue, reviews on line, and mechanic said so). My Ford mechanic offered bolting it on with a screw, which makes more sense than paying for a new one (not covered under warranty) to have a new buching break. However, he complained it will be a pain during oil changes. If I buy a luxury car again in the future it will be a Lincoln. Beautiful luxury car, with fun features, and performance galore. Also, when compared price wise against competitors Lincoln is generally priced lower.
Purchased a new car
Uses car for Work
Does recommend this car
---
Nice Car
by Car Fetish from Iowa Falls, IA | November 17, 2013
Great exterior design! Love the color (gold leaf metallic). Lots of head and leg room inside. Seats not the most comfortable and the headrests are tilted too far forward (no adjustment). Nice size trunk but opening too small. Hard to get items in the trunk.
Purchased a new car
Uses car for Just getting around
Does recommend this car
---
Miami Jack
by Jack from Miami | November 8, 2013
I purchased this car today from Doral Lincoln, Rolando García was my salesman. I am thrilled with the purchase. The car is beautiful. I am sure the technology in this car far surpasses some space ships orbiting the earth. Incredible vehicle. The price was beautiful! Rolando and the staff at Doral Lincoln were great, professional, knowledgeable, efficient. An all together pleasant experience.
Purchased a new car
Uses car for Just getting around
Does recommend this car
---
Easier to deal with the truth than a lie!
by Mr. Perfect was overwhelmed falsely from Baltimore, Maryland | September 23, 2013
Exterior ...It's looks terrific but don't touch ... Cheap plastic that squeaks and pops out of its clips front and rear .. Grills, bumper and trim?. Disaapointment ! 20" tires looks super but makes ride hard when on uneven road ... Test drive ... It's all about the tires.. Want a super ride stay with 19" wheels with comfort tred tires. Do not take through car wash !!! ..test drove 16 MKS's.. Start by calling concierge.. Not very helpful.. They will tell you not real support or backing with issues.. Dealers aren't in business to lose money so you have a lot of false promises concierge said if you don't like don't buy so buy from a dealer your comfortable with because there is nothing but a promise with no backing for Lincoln. Water and dirt collect on trunk because it curls up in back and sides .. Technology .. Afraid to open trunk you would think it would open on its own.. No compartment in trunk area to store things ..just large open space..no lights on exterior at handles, mirrors, sides or rear Interior .. Shifting paddles worthless ... Cup holders not placed conveniently .. Armrests cover so its a pain.. It seems like poor design for console.. Once again no compartments to really store the things you need in front conveniently... Plenty of room which is perfect but no real frills ... Except ambient lighting that changes colors all on floor though...very difficult to adjust controls of lighting even salesman and techs could work easily.. Cashmere leather nice! .. Cool ventilated seats is like ...as some have said is like mint on the butt! They are nice! This thrills the women! Voice commands are ok .. Good technology but real easy or convenient for trying to concentrate on driving! Mapping must be reset constantly and checking for something else and help press button to help then press button to help ...repeat.. Repeat.. Oh well .. So so. Performance... Great! Shifting a little erratic on occasion. Manual shifting a joke! ... Not good! .. Sensors for parking ok... Don't really work for high curbs or wheel stops ... Interior panels and seats cheaply installed .. It's like it's made for quick change out! Extremely difficult to clean front and even harder rear windows Don't get crumbs or anything on seats.. Hard to keep clean. I have less rust and corrosion on a 1995 Camry then seen on some Lincoln's 2010, 2011 and 2012 mufflers and engine components! Passengers cannot get easily out of car because of locking doors .. Driver needs to constantly unlock doors if vehicle is still running. Past autos have been 1990 Nissan maxima .. Awesome 30 mpg performance luxury auto.. Present 1995 Toyota Camry v6 le still better and cleaner than some new ones.. So expectations were high stepping up to Lincoln MKS 2011.. Time and technology haven't showed much for luxury, convenience, and efficiency, but I still like the auto for power and prestige based on the name alone! Still looking for the auto that gets it right like back in the 90's and earlier! Lets be honest.. I spent a lot of money I have to love this car! Keep in mind I'm Mr.Perfect high expectations and believing in the truth!
Purchased a new car
Uses car for Just getting around
Does recommend this car
---
Great Ride
by Sold on Lincoln from Northern Michigan | February 1, 2013
A much better ride and no wind noise compared to the Mercedes I traded in. I am now sold on Lincoln AND it's made in the good old USA
Purchased a new car
Uses car for Transporting family
Does recommend this car
---
Very comfortable quick car
by Luxury sports driver from Connecticut | December 10, 2012
Bought leftover 2011 new in late 2012 and was able to make a great deal. The car has everything I wanted including AWD and turbo performance. The only additional feature I would have liked was remote start.
Purchased a new car
Uses car for Work
Does recommend this car
---
Impressive handling and style.
by Cici from Melbourne, FL | September 28, 2012
This is my fourth Lincoln and I like it the best. Still have a Towncar that is great. Reminds me of the characteristics of the Mark VII. I wasn't looking for this model but after driving one I wanted it. Love the transmission and handling. It has lots of tech goodies also.
Purchased a new car
Uses car for Just getting around
Does recommend this car
---
Great Car
by road tripper from Birmingham, AL | November 26, 2011
Leased a 2008 for my husband's car and loved it so much, we paid the residual to keep and then traded in my Mazda for a 2011 model for me. Smooth ride, feels like sitting in the lap of luxury. Synch is great and navigation has all the bells and whistles, which are very user friendly. By far the nicest car I have ever owned. Had for nearly a year now, and still no negatives to report. Rattles and road noise are my pet peeves and so far, none to report. Still enjoying every mile.
Purchased a new car
Uses car for Just getting around
Does recommend this car
---
People Who Viewed this Car Also Viewed
Select up to three models to compare with the 2011 Lincoln MKS.
2011 Lincoln MKT
Asking Price Range
$12,418–$22,898
Compare
2011 Lincoln MKZ
Asking Price Range
$9,080–$18,564
Compare
2013 BMW 740
Asking Price Range
$30,256–$47,252
Compare
2010 Mercedes-Benz C-Class
Asking Price Range
$8,235–$23,795
Compare
2010 Chrysler 300C
Asking Price Range
$7,274–$23,262
Compare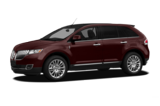 2011 Lincoln MKX
Asking Price Range
$13,183–$25,815
Compare
2011 Lincoln MKZ Hybrid
Asking Price Range
$8,075–$19,959
Compare
2009 Chrysler 300
Asking Price Range
$5,542–$14,798
Compare
Featured Services for this Lincoln MKS