Average Ratings
---
22 out of 25 people recommended this car.
---
Tech Marvel; Good blend of performance and economy
by AjayLA from Los Angeles, CA | March 29, 2015
Just got a used 2013 MKZ Hybrid with all the extras. It's the most comfortable car I've ever owned and also the best on gas. The technology is incredible and works well, though there is a learning curve. Once you've mastered it, I doubt one would ever do without its capabilities. High points are its great appearance outside and inside; fine handling; comfortable and quiet ride (in normal mode); superb sound system (I have THX); fuel economy (I'm getting mid-30s but lifetime shows as close to 39); and, of course, all those gadgets -- most of which are really useful. Low points are the gas engine drone when it's in use and somewhat sluggish acceleration -- though the power is there when needed. I'm also still getting used to the proximity of the visor, a byproduct of the slippery design and raked A pillar. Some have complained about the Lincoln Touch system. I have found it to be clear and responsive. It's undeniably complicated, but that's more a factor of its range of capabilities than bad design. I don't know how one could do so many things and make it simpler. And the voice command can be used for nearly everything and does work well. The only other hybrid I've driven is the Prius, and the Lincoln debunks nearly all of the conventional wisdom about hybrids. At the cost of a few MPG, you get a truly solid car with all the high-tech features; a much more comfortable and quiet ride; and a unique (and beautiful) appearance. There are questions about whether the Lincoln MKZ hybrid is truly different from the Fusion Titanium hybrid. While the power train and instrument cluster are the same, the Lincoln has a far more premium feel. Its interior is far more beautiful (if slightly smaller), and it offers lots of extra features. I found that the price of more-or-less equivalent certified used cars was the same. Evidently the Lincoln's initial premium over the Ford is reduced by depreciation. There also seems to be a better supply of well-cared-for two-year-old Lincoln hybrids than Fusion Titanium hybrids, possibly because the Lincoln offered a two-year lease when new and those leases are maturing in 2015. So, overall, I'm very pleased with the car. I did not get a hybrid to save money, but rather to be environmentally conscious, and there are not a lot of alternatives in this category. I'd be even more enthused if the gas motor was slightly less obtrusive under acceleration, but that's a minor quibble.
Purchased a new car
Uses car for Just getting around
Does recommend this car
---
Never thought I would like a 4 cylinder hybrid.
by McMasters from North Port, FL | February 23, 2015
I bought this for a long work commute. My gas credit card bill has dropped by nearly half. I didn't think I would like a little 4 banger, but with the CVT transmission the acceleration is fine for my commute. Cornering is good for a sedan. My 0-60mph is 9.2 (using my phones stopwatch) which is about the same as a 1984 Chevrolet Camaro Berlinetta. Did I mention the CVT transmission is awesome. Should be standard in all vehicles, no gears, just smooth acceleration without shifting. It is like a snowmobile or Quad... You mash the gas and it just keeps accelerating, no clunky gears. The myTouch computer is super easy, compared to my 2015 Honda pilot dial type interface. The screen resolution on the center display and the two gauge displays on either side of the speedometer is tight and fonts and color gradients look very iPad-ish and slick. The seats seem small and under padded, however all seats in all cars seem to be getting smaller. Getting in and out of this class of vehicle is getting harder and harder (at least for me). The style is like most other cars in this class, I think they all start from the same mold... So many cars share the same styling, slope of the rear passenger windows, rake of the front windshield, dual exhaust style with chrome thingy's in the bumper skirt seems to be a prerequisite in the this class. It is quiet and smooth on the highway. Has plenty of power for passing at 70mph (speed limit on I75 in FL) Tach redline at about 6000. At 90mph the tach reads 3300. Is it a race car? No, but it can get out of it's own way. I get 35mpg without trying on a 55 mile commute 1/2 highway, 1/2 stop-go. I get as high as 42.2mpg when conditions are perfect and take my time. It has three driving modes, sport normal and comfort. Sport is if you want to feel the road, and comfort if you want to feel it less. I drive mine in comfort most of the time and there is still plenty of road feedback. All in all I like the car a lot, the hybrid is fun for saving tons of money at the pump. Personally I don't like the grill, but my wife has to keep reminding me I don't see the outside of the car when I am driving.
Purchased a new car
Uses car for Commuting
Does recommend this car
---
Thankful we got this car
by Thankful from Auburn, California | February 17, 2015
We purchased our 2013 mkZ in Jan 2015. It was a beautiful ruby red hybrid. We absolutely loved it. The technology was fantastic and my wife got right at 40mpg in her 60mile RT commute of 1/2 city 1/2 hiway. I did subtract one star from performance only because the hybrid could maybe use a bit more ooomph, though it does gallop when the pedal is mashed. Now speaking of mashed, my wife and daughter were in the car when it was hit head on at 50+mph by an out of control Subaru. The car was totalled. But my wife and daughter are OK, though each had surgery where pins and screws had to be installed. We are thankful they were in this car with 8 airbags going off in the front no doubt saving them from more injuries or worse. We had the car less than a month. We will be getting another when my wife is able to work again.
Purchased a new car
Uses car for Commuting
Does recommend this car
---
Love my MKZ Hybrid
by Bigs Girl from Henderson, NC | June 13, 2014
Love my Lincoln MKZ. Smooth ride, very comfortable seating, handles like a dream. Awesome gas mileage.
Purchased a new car
Uses car for Commuting
Does recommend this car
---
A good car, but....
by MKZ Hybrid owner from Lewisville, TX | June 3, 2014
The Good: Smooth, quiet ride. Outstanding exterior styling which is now different from Fusion, great gas mileage (consistent 34-36 mpg city driving). Ford mytouch is intuitive and easy to use. The Bad: Canted-back angle of touch screen causes a lighting angle that shows fingerprints worse than any other car I've seen. Must literally be cleaned daily or it becomes almost unreadable. Interior fit and finish lousy-uneven gaps and alignment, etc. The Ugly: My driver's side interior door latch handle assembly broke, and the handle scratched the finish on the door panel. Have been waiting more than a week for the parts to come in and have heard nothing from the dealer. Also, the A/C quit once, but came back to life after a day and has been OK since.
Purchased a new car
Uses car for Just getting around
Does recommend this car
---
Extremely Hap Hap Happy!
by MKZ Lover from Sunnyvale, CA | May 15, 2014
I almost brought a Cadillac until I saw that Lincoln Hybrid was the same price as the non Hyb.  I have this car five months and it is comfortable, fun to drive looks good too. The electronics are not at all confusing as some pro reviewers have suggested, nor does it make noise when converting to gas from battery. The extra space provided by push button gears and no shift handle is awesome. I have compared this to friends' BMW and Benz and the Lincoln actually has some better features. The audio system being one. THX audio rocks. Crisp and clear sound.
Purchased a new car
Uses car for Commuting
Does recommend this car
---
Great Drive and Gas mileage
by Great Drive for many trips to the beach from Washington state | April 14, 2014
The car has a quiet interior and better ride then our 2011 Fusion hybrid, and we like our 2011 Fusion hybrid. The feedback on gas mileage status is not as good as the 2011 Fusion- likely someone did not watch over the engineers designing the display. The rest of the interior is pretty and functional for the passengers. The trunk has some compromise in it's shape to accommodate the hybrid battery so not quite big enough for golf bags with the driver - it does fit but not easy in and out unless you put in the driver separately. Overall a great car.
Purchased a new car
Uses car for Transporting family
Does recommend this car
---
2013 MKZ a Rockin' Lincoln
by Dave from Fredericksburg, VA | February 4, 2014
After reading all of the reviews on the 2013 MKZ I decided to test drive one. I found a pre-owned, certified unit with less than 12,000 miles on it. It's a unit equipped with a 2.0 EcoBoost and everything else except the Technology package and the retractable glass roof. I've used this car on my daily commute (about 165 miles round trip) for the last 2 weeks. It's comfortable, quiet, and responsive. It has excellent acceleration and still gets 31 mpg @ 75 mph. MyTouch works just fine - you just need to spend some time with it and make sure the latest updates are installed, Bottom line, this car has found the sweet spot of balance between performance and luxury. You owe it to yourself to test drive a MKZ before you commit to a more expensive import that won't deliver the same driving pleasure !
Purchased a new car
Uses car for Commuting
Does recommend this car
---
I SHOULD have kept my Lexus
by susank. from Denver, CO | December 11, 2013
After putting 150,000 miles on my tried and true reliable Lexus ES I decided to find a hybrid luxury car. My grandmother had a Lincoln and figured she was happy with hers and thought I'd check them out. I am embarassed to say that I am driving a Lincoln that my 'grannie' would love... after all, her car is 20 years old. I bought the MKZ with all the 'bells and whistles' it ended up costing much more than a comparably equipped Lexus ES300, and sure this does have a slightly higher EPA rating than the Lexus but wow... I am shocked that this car has more road noise than my ancient Lexus I reluctantly traded off, less power overall and uggggghhh. I want to get the word out to write this review but the more I think about it, the more my buyer's remorse stands out. Lastly, I put $7,500 down on this car and after only putting 10,000 miles on it I am so upsidedown I couldn't trade it if I tried. (my next investment is to get tinted windows... the sun glare comes in on every window... besides, the dark windows can now hide my shame)
Purchased a new car
Uses car for Commuting
Does not recommend this car
---
Very Happy!
by Steve from New York from Eastern Long Island New York | October 30, 2013
I bought my MKZ in April from Crest in Ct. and have no complaints at all regrding this car. It looks good. It drives well. I average 37 mpg with a heavy foot!. Have gotten as high as 43 mpg. The car has 18,000 miles on it at this time and the only problem I had was a squeak in the drivers seat. I am a big guy but my other cars dont have any sqeaks in the seat so this one shouldn't. The dealer corrcted the problem and I am back to 100% I never thought I would own a Lincoln but the redesign and now proven reliability to date reinforces the fact I have no regrets buying this car. My old gas bill used to be over $900 per month. Its now down to under $500 a month, so this car is costing my less than $200 a month to own. I would say thats a good deal.
Purchased a new car
Uses car for Commuting
Does recommend this car
---
People Who Viewed this Car Also Viewed
Select up to three models to compare with the 2013 Lincoln MKZ Hybrid.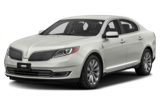 2014 Lincoln MKS
Asking Price Range
$18,791–$33,803
Compare
2016 Lexus ES 350
Starting MSRP
$38,100–$38,100
Compare
2012 Porsche Cayenne Hybrid
Asking Price Range
$30,172–$44,124
Compare
2016 Jaguar F-TYPE
Starting MSRP
$65,000–$165,000
Compare
2014 Lincoln MKX
Asking Price Range
$24,023–$37,419
Compare
Featured Services for this Lincoln MKZ Hybrid