Average Ratings
---
10 out of 12 people recommended this car.
---
A nice ride
by Stevenn G. from New Jersey | July 14, 2016
Sure, the Lincoln Town Car is considered by most people as an old man's car. It is an outdated vehicle with a design that's over 30 years old, but I'll say it drives well. For me, I travel primarily highway, so the ride inside is extremely comfortable. I put the car on cruise and simply relax. Considering size and weight, the Town Car I have gets close to 26 MPG, which I think is fantastic. It may not compare to a Mercedes Benz regarding technology, style, and performance, but the Lincoln Town Car, though discontinued by the Ford company, is a vehicle unique in its own way that will always remain a classic.
Purchased a new car
Uses car for Commuting
Does recommend this car
---
Best Car on the Planet, Always brings you home.
by Peter Kiryluk I Owned 10 Town cars from Enfield CT | April 12, 2015
This is a well made machine, that is easy to maintain, the paint lasts for ever and it can pass cars on the highway like they are standing still. Its a very well built car, when they built this car it uses 30 years of what works, this is my favorite car on the planet, its dependable, that's what it is. It never leaves you stranded. When have you ever seen one broken down? Exactly this car is excellent for poor roads in cities and the MPG is 20/24 on a V8 that is unheard of. When you get in an accident with this car , like if a trunk hits you, YOU WILL LIVE. You pay for LIVING, when you buy this safe 5 Star crash tested car. Every Limo is this car that how good it is. Its a Man Car! Unlike the new feminine MKT 2013 "Town CAR"
Purchased a new car
Uses car for Just getting around
Does recommend this car
---
Excellent CHoice
by Comfort from Washington | June 23, 2013
Due to an auto accident that totaled my wife's vehicle, we decided we needed another large quality vehicle. The 2011 Town Car fit the bill exactly. We got a great deal: a 2011 Signature Limited Lincoln Town car with less than 30,000 miles and a full warranty of 6 years or 100,000 miles for less than expected for such a quality luxury car. The vehicle is immaculate inside and out. We are very happy with our choice.
Purchased a new car
Uses car for Commuting
Does recommend this car
---
No Air Ride
by MaxPayne103 from | January 7, 2013
Ford has decided to eliminate Town Car air suspension system. Town Cars with the exception of the L series, are without the air rides. They will never tell you this, so be aware. I purchased my lincoln and my transmission failure occured just 5 months after driving off the lot. Since 2011 was the last year of production for the town cars it seems to be that they didn't care how they put it together or lack of putting it together. not recommend at all.
Purchased a new car
Uses car for N/A
Does not recommend this car
---
Last of the large lincoln town cars
by Sue from North Fort Myers, Florida | December 17, 2012
I purchased my 2011 Lincoln Town Car in November, from Velde Ford in Vero Beach, Florida. I am very happy that I found the light blue color that I wanted!!
Purchased a new car
Uses car for Just getting around
Does recommend this car
---
Comfortable and lazy car
by Limousine enthusiast ;) from Chicago | December 12, 2012
Well nothing surprising really about the car. It is very comfortable, very slow and heavy, very good highway MPG 26 and bad city MPG 15. It has nothing more than essentials and probably not such a bad thing. The trunk is huge. The interior and outside panels have huge gaps in between and look like the car was made 20 years ago which is not far from the truth in reality. Oh well it has that dinosaur feel but is ok I enjoy the car very much when I just want to cruise and have my mind relax.
Purchased a new car
Uses car for Work
Does recommend this car
---
Classic
by Possum from NC | December 9, 2012
There is not a lot of sense rating the Town Car since after 2011 Lincoln will not be making them anymore BUT if you have an opportunity to get a private used one, DO IT! Wonderful car!
Purchased a new car
Uses car for Just getting around
Does recommend this car
---
found my car
by joe from Monticello, GA | September 6, 2012
I had a older towncar and wanted to updated before they were off the market. I got luckly and found a 2011 with 2700 miles on it.
Purchased a new car
Uses car for Transporting family
Does recommend this car
---
solid beautiful care
by arizonalion from gilbert, Az. | May 27, 2012
The lincoln town car is a classic luxury car. It has a smooth ride and is especially great on the freeways. It is also good to carry 4 comfortably. The trunk is large and can carry anything. Those small tinny asian cars fall apart so easily and I don't see them as being safe. One should be able to get 150,000 to 200,000 with a town car. Your talking 10 to 15 years of use.
Purchased a new car
Uses car for Just getting around
Does recommend this car
---
A Very Comfy Sedan
by Parrots from Allen, Texas | February 27, 2012
The Lincoln Town Car is certainly a dinosaur of sort. It has been for a long time, and has now ceased production. It is, however, a very plush, comfortable, and good looking dinosaur. I tested the Town Car on a trip in Washington State. My first impression when my father drove it off the rental car lot was that it's huge. There is plenty of space to stretch out on the big, soft leather seats. Not only that, but the ride was so incredibly smooth. It soaked up parking lot speed bumps like a sponge would soak up water. Once you're on the highway, the interior noise level never gets high. It's all hushed. When it comes to passing though, that's when things get a little worse. The 4.6 liter eight cylinder engine, though just as smooth as the ride, is not powerful. Part of the reason is that the engine is really old, and Ford has neglected to update it. I mean, it still has two valves per cylinder! The other part is the four speed automatic transmission, which pales in comparison with the eight speed automatics of today. One thing I noticed was that the engine hated going over 3000 rpm. If you press the gas pedal from a stop light, the tachometer swings to about 3000 and hits a wall. Unless you really floor the thing, that's about how much work the motor wants to do. The good news is that once you do get over the theoretical wall, the car pulls forward more authoritatively. The exhaust note also makes a sudden switch from a muted growl to a louder growl. Not helping the unwilling acceleration's case is that gas mileage is rated at an EPA estimated 15/23 miles per gallon. My father got about 21-22 miles per gallon on average with mixed highway/mountain road driving. Handling is not a strong point of this car either. Like the interior, the exterior is giant as well, being nearly as long as a Suburban. It rolled through Mount Rainier, and you don't need to be the driver to feel how nonathletic this boat of a car is. Another low point that I thought could use some improving was the interior quality. Sure, the leather looked nice and there was wood trim around the door panels, but the wood is fake, the plastics are mostly hard, and the silver trim makes itself obvious that it is plastic. You can see the plastic graining if you look close enough, which I think is unacceptable for a car at this price range. The radio system was fairly antique as well. There's AM/FM, a CD player, and that's it. There is no Bluetooth streaming, USB input, or even an auxiliary jack. The mute button is nice when you have a phone call. Overall, I was still impressed with the dinosaur in the house. While it is certainly past it's prime, the Town Car has a lot to offer. Reliability is great, too, having been on the market for a while unchanged. It doesn't offer prodigious amounts of power, or decent handling, but the Town Car shows a different era of automobiles with a lot of mass, quiet operation, and a buttery ride. I tried to get my parents to get a used one, but they just don't want to spend the gas money on this car.
Purchased a new car
Uses car for Just getting around
Does recommend this car
---
People Who Viewed this Car Also Viewed
Select up to three models to compare with the 2011 Lincoln Town Car.
2011 Lincoln MKS
Asking Price Range
$11,642–$23,374
Compare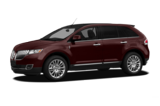 2011 Lincoln MKX
Asking Price Range
$13,199–$25,839
Compare
2011 Lincoln MKZ
Asking Price Range
$9,084–$18,564
Compare
2011 Lincoln MKZ Hybrid
Asking Price Range
$8,064–$20,000
Compare
2011 Lincoln MKT
Asking Price Range
$12,471–$22,859
Compare
Featured Services for this Lincoln Town Car