Average Ratings
---
13 out of 13 people recommended this car.
---
Won't make that mistake again
by ZOOMZOOM from Raleigh, NC | May 8, 2014
Had a 2008 MX-5 2 years ago and sold it. I have regretted that decision ever since so bought a 2010 Low mileage MX-5 and the smile is back on my face ! There are a few small changes but the core vehicle is still there and the changes are for the better. Has a better ride and the interior is a bit more user friendly. If you are looking for a great car that has the get up and go , this is your best choice. Don't expect to get much in the trunk but enough for 2 for a long weekend is doable. I have been averaging 32 MPG and it is an automatic transmission. I do not baby it and still get this kind of MPG. This one will be in my garage for many years to come.
Purchased a new car
Uses car for Having fun
Does recommend this car
---
Great experience
by Officer from Camarillo | January 30, 2013
I bought a Miata from a pot lot in San Berdino last week and the car was a lemon and I went to Bunnin Mazda and bought a brand new Miata with full factory warranty and cheaper than I paid for the mistake I made prior to coming to Bunnin Mazda. They made the stomaching of my loss feel better than I thought I was going to feel.. I left very very happy buying this new vehicle.
Purchased a new car
Uses car for Commuting
Does recommend this car
---
Fun car
by cyclist from Loudon, TN | June 5, 2012
Ride has improved over the 2006 Miata that I traded in on this 2010. Still a fun car to drive and handles well.
Purchased a new car
Uses car for Having fun
Does recommend this car
---
I love my Mazda
by OhioMX5 from Whitehouse, OH | January 8, 2012
This is my second MX-5. My first was a used 2006 Touring with a 6sp AT and paddle shifters. The reliability was amazing, the gas mileage was better than my last car and it was fun to drive. A couple months ago I stumbled upon a good deal on a new 2010 that I couldn't pass up. It's a 5sp MT and must I say WOW the difference is HUGE. The extra ponies from the MT makes me smile even more. After going from an automatic to a stick shift in an MX-5, it makes me wonder why I ever bought an automatic in the first place. Shifting through the gears is as smooth as a hot knife through butter. You can run through the gears with no more than simple wrist movements. One of the improvements I noticed over the '06 was the the Aux input for MP3 players/phones. Another upgrade was the ride. It was a bit harsh in the '06 at times, especially when hitting potholes and going over railroad tracks. The '10 is so much smoother and is better at keeping out outside noise. To those who listen to music while driving, the speakers in-between the seats on the older NC's like my '06 didn't exist unless you had the higher trims. My '10 is a Sport, which is the base and has them as a standard feature. They don't do much, but that's not the point. There's not much else that has really changed aside from mild improvements. I get comments everywhere I go and I've had people glance right past more expensive cars and stare at mine. For the price, you can't beat the experience. I usually get about 25-26 average gas mileage and I've gotten up to 35mpg driving turnpike at 75 with the top down using cruise control. Speaking of the top, it still only takes about 3 seconds and a flick of the wrist to put the manual top down. Also, if you play golf, clubs don't fit in the trunk but luckily there is the passenger side which works fine. If you scuba dive, you can fit an air tank, wetsuit, BC, 1st and 2nd stage, fins and boots in the trunk. I have done so! If you keep the top up, you'll have even more room to store stuff behind the seats. This car has way more room than a sky or solstice which is partially why it's a daily commuter for me. If you live where it snows like I do, make sure you either have a second car or snow tires. I don't see myself owning any other car for a long time because that wind in your hair feeling mixed with a twisty road is all it takes to make me grin from ear to ear. Don't be surprised if your family and friends end up fighting over who gets to ride along!
Purchased a new car
Uses car for Commuting
Does recommend this car
---
A magnet for positive comments
by OregonMike from Grants Pass, Oregon | August 16, 2011
I have the retractable hardtop model and absolutely love it. This is my 3rd and best Miata yet. I've never had a car elicit so many positive comments, including from strangers. Though I was looking for a stick shift, I purchased the auto with manual shift options. I've used the paddle shifters on the steering wheel for mountain fun without a clutch. Fun should be included on the warranty!
Purchased a new car
Uses car for Having fun
Does recommend this car
---
Fantastic sports car
by Mx-5 Harleyman from Georgia | June 24, 2011
Biggest bang for the dollar. Runs smooth and goes all day on mountain roads. Comfort that is hard to believe! Great sound system too. Grand Touring soft top is my best pick! Service is not a budget buster! Quality fit and finish. Race track tested!
Purchased a new car
Uses car for Having fun
Does recommend this car
---
mazda 5 hardtop conv.
by jim from Panama City, Fl | May 23, 2011
Good performer, very little car. Difficult to get in and out of (for me) but it's my wife's car and she loves it.
Purchased a new car
Uses car for Having fun
Does recommend this car
---
Love my MX-5!!
by LES232 from Louisiana | May 20, 2011
This is a great little car. I bought a 2010 Grand Touring fully loaded with the retractable hardtop in January 2010. I've had this car almost 1.5 years. It's fun to drive, handles very well and I get 27-28mpg!! Considering I had a full size utility vehicle for 5-6 years that got between 15-17mpg before purchasing this vehicle, I'm thrilled with the money I'm saving in gas!! I drive alot for work, so I need a car that gets good gas mileage. I've already put 55,000 miles on this car!! I looked at EVERY convertible on the market before purchasing this one and the retractable hardtop is what made me choose the MX-5 and also the fact that this model of car has been around for 20 years. This is the only convertible on the market in this price range that has a retractable hardtop. So I can have a a car that looks like a coupe or a convertible. People don't even know it's a convertible when the top is up!! I also love the paddle shifters...I can have an automatic transmission if I want, or a manual transmission if I want more control. If you don't mind not having a backseat and you want a fun, dependable, sharp looking convertible that gets good gas mileage, this is your car!!
Purchased a new car
Uses car for Just getting around
Does recommend this car
---
No Regrets
by ST Louis MX5 from St Louis, Mo | April 22, 2011
This car is a blast to drive! No quality issues/problems. One bit of advice- If this is to be your Daily Driver and you live in an area of Snow/Ice- Winter Tiers are a MUST. If you don't mind not having a back seat (and don't need a whole lot of trunk space) this little car is worth a look.
Purchased a new car
Uses car for Just getting around
Does recommend this car
---
Most enjoyed car I've owned so far
by Rhinopolis from Houston | December 29, 2010
This is my 1st rear wheel drive sporting car /convertible too, and I love it! I've owned mostly import sport fwd compacts before this, and I was specifically looking for a fun, weekend only, awesome handling machine when shopping this last time around. I had driven other more expensive rwd sporting cars, and after one trip in this, I bought it that same day. I chose the folding manual soft top and 5 spd manual in place of the 6 spd manual as I don't see the real benefit of the 6 spd outside a limited slip differential. Power was better than I anticipated ( although it could still use more oomph up top end ), and the low 4.10 gearing makes acceleration EASY! If you enjoy driving for the fun of it, and interior space isn't a big concern, then this is your car. I'm 6' tall, 210 lbs, and fit just fine with only a "little bit" of leg room complaints while on longer crusies. The girlfriend was hesitant at 1st because she thought it was too small, but it only took one trip for her to see how well it was designed, and that once you are inside with the top down you feel just fine. Top down, windows up, and wind baffle in place make for hardly any noise intrusion or excess wind. I take mine routinely on back twsity roads, and it handles brilliantly. Did I mention I can get 26 mpg ( 93 octane ) driving fairly aggressive, and have gotten as high as 33 mpg on the hwy cruising at 70 mph over longer runs? Great job Mazda engineers, and I see this one as staying a long time in my garage. Ryan from Houston
Purchased a new car
Uses car for Having fun
Does recommend this car
---
People Who Viewed this Car Also Viewed
Select up to three models to compare with the 2010 Mazda MX-5 Miata.
2002 Subaru Impreza
Asking Price Range
$2,315–$13,047
Compare
2015 Toyota Prius
Starting MSRP
$24,200–$30,005
Compare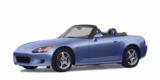 2002 Honda S2000
Asking Price Range
$8,520–$23,760
Compare
Featured Services for this Mazda MX-5 Miata