Suddenly, the world is round. At least when it comes to headlights. Mercedes, whose styling brings to mind such words as tasteful, conservativeand timeless, has stuck a couple of round peepers on the front of its aggressively restyled mid-level sedans, the E-Class. Reworked for the first time since 1986, the cars come in three versions: the E-300 diesel; the E-320, featuring a 3.2-liter six-cylinder engine, and the E-420, which features a 4.2-liter 275-horsepower double overhead cam V-8. (For now, only the first two models are available. If you want a V-8, you'll have to wait for spring.) The look is successful, fresh and sophisticated. It recalls earlier Mercedes, as well as a bit of Jaguar. But its styling is unique and powerful in the Mercedes tradition. The view down the sexy hood that bulges toward thatthree-pointed star is an experience shared by the drivers of few cars. It makes you feel good. Inside, you'll find an interior that has the Spartan elegance Mercedes is famous for. And this year, there's more space. Executives won't scuff their Guccis as they might have in last year's model because there's a lot more roomto wiggle around, particularly in the rear. In addition, the glove box, deleted for a passenger's side airbag in previous editions, has been restored. Mercedes realizes that big shots need pampering, of course, so there are all the usual power amenities you expect in a car with a base price around 40 big ones. Even the headrests are power activated. But you won't be fiddling with themmuch. There are three memory positions for the headrests, outside mirror and steering wheel positions. Door locks are activated by a big button in the center of the dash. The radio and climate controls are improved from previous Benzes, and much easier to comprehend, although still a bit small. The rearview mirror dims at night to prevent glare from headlights. But the real decadence here is ... cup holders. Even Mercedes has realized their value. Now if they could only get the hang of keyless entry. Only potential sharpshooters or assassins will want to try it. You must aim the key fob at directly the precise point on the rearview mirror to activate it. The seats are still as firm as ever, allowing you to drive for hours without undue fatigue. And make no mistake, you will drive this car. One romp through a corner or down your favorite road will convince you thiscar is an improvement over the previous model. Steering is quick, sharp, and communicates more with the driver in the best German tradition. The rack-and-pinion steering system itself is all new this year and much more effective than the previous one. Handling is just what you'd expect from this automaker: sporty, yet with a firm ride. There's more tire rumble but less isolation from the road. Power is superb, as you would expect. The 3.2-liter six-cylinder is good for a 7.6-second run from 0-60, accordin g to Mercedes. There do seem to be plateaus in the power band, though --certain levels where the power comes on strong, than plateaus off until the next one. Premium fuel is required and theMercedes drinks it at a rate of 19 city, 25 highway. But if all this power gets you into trouble, the engineers at M-B have you covered. Traction control, anti-lock brakes and dual air bags are standard. Mercedes is also among the first automakers to feature front door-mounted sideairbags. Electronic seat belt tensioners hold occupants in place during a crash. If it's too late for all that, Mercedes includes a first-aid kit in therear console. The Mercedes comes with a four-year/50,000-mile warranty, which includes batteries, tires and adjustments. Roadside assistance is provided and was unusually speedy in rectifying a frozen parking brake this model suffered after a recent cold snap. The world might be round, but prices are flat. They've actually fallen for '96, with the E- 320 base price starting at $39,900, a 5.7 percent price reduction. Just when it seemed like the automotive world was going to be conquered by other luxury automakers, Mercedes has weighed in with a highly competitive, well-priced entry.
---
People Who Viewed this Car Also Viewed
Select up to three models to compare with the 1996 Mercedes-Benz E-Class.
2015 Mercedes-Benz CLS-Class
Starting MSRP
$65,990–$106,550
Compare
2014 Cadillac ATS
Asking Price Range
$16,341–$31,985
Compare
2007 Audi A8
Asking Price Range
$7,500–$23,836
Compare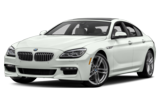 2016 BMW 650 Gran Coupe
Starting MSRP
$90,900–$93,900
Compare
Featured Services for this Mercedes-Benz E-Class