Mighty Mercedes-Benz, besieged on all sides by luxury-car upstarts from Japan, high-end cruisers from the United States and fellow Autobahn projectiles from Germany, has been cooking up some tasty dishes lately. While the new SLK sports car and planned sports-utility vehicle are the kind of treats that do wonders for the image, the newly redesigned E-class midsize sedan is undoubtedly the bread-and-butter that will pad the bottom line, so to speak. And along with the beautiful new body, Mercedes has added performance tweaks that should please the most critical driving enthusiasts. Especially the E420, with its powerful V-8, solid suspension and hefty cargo of standard features. The E420 we tested was also tricked out with Mercedes' new Sport Package, which adds some serious high-performance tires on "monobloc" alloy rims and aerodynamic body enhancements. OK, we're talking dream car, here. This is a sports sedan of the highest order, muscle-car fast, sports-car nimble and family-car roomy, a high-performance thoroughbred wrapped in a four-door body. It's just the ticket for the upscale driver who can't decide between the rich trappings of a top-drawer sedan and the race-car performance of a tricked-out street machine. This Benz recalls another E-class supercar of a few years ago, the frenetic 500E, a special-edition sedan with a 322-horsepower V-8, suspension tuning by Porsche and an incredibly nasty attitude. Now, the E420 Sport doesn't quite hit the mark set by the 500E, but it's a reasonable facsimile. It also doesn't cost $80,000, guzzle gas prodigiously or scare the neighbors. What the Sport does offer is a road-warrior alternative to the current crop of luxury sedans, which are primarily designed to pamper wealthy human cargo in cushy comfort. Recent rides in Lincolns and Infinitis demonstrated the smooth, isolated refinement that these marques aim for, with their light power-steering systems and soft suspensions. The typical luxury-car buyer won't like the E420. Its ride is hard, sometimes verging on harsh, and its rack-and-pinion steering is direct and well-connected to the road. The only thing operating in the same ballpark are the BMW 5-series or the Volvo 850 Turbo R, though neither have as aggressive a ride. On the other hand, the E420's interior will pamper with the best of them. Lots of leather, yards of wood, scads of electronic gadgets, nooks, cubbies, plus the feeling of solid security that is a hallmark of every Mercedes. All that, and a fabulous stereo. And an air-conditioning vent that cools the inside of the center console. Go figure. The E420 Sports also has, as standard equipment, a new five-speed automatic transmission, which enhances performance and reliability; advanced traction control; and an "electronic stability program" to fight skidding. There are also dual front and side air bags, with a sensor on the passenger side seat so that the front airbag won't infl ate in a collision if the seat is empty or the passenger weighs less than 26 pounds. All mighty fine stuff, all adding up to a pretty great car. Still, there are a few nits I'd like to pick. First off, unless its raining, snowing or icing up, the traction control serves as an unwelcome intrusion. Fortunately, you can switch it off. The outside-mirror-adjust and trunk-release buttons are set in the console where they're too easily bumped. Also, the trunk's too small. And the notoriously flimsy front-seat cupholders were already broken when we got our test car. But speaking of Christmas packages, this was my set of wheels during the rigors of last minute (of course) holiday shopping, and its comfortable interior, docile low-speed behavior, parking-lot maneuverability and wonderful stereo lowered the stress level considerably. 1997 Mercedes-Benz E420 Vehicle type: Five-passenger, four-door sedan, rear-wheel-drive. Base price : $49,900. Price as tested: $56,350. Engine: 4.2-liter V-8, 275 horsepower at 5,700 rpm, 295 pound-feet of torque at 3,000 rpm. Transmission: Five-speed automatic. Curb weight: 3,748 pounds. Length: 189.4 inches. Wheelbase: 111.5 inches. Safety features: Dual front and side air bags, anti-lock brakes. EPA fuel economy: 18 mpg city, 25 mpg highway. Highs: Sparkling performance. Handsome new look Benz quality. Nice interior. Lows: No stick shift available. Ride occasionally harsh. Intrusive traction control.
---
People Who Viewed this Car Also Viewed
Select up to three models to compare with the 1997 Mercedes-Benz E-Class.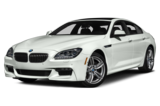 2015 BMW 640 Gran Coupe
Starting MSRP
$78,300–$81,300
Compare
2009 Mercedes-Benz CLS-Class
Asking Price Range
$13,025–$31,525
Compare
2002 Mercedes-Benz C-Class
Asking Price Range
$1,590–$9,118
Compare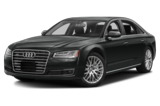 2015 Audi A8
Starting MSRP
$77,400–$137,900
Compare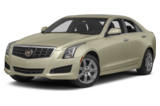 2013 Cadillac ATS
Asking Price Range
$15,478–$27,674
Compare
Featured Services for this Mercedes-Benz E-Class