I almost had the perverse pleasure of turning away a Mercedes-Benz, but I didn't want the driver to feel bad, so I took it in, like a stray pup. Through a scheduling mixup, the one that was sent was not the one I ordered; I had been hoping to test the new 8-cylinder, all-wheel-drive version of the E-Class sedan, but what they sent was a stinking 6-cylinder, rear-wheel-drive crate. Since it has been extensively reworked for the 2000 model year, I wasn't TOO unhappy about spending a week in it, keeping my options open for a later look at the 4MATIC I had planned on. Actually, it was a good thing, because frankly, I was dubious about the suitability of a six-cylinder engine for Mercedes' bread-and-butter, mid-range car, which though it starts at a mere $47,100, becomes a $50K+ machine as quickly as you can say "moonroof, option package E2." The rear-drive E320 derives its name from the 3.2-liter V-6 engine. Even in such basic form, the car weighs a hefty 3,700 pounds, leading to my concern over its having sand kicked in its face, especially with an automatic transmission the only gear-stirring option. Ah, but those German horses are strong. The engine, with its three valves per cylinder, single overhead camshaft and dual sparkplugs makes 221 hp(@5,500 rpm) and 232 foot-pounds of torque, the latter available at anywhere from 3,000 to 4,800 rpm. Those numbers connote engine tuning mindful of American conditions, where "launch feel" and midrange flexibility are of far more moment than high all-day cruising speeds are in the land of its birth. (The old workhorse 3.0-liter inline six diesel is gone; the new shell design could not accommodate its height.) Just mashing the throttle and holding on, I consistently measured 0-60 times in the low-7-second range, which is plenty good for a luxury sedan, and would suffice for a sporty car. If you want to know how it feels to be shot out of a cannon, pony up another 20 large and they'll put you in the E55, the hotrodded AMG variant which shaves a couple of seconds from the sprint time, thanks to its spirited 349 ponies. That's pretty far out. The E420 can give you the panache (and the lovely sound) of a V-8 for only about $5K more than the E320. But, given the (more than) adequacy of the V-6, and the present trend of gasoline prices, the E320 is certainly the more rational choice, which is more in line with the E-Class ethos. For it is, after all, a four-door and a rather reserved looking one. The restyling was a matter of detail work; a casual observer might not notice unless old and new Es were parked side by side. The 2000 edition has a lower hood line, a smaller grille and lower headlamps cocked at a sharper angle, all inspired by the look of the CLK coupe. There are now air scoop cutouts for the front brakes, new rocker panels and body-colored door handles and side skirts. On the whole, it looks racier and cleaner. I noticed that the tops of the fenders seemed better defined, recalling Benzes past. One thing they didn't mess with was the slickness of the shape - it still has a creditable drag coefficient of 0.29, impressive for a car that doesn't require contortions to enter. A number of detail changes have been made inside, too, with upgraded carpets, headliner, instruments and (standard) leather upholstery, plus a trick borrowed from this country's designers, a "multifunction" steering wheel with integrated radio and telephone controls. Everything inside looked elegant and was impeccably assembled. The flight deck afforded ample leg and head space, while the rear seats were rather cramped, not surprising given the 95-cubic-foot volume. The 15.3-c.f. trunk was generous for the class, and easily accessed. The 3.2 engine is not the smoothest I've ever experienced, but they've certainly extracted unusually lusty sounds from it. It feels gutsy through most of its range and hardly seems breathless even as the ounter shoots toward 6,000. It is mated to a superb five-speed automatic transmission first developed for the luxurious S-Class cars. It was quite intuitive, and could also be pushed around manually, too - a flick of the console-mounted lever to the left forces a downshift, to the right, an upshift. (Overrevving is electronically precluded by the engine management computer.) In attacking roads both good and bad, I kept coming back to one word: solidity. The chassis is rigid and so well screwed together, it might as well be a one-piece casting. The car feels unbreakable, and for all that, the ride isn't even what I'd call firm. It's a little this side of cushy, but not tiresome even over second-class roads. All the frills aside (and they are legion), the handling and demeanor alone are convincing arguments for spending twice the current average transaction price for this car. A machine that invites performance driving had better be ready for the worst, too, and the E-Class is a virtual showcase for safety enhancements. Start, or rather, stop, with the brakes ­ good-sized four-wheel discs with antilock and M-B's "brake assist system." One of the many onboard computers monitors the speed with which the brake pedal is depressed, and if the actuation is swifter than normal, instantly signals the brakes to go to maximum pressure. In a car that is governed to 130 mph, milliseconds count. The system works well, and seemed able to discriminate between fast and very fast applications. The antilock mechanism was quiet and mannerly. The E-Class now has Mercedes' Electronic Stability Program standard, in addition to the all-speed traction control which keeps the rear wheels from spinning when they lack grip. ESP uses selective braking and throttle intervention to try to keep the car going where the driver intends; yaw sensors determine whether the car is drifting from the intended line and send appropriate instructions to the brake and engine management systems. It can be deactivated if you like to get the rear end loose. Should the active safety mechanisms prove unavailing, Es come with front air bags, of course, as well as door-mounted side air bags and, for the first time, curtain side air bags that deploy from the ceiling in a side impact or rollover situation. Activated in a 40th of a second, these air-filled cushions are six feet long, 14 inches high and two inches thick (see photo above). They not only reduce impact force on occupants' heads and necks, they deter glass splinters and the like. I was having too much fun driving the car to play much with the COMAND system, which offers color LCD screen control of radio and air conditioner functions, plus a Global Positioning System navigation display, but it seemed - much as I love digital stuff - an unnecessarily cumbersome and distracting way of adjusting radio and air conditioning systems. The navigational aspects were interesting, though, tra cing routes fairly well in my area down to street level. EPA estimates are 21 mpg city, 30 highway. With quite a bit of swift freeway cruising in addition to some gridlock work, I got 27.2, which mitigates the powerplant's predilection for premium fuel. I did not get the window sticker from the exact car I tested, but can reconstruct it approximately. As noted, base price suggested is $47,100; metallic paint, $610; option package E2, $1,575 (this gets you a Bose stereo upgrade, power moonroof and sensor-activated wipers); COMAND system, $1,995; heated front seats ($610). Factor in luxury tax and freight, and you have $53,535."The Gannett News Service"


---
People Who Viewed this Car Also Viewed
Select up to three models to compare with the 2000 Mercedes-Benz E-Class.
2014 Cadillac ATS
Asking Price Range
$16,308–$31,888
Compare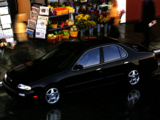 1997 Nissan Altima
Asking Price Range
$631–$4,095
Compare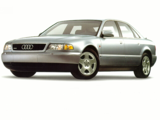 1997 Audi A8
Asking Price Range
Price Coming Soon
Compare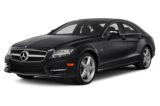 2014 Mercedes-Benz CLS-Class
Asking Price Range
$32,267–$67,719
Compare
2000 Mercedes-Benz C-Class
Asking Price Range
$1,272–$6,560
Compare
Featured Services for this Mercedes-Benz E-Class