A Fine Taste of Freedom
2003 Mercedes Benz E55 AMG SOUTH BOSTON, Va. I bade farewell to the ghosts, leaving them standing next to their graves in a back cemetery of the Berry Hill Plantation, a few miles away from this town's center. They were slaves, the people who built the place. They were not so angry about what had befallen them in the past, having found what they said is a new and better life in death. They were grateful that a friend, Diana T. Kurylko, and I had taken the time to visit them. Diana, a hard-nosed reporter for Automotive News, didn't see the ghosts -- or if she had seen them, she chose not to say anything. But I saw them, including a wizened gentleman who asked that I place my name tag next to his headstone, because he died nameless. I complied, and if the weather and the old man allow, you can visit that headstone near the front of the slave's cemetery and find my name there. We'd come here for a celebration, to welcome the arrival of the fastest passenger sedan Mercedes-Benz has ever produced: the 2003 E55 AMG. Both the car and the venue for its East Coast debut herald change. For Mercedes-Benz, the E55 AMG, with its supercharged, 469-horsepower V-8, marks the company's growing commitment to building some of the world's best high-performance automobiles. These aren't just luxury rides. The E55 and its other AMG stablemates are full-blown runners, as competent on the track of the Virginia International Raceway in nearby Alton as they are in traffic along U.S. 58 moving eastward and Interstate 77 moving southward toward Raleigh, N.C. That Mercedes-Benz chose to hold its E55 introduction at the Berry Hill Plantation says something else. Times change. Originally built in 1770 by planter Isaac Coles, Berry Hill became one of the state's largest tobacco plantations and the home of the largest slave owner in the United States, James Bruce, who took over the property in 1830. Thirty graves with huge, dignified headstones, holding six generations of the Coles and Bruce families, are on the main grounds of the property. The slaves are buried about a mile or so away, along a muddy path on Diamond Hill beneath nameless rocks marking their places of eternal rest. It is a tribute to Marriott International Inc., which now runs Berry Hill as a resort and conference center, that it has not prettified history by giving those separate burial places a mutual proximity that did not exist in life. History, like cars, should be genuine. As such, to me, Berry Hill is to Williamsburg what the E55 AMG is to the 300-horsepower Lexus LS430. One feels much more real than the other. I prefer the E55 AMG, and given the choice, I'd rather stay at Berry Hill and keep communion with its ghosts than spend a weekend in Williamsburg with its embrace of all things Disney. I drove from Berry Hill at midnight to get an early-morning flight out of Raleigh. I drove an E55, of course -- a black man leaving a Virginia plantation at midnight, this time as a free man in a luxury automobile he didn't own. I worried about the police, because I wanted to kick up the E55's splendiferous 5.5-liter V-8 engine and let it run! The engine delivers its 469 horsepower at 6,100 revolutions per minute and 516 foot-pounds of torque between 2,650 and 4,500 rpm. That's a very wide torque band, as wide as the grounds of Berry Hill, which once encompassed all of what is now the town of South Boston. In the car, it means a fast, smooth, quiet start that builds into a steady roar as it gathers more speed. The engine is linked to an electronically controlled five-speed automatic transmission that can also be shifted manually. I smiled as I exited Berry Hill's gates in deep darkness, thinking about the slaves who attempted to leave under similar circumstances, for far different reasons, in the past. I cou d have sworn that I heard some of them laughing and saying as I drove past the dirt road that leads to their graves: "Go on, brother, with yo' bad self. We got yo' back." And they did. . . . I drove fast, and I didn't get a ticket. Nuts & Bolts Complaints: Mercedes needs to rethink the electronic fuel gauge. Normally, a solid bar indicates the amount of fuel available. A hollow bar usually shows the amount of fuel used. On the E55, the solid bar means empty and the hollow bar means full, which is initially very confusing. Also, though Mercedes-Benz has simplified its navigational system on the E55, it is still not as intuitive as it should be. Praise: Freedom is a wonderful thing, and there is nothing more wonderful or free than running along empty southern highways in a car as fine as the E55 under the protection of your ancestors. Ride, acceleration and handling: Unquestionably superior in all three categories. The E55 moves from 0 to 60 mph in 4.5 seconds; it does curves more beautifully than Halle Berry; and it is every bit as exciting. Body style/layout: The E55 is a four-door, rear-wheel-drive luxury performance car with a formal, notchback trunk. Capacities: The car sits five people and holds 15.9 cubic feet of luggage. Fuel capacity is 20.6 gallons. Premium unleaded is required. Technical highlights: There is an adaptive air suspension system similar to that in the Audi A8L and the Jaguar XJ. Also included are a Lysholm-type supercharger to help boost power without incurring a major fuel penalty and a rollover protection system that automatically deploys window bags and tightens seat belts whenever sensors detect an impending rollover crash. An electronically controlled brake system is available, designed to reduce a possible loss of driving control when (against proper driving training) the driver brakes at the apex of a curve or in corners. Mileage: I averaged 22 miles per gallon in mostly highway driving. Price: The E55 is a high-demand, low-volume car. You're looking at $76,720, including a $720 destination charge, if you're lucky. Purse-strings note: I promise to renew reviews of ordinary vehicles in a few weeks, as they become available for road tests. Meanwhile, why don't we all just settle back and have ourselves some fun?


---
People Who Viewed this Car Also Viewed
Select up to three models to compare with the 2003 Mercedes-Benz E-Class.
2010 Hyundai Azera
Asking Price Range
$8,315–$14,355
Compare
2003 Hyundai Elantra
Asking Price Range
$677–$6,061
Compare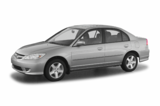 2004 Honda Civic
Asking Price Range
$2,382–$8,098
Compare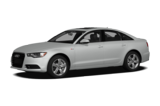 2012 Audi A6
Asking Price Range
$17,135–$33,787
Compare
2005 Audi A4
Asking Price Range
$3,224–$11,060
Compare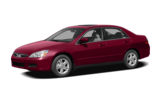 2007 Honda Accord
Asking Price Range
$4,676–$11,664
Compare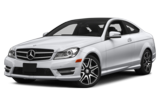 2015 Mercedes-Benz C-Class
Starting MSRP
$38,400–$71,900
Compare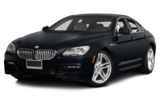 2013 BMW 650 Gran Coupe
Asking Price Range
$39,701–$58,625
Compare
Featured Services for this Mercedes-Benz E-Class