My heart is broken. It happened the day two goons showed up and took away the bright red Mercedes-Benz 500 SL convertible, this week's test car. At first I was skeptical. Before I so much as sat in it, I said even if I had the cash there's no way I'd blow $100,000 on a car. How could any car be worth that much? Before I would shell out six figures for a car, it will have to drive on water and fly. Well guess what? The 500 SL does in a way. A powerful 32-valve V-8 gives the sleek Benz an almost supersonic top speed. And a traction control system keeps the tires from losing grip on wet roads. Driving the test car for a week had me contemplating any number of desperate scenarios. Somehow, I must have this car. Even if I sold everything I own - including Fred, my intrepid dachshund - I couldn't even afford to pay the interest on the loan. So, I approached the boss and campaigned for a massive, vulgar raise. It didn't work. Not one to give up, I have taken the advice of a co-worker, who said, ''Keep on playin' the lottery, baby.'' PERFORMANCE At 4,145 pounds, the 500 SL is one of the heaviest cars I have ever driven. The test car came with a 322-horsepower fuel injected V-8 with four cams, 32 valves and a four-speed automatic transmission. The 500 SL has a less expensive brother, the 300 SL, that comes with a 3.0-liter straight six and either a five-speed automatic or a five-speed manual transmission. Despite all that poundage, the 500 SL can really fly. A light foot will ensure smooth and leisurely acceleration from a stop because the transmission starts in second gear. A little extra pressure on the accelerator will shift the transmission into first gear for tire-spinning takeoffs. I am not sure I like this feature. The shifts from second to first were rough. But when the engine hits 3,500 rpm, things get interesting. The engine seems to develop most of its power between 3,500 and 5,000 rpm. Unfortunately, you can't utilize it. Revving the engine that high will get the car moving about 90 mph. Mercedes-Benz claims a zero-to-60 mph time of 6.2 seconds. The 500 SL had a hefty appetite for unleaded premium. It was the most expensive-to-fuel car I have driven this year. It burned almost $50 worth of gas in 489 miles. The car returned about 16 miles per gallon in combined city/highway driving. That's poor enough to attract the attention of the government: There's a $2,100 gas guzzler tax levied on each 500 SL sold. And speaking of taxes, 500 SL buyers must pay another $6,750 for luxury tax. HANDLING The ride is stable and steady but not athletic. Maybe it's because of the car's weight, but you never get the feeling that you can fling the 500 SL around. It's heavy to the point of requiring a lot of effort in city driving. The car has something of a wooden, soggy feel to it. Nowhere is this feeling better demonstrate d than in the brakes. They worked well, but the pedal was exceedingly heavy. Also, the steering response couldn't be described as crisp or especially responsive. I took several curves at 60 mph and found the 500 SL can be coaxed into some sporting maneuvers but it takes a lot of work. Mercedes-Benz leaned toward giving the 500 SL more of a luxury car pedigree instead of making it a sports car. If Mercedes could find a way to lose about 600 pounds and lighten the controls, the 500 SL could be a real mean machine. The suspension system is quite capable of preventing road noise and minor bumps from reaching the driver. Rolling over a speed bump is nearly undetectable. FIT AND FINISH The Mercedes-Benz 500 SL ranks as one of the best-built cars you can buy. Pieces fit together with awesome precision. The fully automatic convertible top truly is something to marvel at. Pressing one button is all it takes to raise and lower the black cloth top, ano eration that is carried out ina manner of seconds. The 500 SL cruised over the worst terrain I could find, a dirt road peppered with deep holes and gashes. I heard no rattles and detected no untoward shakes. The body is amazingly stiff for a convertible. You expect a little cowl shake in a soft-top, but the 500 SL was as sturdy as a hardtop. The seats are a work of art. They are sculpted to provide excellent lower back and thigh support. They are equipped with a memory feature, and of course, a myriad of power adjustments. All electrical accessories were easy to control and they worked well, but something was notably absent. For $100,000, why isn't the 500 SL equipped with a CD player? To its credit the car did have a built-in hands-free cellular phone. The car's greatest feature, though, isn't mechanical. It's the styling. The car turned heads and elicited compliments almost every time I took it out. In the 500 SL, Mercedes-Benz has built a car that will be regarded as a timeless classic. Truett's tip: Even though the price is absurd, the 500SL convertible has a way of massaging your ego that few automobiles can match. It's expensive, but worth it.
---
People Who Viewed this Car Also Viewed
Select up to three models to compare with the 1992 Mercedes-Benz 500.
2011 Audi S6
Asking Price Range
$21,578–$37,322
Compare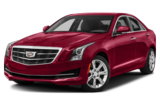 2015 Cadillac ATS
Starting MSRP
$33,215–$51,435
Compare
2015 BMW 435
Starting MSRP
$46,250–$56,900
Compare
2009 Mercedes-Benz C-Class
Asking Price Range
$6,118–$24,710
Compare
2007 Audi A8
Asking Price Range
$7,641–$23,641
Compare
Featured Services for this Mercedes-Benz 500