Vehicle Overview
After 12 years in its previous form, a wholly restyled Mercedes-Benz SL500 two-seat convertible went on sale as an early 2003 model. Unlike the prior SL-Class, which had a fabric top, the 2003 version was equipped with a retractable hardtop. At the push of a button, the car can transform from a roadster to a watertight coupe in 16 seconds.

New electronic brake control was used. Variable brake proportioning can apply added pressure to the outside wheels to enhance control when braking in turns.

The SL500 got a new seven-speed-automatic transmission for 2004. Active Body Control is an active suspension system that virtually eliminates body roll. An Electronic Stability Program stability system is also standard.

Soon after the emergence of the SL500, a high-performance SL55 AMG edition went on sale. At the 2003 North American International Auto Show, Mercedes-Benz unveiled an SL600 with a bi-turbo V-12. An even stronger SL65 AMG with a 604-horsepower, twin-turbo 6.0-liter V-12 debuted for the 2005 model year. The SL-Class competes against the Jaguar XK8, Porsche 911 and Aston Martin models.
(Skip to details on the: SL55 AMG | SL600 | SL65 AMG)
Exterior
The 2003 SL500 was an evolution of the previous-generation SL-Class roadster, and it changed substantially in appearance. Its styling touches were reminiscent of SLs of the past. The automaker said clear-glass xenon high-intensity-discharge headlights were considered a "more dynamic variation on the familiar 'twin-headlamp' theme." An "intelligent" tilting mechanism ensures that the roof retracts into the upper section of the trunk.

The slippery-shaped SL500 has a 0.29 coefficient of drag. Aluminum is used to keep body weight down.
Interior
Leather, fine wood and aluminum is used in the SL500's interior. Matte chrome surrounds the four separate chronometer-styled instruments on the dashboard. Distronic "intelligent" cruise control is optional. Cargo capacity is 7.3 cubic feet with the top down and 10.2 cubic feet when the roof is up.
Under the Hood
The 302-hp, 5.0-liter V-8 in the SL500 mates to a seven-speed-automatic transmission.
Safety
Standard side-impact airbags are designed to protect the occupant's head and thorax. A driver's side knee airbag is installed. Automatic roll bars pop up within 0.3 seconds when the system senses an impending rollover.
Driving Impressions
The SL500 has many enticing features, such as super-supportive seats. The powertrain produces quick and energetic responses but has a slight hesitation when starting off and downshifting. Like all Mercedes-Benz models, the SL500 has a heavy feel, but it's far less bothersome in this car.

The SL500 is highly stable on the road and clings securely to the pavement. It has excellent steering wheel feel and appropriate effort. All told, it's more boulevard cruiser than hard-core sports car, and it delivers outstanding ride comfort.

The controls range from cryptic to ambiguous. Mercedes-Benz's navigation system is next to useless; the small screen becomes almost invisible in daylight. Its hooded, finely calibrated gauges, on the other hand, are reasonably easy to read. Trunk space is skimpy due to intrusion from the retractable hardtop.
SL55 AMG
The SL55 AMG is equipped with a 5.5-liter supercharged V-8 that produces 493 hp and 516 pounds-feet of torque; this car was the fastest production Mercedes-Benz ever manufactured, until it was overtaken by other AMG variants. Its five-speed-automatic transmission has SpeedShift buttons on the steering wheel. Racing-derived brakes are installed, and other components have been adapted to work with the higher engine output.

Mercedes-Benz claims the SL55 AMG can accelerate from zero to 60 mph in 4.5 seconds, versus a more leisurely 6.1 seconds for the SL500.

Distinctive AMG bumpers and side skirts highlight the SL55 AMG, which features five-spoke 18-inch wheels and a quartet of exhaust pipes at the rear. The interior features special sport seats and aluminum trim. Back to top
SL600
Introduced as a 2004 model, the SL600 holds a twin-turbo 5.5-liter V-12 that produces 493 hp at 5,000 rpm and 590 pounds-feet of torque as early as 1,800 rpm. Its five-speed-automatic transmission incorporates Touch Shift operation for manually selected gear changes. Though engine horsepower is the same in both the SL600 and SL55 AMG, the automaker says the SL600 differs in "character"; its power delivery is more refined and exhibits greater torque output.

The same brakes are used in the SL600 and SL55 AMG. Five-spoke 18-inch alloy wheels are installed. A chrome grille and subtle "V12" badges identify the SL600. Nappa leather on the active ventilated seats comes in a choice of colors. An integrated digital phone is standard.

Mercedes-Benz managed to combine ferocity and luxury in the SL600, which flaunts a noticeable exhaust note and posh occupant fittings. Tromp the gas pedal while standing still and the SL600 lunges forward with a triumphant burst of power. Response is no less dramatic when pushing the throttle at higher speeds. SL600 drivers will likely feel confident when the need to pass or merge arises.

Few cars are more lavishly upholstered than the SL600, which features masterfully stitched leather that cradles its occupants. The seats are snugly bolstered. Rich-looking wood on the console and doors rounds out the interior.

Serious luxury also shows through in the SL's compliant suspension. The ride is far smoother than in a typical sports car. A wind blocker helps when the top is down, but some buffeting may occur regardless.

Is it excessive? Of course it is, but at least the SL600 delivers an enjoyable form of automotive excess. Back to top
SL65 AMG
If an SL55 AMG simply won't suffice, Mercedes-Benz has a super-potent SL65 AMG ready for the 2005 model year. Rather than a measly 493 hp, the SL65 AMG is equipped with a twin-turbo 6.0-liter V-12 that cranks out a whopping 604 hp and 738 pounds-feet of torque. That's sufficient to deliver a 0-to-60-mph acceleration time of 4.2 seconds.

Hand-built at the AMG engine facility by a single specialist, the V-12 is signed by that craftsperson. The SL65 AMG is the first Mercedes/AMG product to be fitted with a limited-slip rear differential. AMG wheels hold 19-inch tires. Back to top
---
People Who Viewed this Car Also Viewed
Select up to three models to compare with the 2005 Mercedes-Benz SL-Class.
2004 Jaguar XKR
Asking Price Range
$11,862–$22,750
Compare
2007 Mercedes-Benz CL-Class
Asking Price Range
$17,295–$41,335
Compare
2014 Mercedes-Benz G-Class
Asking Price Range
$85,573–$137,473
Compare
2006 Mercedes-Benz CLK-Class
Asking Price Range
$5,546–$19,390
Compare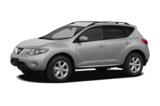 2009 Nissan Murano
Asking Price Range
$8,248–$17,736
Compare
Featured Services for this Mercedes-Benz SL-Class