Average Ratings
---
22 out of 27 people recommended this car.
---
Extremely Evolved Experience
by Wheel Nut from Knoxville, TN | November 24, 2013
This is my 2nd Lancer Evolution. Both 2006 MR editions, which summarizes the power of this vehicle. Cons that, by now, everyone is aware of: - Econo-car interior that's much more practical than magical. Basic but thoughtfully appointed and designed nonetheless. - 20/27 city/highway mpg - 6 Speed Manual gearbox, with one of the stiffest clutches you'll ever use - Bilstein shocks with macpherson struts. Sticky Advan tires wrapped over forged 17" BBS wheels communicating every detail of the road. - Carbon Fiber wing, aluminum roof/hood/fenders. Pros: - There are non-performance related reasons to purchase this vehicle, however the 2006 Lancer Evolution IX MR is a car worshipped by lovers of driving and the passion for engineering, for the exact reasons it is brushed off by non-enthusiasts. The sum of all the special parts masterfully integrated into an indescribable experience which lifts machine beyond a subservient tool into one of life's secret joys. Power- it's delivery to the road and to the senses; telepathic steering; massive stopping power are each individual addictions. No other automobile brings a bigger or more relentless rush and resulting smiles. So, polarizing and extreme - very. Matched by none. .
Purchased a new car
Uses car for Commuting
Does not recommend this car
---
best car ever!
by Justin from Adelanto, CA | March 24, 2013
best Seller Around! The Customer Service Was Excellent, Very Friendly. They Work With All Types Of Credit. The Deals And Down Payments Are Very Negotiable. The Car Was Very Well Priced, And Worth Every Penny. The Car Had Very Minor Problems, They Told Me To Bring It In And They Had Everything Fixed In A Timely Matter With No Charge To Me. I Love This Place, I Wouldn't Go Anywhere Else To Buy A Car.
Purchased a new car
Uses car for Just getting around
Does recommend this car
---
Best buying experience you can get.
by EVO9MR from Pennsylvania | February 20, 2013
I bought a 2006 Mitsubishi Lancer Evolution MR from Brooklyn Auto Sales two months ago. Car was everything it was listed to be. I came from all the way from PA. Car was extremely clean and had absolutly nothing wrong with it. Cant go wrong with who get helped by but I extremley recommend Adam which is who helped me. He is the type of salesman who only wants you to be happy in the long run with your purchase and car buying experience. We still keep in touch till this day. I would definitly go all the way back to buy a car from him if I need one.
Purchased a new car
Uses car for Just getting around
Does recommend this car
---
evo madness
by beast mode from | November 5, 2012
great car, owned one before, plan to buy a new one soon! i personally enjoyed this car very much, such a fun drive and the handling is superb. one of thee best cars ever designed in the japanese market in its class!
Purchased a new car
Uses car for N/A
Does recommend this car
---
The Last "Real" Evo
by Professional Driver from Phoenix and Marana, AZ | December 20, 2011
Owning an Evo has been a dream of mine since I was a teenager. I was fortunate enough to own one for a year and loved my MR Pros: Angry, high revving turbocharged engine Near perfect steering feel 6 speed manual transmission is a gem Rigid chassis and Bilstein shocks AWD traction and composure World class Brembo brakes Distinct styling Throaty, "exotic" exhaust note Recaro seats and BBS alloys Excellent driver ergonomics 4-door usefulness and a real trunk Perfect reliability (but for only 9700 miles) Cons: Anemic engine below 2500 rpm Everyone tries to race with you Eats the stock Yokohama tires quickly Said tires are unreasonably priced No cruise control- even as an option Tempts you to attack every corner and road 17-23 mpg with 19 mpg average on premium Expensive synthetic oil required Lack of side air bags Rear seats don't fold (rear brace impedes) Steering too responsive at high speeds I will never regret owning this car. I have driven many sports cars since and this is still one of my favorite cars dynamically. I used it as a daily driver and it was a lot of fun. It needs cruise control as it loves to run fast and you will be speeding badly by accident as soon as you stop watching the speedometer. My ex-wife had another driver make a left turn into it and it was "totaled." I almost bought a used one to replace it, but found that it is hard to to find one that hasn't been abused or modified to excess. In that, the way people react to you on the street, and the way the machine goads you into going faster and faster, it is a lot like a motorcycle! It isn't over priced to purchase, but it costs a lot of money to keep well maintained. It is the last Evolution that kept to the original formula, and it is my second favorite car I have owned to date. If you can find a clean Evo VIII or IX, I highly recommend it if you love a real driver's car.
Purchased a new car
Uses car for Commuting
Does recommend this car
---
This is an awesome ride!
by Ztejabobster from Denver, CO | July 21, 2011
We debated long and hard on the Evo vs. the STI and spent a lot of time looking, driving and considering the plusses and minuses of each. We purchased the Evo (2006) in the end and have been thrilled with its performance thus far. In addition to its duty as a limited use daily drive vehicle, we have also entered it in the local rallycross circuit (stock all wheel). While the vehicle has exceeded our expectations in terms of performance, the STI's are still kicking our behind! We are now convinced it has something to do with the DRIVER! EVO - Excellent Vehicle Option
Purchased a new car
Uses car for Having fun
Does recommend this car
---
LOVE THE CAR
by EVO LOVER from maryland | November 8, 2010
LOVE THE MR HATE THE TRANSMISSION MITSUBISHI COULD HAVE SPENT A LOT MORE EFFORT ON THE ONE OF THE MOST EXPENSIVE PARTS OF THE VEHICLE .
Purchased a new car
Uses car for Just getting around
Does recommend this car
---
rays review
by ray from | July 26, 2010
very good car all around....it can do really great, the car can handle hard turns and the performance for the car is outstanding
Purchased a new car
Uses car for N/A
Does recommend this car
---
Why would you want anything else??
by Evo Lover!! from Las Cruces, NM | July 13, 2010
The best car ive ever driven!!! Its roomy, fast, and furious! No car is perfect but this is as close as it gets. if your looking for fun thrill and adventure, this is deffinatly the car for you. Like any other car if you maintain it you wont have any problems.
Purchased a new car
Uses car for Having fun
Does recommend this car
---
Never drove anything we so much performance
by Love to feel the G'sss!! from Queens, NY | July 6, 2010
At first drive the car felt instantly different than anything else I've ever driven. The way the car responds is nothing but amazing. You point it shoots. You gas and it'll just pull away. Its does have its flaws because nothing is perfect. Terrible turning radius and a very basic interior beside the Recaro seats, which keep you very snug. Base stereo is definitely the worst I've ever heard, but then again you buy this car to enjoy its perfromance. As far as it's reliability I cant make a fair decision because I've only drove it about 2k miles and purchased with 15k. It's still a baby but Ive drove it nothing less than insane and its held up. If your into performance you will love it!!
Purchased a new car
Uses car for Having fun
Does recommend this car
---
People Who Viewed this Car Also Viewed
Select up to three models to compare with the 2006 Mitsubishi Lancer Evolution.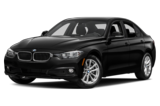 2017 BMW 320
Starting MSRP
$33,450–$35,450
Compare
2017 Dodge Charger
Starting MSRP
$27,995–$65,945
Compare
Featured Services for this Mitsubishi Lancer Evolution