Average Ratings
---
24 out of 25 people recommended this car.
---
Very reliable but VERY poor---even awful MPG!
by SDNative from Sioux Falls SD | February 20, 2015
I like the Outlander for a number of reasons such as reliability, easily understood controls, but the fuel economy is so poor that I wish I wouldn't have bought it. Both Mitsu customer service and the local dealership make excuses for the bad MPG and a number of other local drivers have complained as well. They ( the dealer and the factory people) state that the Hwy MPG is tested at 50 MPG, so when I get less than 20 on the highway driving 70 mph, I should expect it to be that poor. Anybody that you know WANT to drive 50 miles per hour when the speed limit is 70??? THAT is not realistic. Yesterday I didn't make it 215 miles on a full tank of gas on interstate driving in completely flat terrain.... I got 16.008 MPG is all. Went right to dealer with it for service and there was nothing wrong. NEVER have gotten close to the EPA estimate and I only use the vehicle on highway and it is maintained meticulously. When I check mileage---which is frequently---I usually check it over an abundance of miles and several tanks of gas to eliminate any errors. I am really disappointed with the lack of economy with this.
Purchased a new car
Uses car for Work
Does not recommend this car
---
So far so good
by jen from Sherman, TX | January 30, 2015
I purchased this car new. I have always driven Toyotas before this and the interior quality of this car is a little lacking compared to Toyotas, but for the price difference it is still a good value. The CVT transmission takes some getting used to, but the power is there if you need it. It does not get the gas mileage that I expected, but is still decent. I have never gotten better than 29 on the highway and 25 overall, but then again I am driving 75 mph usually. I have had no problems with the car mechanically, however, a mild rattle developed in my a/c vent the first week I owned it. Other than that, it has been fine. I love the interior styling and the features that come standard. Good car for the money.
Purchased a new car
Uses car for Just getting around
Does recommend this car
---
Fits the bill better than any in price range
by Sir J from Sandwich, MA | December 7, 2014
We lucked out finding a used 2014 Outlander Sport on Cape Cod while trading our Acura TL. Needed space for our big fluffy dog at the same time in-laws to visit. The Outlander GT was a perfect choice. It came loaded with 4WD, leather, sunroof, traction, rear camera and the great Rockford Fosgate sound system. The car handles like a dream, and is so easy to enter and exit. Gas mileage runs about 28 overall. After the Acura I thought it would be hard to praise but the Outlander GT is a worthy upgrade!
Purchased a new car
Uses car for Having fun
Does recommend this car
---
Excellent value for money. And fun.
by George Jetson from St Louis, MO | November 22, 2014
Cost/benefit wise it's hard not to consider the Outlander. On the pro side, it's comfortable, very reliable, very pleasant to drive overall, good features that (almost) all work. I get 26mpg around town without trying and 29mpg on the highway - but I drive at 75-85mph so that's not unreasonable. Excellent warranty. On the negative side, the CVT transmission is a slug until you figure out how to drive it effectively. Handling is very good with nice weight to the steering. The standard tires are utter garbage in snow and heavy rain - to the point that I think they're borderline dangerous in the FWD model. I highly recommend changing them for something better if you get the FWD and expect a lot of snow driving. In fact, if you expect to drive in snow, just get the AWD model.
Purchased a new car
Uses car for Work
Does recommend this car
---
Fun new car
by Julie from Tampa, FL | October 15, 2014
After having a very reliable Honda CRV for 15 years, my Outlander fits the price point and capacity needs we were looking for in a family car.
Purchased a new car
Uses car for Transporting family
Does recommend this car
---
Very dependable car great value
by JOJO from Austin TX | September 29, 2014
I bought my 2008 XL 2WD new in 2008. It now has 105,000 miles on the vehicle. The only items i have serviced are the oil, every 7500 miles, new breaks twice and new shocks twice (because i like a tight ride), the in cabin air filter and the air filter in the engine, i just had the radiator flushed at 104,000 miles and i just put on the second set of tires. This is all i have done! This care has been incredibly dependable, i cant tell you how great this car has been. It was worth every penny. I love the Rockford Fosgate steroe, love how it handles and it still handels the same as when i bought it new because i have changed the shocks twice. this car has been so good that i think i might buy another one. i wanted to change things up and try something different but seriously i don't know that i'll change just due to the dependabilty of the vehichle. Great car worth the price.
Purchased a new car
Uses car for Just getting around
Does recommend this car
---
Moms Love it and hate it
by New Owner to Mitsubishi from | September 13, 2014
I was looking for a vehicle to replace my "mom minivan" so the 7 passenger capability without being a huge vehicle sealed the deal for me. I love the keyless entry and start. The sound system is excellent. My blue tooth is tempermental though and sometimes only has sound coming out of one speaker. What made me sit down and write this review is the vehicle is only 6 months old and has 3 small dings in the exterior panels. I have never had a vehicle (this is not my first) be so easily dented. Also hate the cheap black interior. I do not like the drivers seat. I have spent double the time trying to vacuum the "carpet," if that's what you can call it, and seat fabric due to the fact that every piece of dirt and fuzz gets stuck in the fibers and under the cheap plastic pieces. If you have kids, maybe consider a different vehicle.
Purchased a new car
Uses car for Transporting family
Does recommend this car
---
Fun Vehicle
by Mitsubishi Fan from Pontiac, Illinois | September 11, 2014
Purchased this vehicle last month and I'm very happy with my choice. Comfortable to ride in, heated seats, sunroof, back up camera are all my favorites. Easy to get in and out even with multiple passengers. Seats are easy to lift for cleaning or if you drop something between the seats. The hands-free BT system is so convenient and the satellite radio is a bonus. It came with a 3 month free subscription. Affordable and nice for the money.
Purchased a new car
Uses car for Just getting around
Does recommend this car
---
It's okay and great at the same time
by Mother of 2 from Erie, CO | August 30, 2014
First I will state the good: It has great gas mileage, a third row, blue tooth, back up camera, and comfortable seats. And lastly, an awesome warranty. The only bad is the fact I can feel everything. It seriously feels as though I have no front shocks. Every bump I drive over feels like I am being conked. Needless to say, I have a lot more headaches these days. Kind of a real bummer! *I am looking forward to seeing how it handles on our CO roads in the winter with the AWC.
Purchased a new car
Uses car for Transporting family
Does recommend this car
---
Modern Gadgets/Economy
by JuanMagas from Chicopee, MA | August 30, 2014
We traded in our 2012 Sport for this 7 passenger Outlander GS 4WD to get more people in. The Outlander has good mpg; overall 30. I like the adaptive cruise control and Lane Deviation Warning. What we don't like is the floor lip and column position for getting in and out of this vehicle. Also, the Sport really looks a lot better in style appearance. And, we lost the adjustable headlight ability. The 3rd row would probably be better if it faced the rear and afforded one the opportunity to enter and exit through the rear of the vehicle. The GPS, Bluetooth, CD Player and Rear camera all seem to be okay, but the GPS seems a bit busy at times and causes some disorientation due to what appears to be split screen conflict. I hope that future models will be improved upon, but it seems to have been the best value at the time for a 7 passenger SUV.
Purchased a new car
Uses car for Transporting family
Does recommend this car
---
People Who Viewed this Car Also Viewed
Select up to three models to compare with the 2014 Mitsubishi Outlander.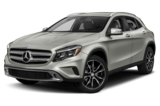 2015 Mercedes-Benz GLA-Class
Starting MSRP
$31,300–$48,300
Compare
2013 Toyota Venza
Asking Price Range
$15,830–$28,462
Compare
2016 Mitsubishi Outlander Sport
Starting MSRP
$19,595–$27,395
Compare
2002 Mercedes-Benz C-Class
Asking Price Range
$2,233–$9,725
Compare
2015 Jeep Cherokee
Starting MSRP
$23,095–$30,895
Compare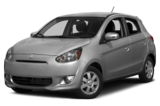 2015 Mitsubishi Mirage
Starting MSRP
$12,995–$14,945
Compare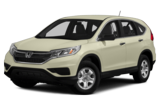 2015 Honda CR-V
Starting MSRP
$23,445–$32,895
Compare
2016 Hyundai Tucson
Starting MSRP
$22,700–$31,300
Compare
2014 Acura RDX
Asking Price Range
$24,825–$34,349
Compare
Featured Services for this Mitsubishi Outlander