You know those days as a mom that are so mundane it makes you want to rip your hair out just for the fun of it? That's what my two-and-a-half weeks in the 2009 Nissan Altima 2.5 S were like. It's not that there's anything inherently wrong with the Altima; it's functional and looks fine, but it's got no game. As a single mom, I'm definitely lacking in the game department, and I'd like to shag a little of it from time to time.

The Altima's ride quality was good, but I was so annoyed by the continuously variable automatic transmission that I hardly noticed the ride. The CVT is a definitely a sore topic for me. A CVT is a transmission that changes smoothly through an infinite number of gear ratios without kicking over from one gear to the next. This improves performance and fuel economy; the model I tested gets an EPA-estimated 23/31 mpg city/highway.

Some car geeks love CVTs. An automotive journalist commented to me on Twitter that "CVTs *RULE*. Either let me shift myself or eliminate the need to shift, that's how I see it." From my perspective, CVTs are obnoxiously loud at initial acceleration, and I miss not having that little kick in the seat every time the car shifts. It's totally unsatisfying to me - like having a sneeze that dissipates before you actually sneeze.

Exterior

Whatever you do, don't expect luxury in the Altima. This is not a luxury sedan in any way, shape or form; it will get you from Point A to Point B without being noticed. How else do I describe the look of a car that resembles every other vehicle on the street that doesn't warrant a second glance? It's a midsize sedan that's not at all boxy; it's slightly aerodynamic but without much design edge.

The Altima coupe is a different story. I saw a couple of those out and about during my two-week test drive and had some coupe envy. It's sharp, sexy and sleek. However, none of those characteristics carry over into the sedan. So sad!

The Altima has a standard keyless entry system - Nissan's Intelligent Key with push-button start - that's a big help to moms. When your hands are full, it's nice not to have a key in hand to open and start the car.

Because it's a sedan, it was easy for my kids to get in and out of the car. They also had no problems opening and closing the doors by themselves.

SENSE AND STYLE

Family Friendly (Not Really, Fair, Great, Excellent): Great

Fun-Factor (None, Some, Good Times, Groove-On): None

Interior

While the Altima didn't make my heart go pitter-patter, there are a few less boring - even notable - features in the Altima's interior. It's in-door storage bins in both the front and rear doors were a great mother's helper. All four of them turned into trash bins for us. I was shocked by the amount of trash my two daughters and I accumulated in this car over the course of a couple of weeks.

The bilevel center storage console is also handy. The top tray was the perfect storage spot for my 3-by-5-inch note pad (I organize my life on it), accompanying pen and my lip balm. Did I mention my lack of game yet? Underneath the console's top level I stowed some sunblock for those unplanned stops at the park.

My oversized sunglasses didn't fit in the overhead storage compartment for sunglasses, but it worked to keep my garage-door opener handy since the visor was too thick for its clip.

My children appreciated the rear air vents located on the back of the center console on a particularly hot late-summer day. I blasted the air conditioning, and they adjusted the direction and flow of the air to cool them down after that visit to the park.

My big complaint about the Altima is its lack of finish. The black plush fabric seats seem chintzy. The color looks as if it'd fade after spending too much time in the sun. The fabric also attracts and highlights every crumb and piece of lint within a 10-foot radius of this car.

The trunk area also has a noticeable lack of finish. I wrongly figured the trunk would be a safe storage spot for a bunch of helium balloons; it would keep them out of the passenger compartment and my line of sight. After hearing rapid-fire popping sounds, I discovered my balloons were toast because the top of the trunk area is unlined. There's all sorts of exposed metal parts, light bulbs, wires and gears in there. That's trendy in a loft space but not in a car. However, I did like the little net cargo compartment on the side of the trunk; it kept a container of hot soup from sliding around the trunk and making a mess.

IT'S THE LITTLE THINGS THAT COUNT

Storage Compartments (Puny, Fair, Ample, Galore): Ample



Cargo/Trunk Space (Puny, Fair, Ample, Galore): Ample

Safety

The Altima has the most basic safety features - antilock brakes and front-, side-impact and side curtain airbags - standard, but you'll have to upgrade to a higher trim level for sexier safety features like stability control and traction control. In my book these optional features are just as important as airbags and should be standard on all trim levels. A rearview camera is also available on certain trim levels, but not on the one I drove.

The rear seat belt receptors on the Altima are flimsy and that makes it difficult for little ones to buckle up, especially kids who are new to seat-belt buckling. My kids (ages 7 and 9) managed to buckle up without any problems as long as their booster seats didn't shift and cover the receptors.

Installing a child-safety seat with the Altima's Latch connectors requires some tricky finger finagling, but they're not the most difficult ones I've used.

FAMILY LIFESTAGE

In Diapers: It's a tight fit for rear-facing infant-safety seats, but you can make it work if front-seat passengers have short legs.

In School: This car is no problem for school-age kids.

Teens: The car's boringness might help balance out the hormonal drama of teen drivers.


---
People Who Viewed this Car Also Viewed
Select up to three models to compare with the 2009 Nissan Altima.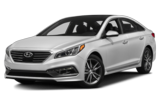 2015 Hyundai Sonata
Starting MSRP
$21,150–$33,525
Compare
2010 Honda Civic Hybrid
Asking Price Range
$4,566–$15,262
Compare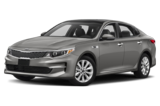 2016 Kia Optima
Starting MSRP
$22,140–$36,040
Compare
2009 Ford Focus
Asking Price Range
$4,133–$10,745
Compare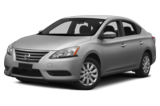 2015 Nissan Sentra
Starting MSRP
$16,530–$20,720
Compare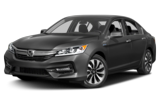 2017 Honda Accord Hybrid
Starting MSRP
$29,605–$35,955
Compare
2012 Toyota Camry
Asking Price Range
$11,086–$19,342
Compare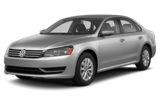 2013 Volkswagen Passat
Asking Price Range
$9,930–$19,602
Compare
2009 Hyundai Accent
Asking Price Range
$2,964–$9,136
Compare
Featured Services for this Nissan Altima