Frontier. The term conjures an image of the outer limits of man's knowledge. In the case of the supercharged Nissan Frontier, it describes a place (niche market?) other manufacturers haven't explored, which probably is a good thing. But we travel to that place today to drive the 2003 Nissan Frontier 4x4 SCV6 pickup, a vehicle that pushes the boundaries of what we expect in a small pickup truck, but, in the end, leaves you wondering why it was built in the first place. It wasn't all that long ago that a small pickup fit a far different niche. Inexpensive to buy, inexpensive to own. Not particularly powerful, but able to lug a decent-sized load. The Frontier we tested was none of the above: It was plushly appointed, expensive ($28,746 as tested), supercharged (210 horsepower, 246 ft.-lbs of torque), required premium fuel, and got 16 miles per gallon. That certainly puts the Frontier in its own corner of the small-pickup world. But there are plenty of other corners. You can get them with long beds or short beds, two-wheel drive or four-wheel drive, and with all sorts of engine and transmission combinations. Ditto for trim levels. And need we mention regular, king, or crew cabs? To configure a small truck can confuse the buyer. It's just that this one is neither toy nor workhorse, people-mover or single-person's sports vehicle. It has a powerful "Bob the Builder" facade with fake bolts designed into the cladding, but this configuration doesn't make it a hard-working rig, with its short bed and fancy appointments. In fact, it would be interesting to see just who drives this truck. And it is a nice-enough truck to drive — if you're the driver or front-seat passenger. The seats are comfortable, and there's almost enough legroom for the driver. One more click on the adjuster would be just right. Same with the performance. The Frontier, while quick, didn't have snap-your-head acceleration. Instead, it spun its wheels anytime there was moisture on the road and the gas pedal got anything more than a light push. And, once the supercharger kicks in, it's noisy, very noisy. Similarly, when stopping, the antilock brake system kicked in regularly with the front disc/rear drum braking system. (Yes, we drove it mostly in the rain.) But the P265/65417 tires weren't coated with "Stick-Um," either. The interior, a gray leather with neat red stitching and SC badging was plenty plush. But to say this crew cab is designed for five is to assume that those riding in the back are very small people. Getting back there solo, I didn't fit. My head was jammed against the (fabric) headliner, and my knees were jammed against the seatbacks. The controls present a similar conflict of sensations. Visibility is excellent. Gauges and controls are Nissan standard and intuitive — except for the radio. Nissan has its own s tyle for audio systems, and it works fine once you understand it. This was a 300-watt Rockford Fosgate system with 6-disc in-dash CD changer, controls on the steering wheel, and plenty of clarity out of the nine speakers. On the roof, there was a tubular rack that certainly wasn't designed to haul piles of plywood to the job site on a daily basis. But the matching tubular side rails were sturdy enough to aid the big step up into the not-so-big truck. One thing that confirms that this is a truck is the ride. Nissan uses a leaf-spring rear suspension that will allow you to carry a load, but causes bouncing when the bed is empty. Similarly, the recirculating-ball steering, to be kind, is far short of precise. Now, to read all of the above is to think that this is a dog of a vehicle. On the contrary. It's fun to drive once you get acclimated to it, which takes no more than half an hour. It should have Nissan's reliability and everything wo ks as designed. The fit and finish were fine. It cruises the highways just fine (we'll always remember it for giving us our first trip through the Liberty Tunnel in the first 24 hours it was open), and the high seats give great visibility. Available options that weren't on our test vehicle included a tire pressure monitoring system and large-sized sunroof. It's just that the design makes one ask: "Why?" As in: Why would Nissan build this version? Why would anyone buy it at this high price? And, for that, I have no answer. The good news is Nissan has a new full-size pickup — the Titan — coming on the market as an early 2004 model and a redesign of the Frontier coming for the 2005 model year. It's one time when the term "new Frontier" is appropriate. Both vehicles will merit a long look. Until then, file this one under "high-powered-but-directionless." Of course, a lot of potential buyers fit that description, too. As our North Shore realtor, Tracy Mousseau, always says about houses: "There's a derriere for every seat." Likes: Interior appointments and controls. The cupholders. On first look, they seemed too shallow but they held both my massive Kane's Donuts plastic mug and smaller metal version. Three outlet plugs for phones, laptops, television sets, and the like. Annoyances: The bouncy ride, a near-useless rear seat, noisy engine, and poor fuel economy.
---
People Who Viewed this Car Also Viewed
Select up to three models to compare with the 2003 Nissan Frontier.
2012 Ford F150
Asking Price Range
$14,511–$39,583
Compare
2017 Subaru Forester
Starting MSRP
$22,595–$34,295
Compare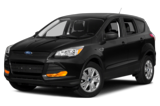 2016 Ford Escape
Starting MSRP
$23,590–$31,745
Compare
2012 Chevrolet Colorado
Asking Price Range
$6,124–$26,064
Compare
2012 GMC Canyon
Asking Price Range
$11,760–$26,896
Compare
2010 Ford F250
Asking Price Range
$10,967–$40,567
Compare
2009 Mercedes-Benz CLK-Class
Asking Price Range
$8,211–$24,419
Compare
Featured Services for this Nissan Frontier