Average Ratings
---
19 out of 21 people recommended this car.
---
My first and LAST Nissan!
by Disappointed from Denver NC | September 22, 2015
My first and LAST Nissan! 2011 Murano, 85,000 mi, serviced by the book, garage kept. 1) Battery went completely dead twice 18 mos apart. Nissan dealer says "we dunno". Can't trust car to be ready to go when needed. 2) 85,000 mi, A/C compressor failed. $1100 repair. 3) Also, eats up tires; I'm on my third set. And I bought good tires.
Purchased a new car
Uses car for Just getting around
Does not recommend this car
---
Great comfort and performance at a great price
by B Stoss from Greenville SC | July 27, 2015
I was in the market for a used crossover. My "07 Pacifica had 185K on it. It still ran great but was feeling dated and began having expensive issues. My car is my office and I probably spend 2 - 6 hours a day in it during the week. I looked at Muranos. I have always loved Nissan road feel, handling and styling. I looked at SV's and SLs and finally purchased an SL AWD. It is loaded. Interior design and comfort - a great new office. Leather, sun/moonroof, BOSE sound with 11 speakers, BT, 9 gb HD for music storage, Power liftgate and everything else, rain sensing w/s wipers, heated seats, and a sharp looking vehicle. It handles very well with the right amount of road feel without feeling mushy. This car rides and steers tight. Yes it is a 2011 with 50K miles but I never buy a new car. This is 4 years old and about 40% less than a new oe would cost.
Purchased a new car
Uses car for Work
Does recommend this car
---
It's worth what you pay for
by SUV Man from Washington, DC | May 13, 2015
After moving to the snowy East Coast from the Sunny South, I wanted to exchange my aging RWD Lexus GS for an "urban" small to midsize SUV with AWD to manage the snowy winters. I was leaning heavily toward a certified Jeep Cherokee or M-Class Mercedes, but was wowed at the relatively great value of the Murano. Once I went to the dealer's lot to take a look, I ended up driving it home the same night. What sold me was the slick look of the car as well as the awesome interior. I bought the LE AWD; I must say the interior is SHARP! And it's LOADED with all of the creature comforts of a more expensive vehicle. From leather seating to the heated steering wheel, to the front and rear heated seats, to wood grain, to the navigation, to the Bose system, to the panoramic roof (......you get my point), the car has a lot to offer. It also has great power under the hood for a vehicle its size. I felt that the car was not only a great value, but a steal compared to its competitors. With all of that great stuff I mentioned above, there also came some stuff after buying the car that I really don't care for. For what I consider to be a smaller SUV compared to the Jeeps of the world, the gas mileage on this car is horrible! Also, while it rides well on a smooth surface, the ride becomes a nightmare on bumpy roads. There are also a lot of items inside the car that rattle, including the cargo cover in the rear hatch and some of the other fixtures. It will drive you crazy if you let it. In hindsight, I sometimes wish that I would've gone with the Jeep or another vehicle, but after thinking about the cost savings I've gained by going with the Murano, I still think it was a wise purchase.
Purchased a new car
Uses car for Just getting around
Does recommend this car
---
I'm loving' it!
by extrajosh from Jersey City | January 8, 2015
Just recently bought the 2011 Nissan Murano SL, and it's really a great vehicle. Mine is loaded with options such as heated seats, heated steering wheel, leather interior, back up camera, etc. I love driving this car! I love the Intelligent Key system, which truly simplifies basic usage, and the automatic rear seats and automatic rear door. It meets pretty much everything I was looking for in a crossover vehicle too. My only negatives would be it doesn't have integrated navigation, meaning it also doesn't have bluetooth audio stream, which is what I care more about (streaming music from your device via bluetooth). However, plugging the device into the onboard USB outlet works fine, and the bluetooth still connects with the phone so you can hear the navigation voice throughout the car, make phone calls, etc. I actually prefer using my phone for navigation as it's easier to keep my eyes on the road. Also, making phone calls can be a bit slow as the system must announce calling options every time and at each step. Really, the fact that there's no integrated navigation does cut out a few extra options. But, other than those few things, I'm quite happy with the Murano. It's my first crossover SUV, and I really feel I made a great choice, especially when compared to other SUVs in the same price range and category. I had initially been interested in the Infiniti FX35, but found it was too cramped inside; absolutely no leg room in the back seats! The Murano is quite spacious and comfy. Also, when it comes to exterior design, I think this Murano is better looking than the 2015 or anything before 2009. I know not everyone would agree, but that's my personal feeling.
Purchased a new car
Uses car for Having fun
Does recommend this car
---
2011 Nissan Murano
by Miracles from Silver Spring, MD | November 25, 2014
I love my new truck, the only thing I've noticed is that when I put regular gas in the gas go's by too quick, so now I'm puting in mid-grade and it usually lasts for a week for me. I've heard that the parts are very expensive on this SUV, I have a carnote so I'm not looking forward to fixing anything yet.
Purchased a new car
Uses car for Commuting
Does recommend this car
---
Former Ford Edge Owner
by Driving Enthusiast / Dad from Western PA | July 8, 2014
I just traded a 2007 Ford Edge that I really liked for a 2011 Murano. I've only had the Murano for a week, but drove 400 miles over the weekend on a trip. I was looking for and test drove a 2011 Ford Edge, but decided to switch to the Nissan. Both vehicles met my need to carry a family of four on weekends, skiing in winter, etc. Initial comparisons are; The Murano feels sportier to drive...steering is more responsive. It feels like a smaller vehicle, although I parked next to an Edge and they look basically same size. Both vehicles have similar 6 cylinder engines, and are pretty quick. The Edge rides a little softer, the Murano a little stiffer. But the Murano is amazingly smooth and quiet on the highway. I especially like the Murano's transmission. It is ultra smooth...you can't feel any shifting. That was one of the reasons I preferred the Murano. My kids say the Murano back seats are roomier than the Ford Edge. I felt the front seats were a tad smaller than the Edge. I also prefer the Edge's interior ergonomics, cup holders, change holders, etc. The Murano doesn't have as many compartments. Both vehicles have panorama sun roofs that I like. I don't like the rear visibility in the Murano as well. The rear corners of the car have larger roof pillars that block visibility when looking back. I'm enjoying driving the Murano. It handles like a comfortable sport sedan. In fact, my wife drives an Infiniti sedan and she likes the feel of the Murano better. Nissan is redesigning the Murano for 2015...there are photos online. I really like my 2011 so far. Hope this review helps others.
Purchased a new car
Uses car for Transporting family
Does recommend this car
---
So-far, so-good
by First time SUV owners from Massachusetts | June 16, 2014
First, we've owned our 2011 Murano SL AWD for a week, so I can't comment on reliability or long-term driveability. I can say that we've really enjoyed the vehicle so far. We felt the Murano was the right balance of size, utility, performance and price. Its comfortable (as far as mid-priced SUVs are concerned). The engine is quite with plenty of power for passing on the highway or merging with traffic. The transmission is smooth and seems well-matched with the engine power (no lugging or super-low RPM seek like in some 4 cyclinder CVT setups). The ride is also smooth - a little body roll in the corners and over big bumps - but's its an SUV. The interior is nicely appointed and offers more options than anyone could really need. As I said, we really like our Murano so far.
Purchased a new car
Uses car for Commuting
Does recommend this car
---
rides like an older lincoln
by hot tub king from saint augustine florida | May 15, 2014
was a little sceptical about the transmission.bought a certified pre owned which gave me an extented 120k on the transmission but the car drives like a dream.gotta be carefull because you dont realise how fast your actually driving.so far so good.trans. mantinance is a little pricey at the dealer,$600 for a trans. flush a little steep for me..
Purchased a new car
Uses car for Just getting around
Does recommend this car
---
Nissain Murano well worth the Money.
by Choms18 from Okemos Mi. | February 4, 2014
I have researched the suv mkt for several monthes before I pulled the trigger on my 2011 Nissan Murano. Well worth the countless hours on the net figuring out what was best for me and What I liked the best. Murano has a great ride and look. Everything about this suv is first class. The CVT transmission makes it feel like your in a jet taking off when you press on the gas pedal. Very happy with my purchase, Go get one!
Purchased a new car
Uses car for Commuting
Does recommend this car
---
red light crash
by marina K from Toronto, Canada | January 30, 2014
The car has just saved my daughter from the injuries in a very serious crash. Somebody run a red light and crashed into my car. The car is a total loss, my daughter just has bruises from the air bags. Thanks Murano!
Purchased a new car
Uses car for Commuting
Does recommend this car
---
People Who Viewed this Car Also Viewed
Select up to three models to compare with the 2011 Nissan Murano.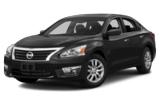 2015 Nissan Altima
Starting MSRP
$22,300–$32,350
Compare
2008 Honda CR-V
Asking Price Range
$7,514–$15,618
Compare
2014 Nissan Rogue
Asking Price Range
$15,327–$25,119
Compare
2012 Toyota Prius v
Asking Price Range
$10,648–$19,508
Compare
2011 Subaru Forester
Asking Price Range
$9,697–$20,433
Compare
2014 Toyota Avalon
Asking Price Range
$19,514–$29,610
Compare
Featured Services for this Nissan Murano