Average Ratings
---
32 out of 38 people recommended this car.
---
Great Car!
by Nice Car from Tucson, AZ | April 11, 2014
I just bought a used 2008 Versa for having 87,000 miles the car runs smooth and it picks up pretty quickly. We rented a 2014 Nissa Versa and I and my wife fell in love with it. We took it to California and only spent less than 80 bucks. So we had to get one great car to have would recommend to anyone looking to save on gas and for the money!
Purchased a new car
Uses car for Work
Does recommend this car
---
It's a very Versa car
by Just a car guy from Manchester, CT | August 1, 2013
My wife and I bought a Versa SL hatch with CVT new in 2008. She commutes quite a bit for work and there is now 166,000 miles on the car. We keep good care of the car including a recent tune up and CVT fluid change. Any maintenance has been routine and regular wear/tear issues. We expect it to easily hit 200k. It's peppy and cruises the highway well. We live in New England and put snow tires on for the winter. My wife laughs as she blows by 4WD/AWD vehicles. Inside it is both small and roomy. For example, I am 6' and 225 and feel a little cramped when driving, but the back seat has a lot of leg room for a compact car. We can fit 2 car seats in the back seat plus a lab and retriever in the hatch area. I highly recommend this car.
Purchased a new car
Uses car for Commuting
Does recommend this car
---
Know What You Want
by Don't Settle from Houston, TX | July 12, 2013
Held out until I found the perfect model with all the features I wanted. It was worth the wait. Rely on Car-Fax. Don't settle for a used auto that is just okay. Take the time to find your ideal vehicle.
Purchased a new car
Uses car for Commuting
Does recommend this car
---
It was Destiny
by Silence from Harrisonburg, VA | March 28, 2013
Crazy as it might sound, I know it was destiny that led me to the car that is now parked in my drive way in less than one months time. Week one: It was strong in my heart to purchase a new car. I wanted a Nissan Versa and I didnt want to look at any other brand. I tried to let my husband do the looking but I felt compelled to make it happen. Or was I being pulled? Week two: The initial company I was trying to get my Nissan Versa from sent me through too many hoops. But what sealed it for me to not buy with them is when they changed my pickup date to test drive a third time because they rented the car out when I was supposed to travel to come get it. Annoyed, I decided to not bother with that company. Just as I was getting ready to give up, just as I was beginning to think it was just wishful thinking, my youngest son saw a 2008 Nissan Versa that was white and here in the city I was in. I took a look at it and I think it spoke to me because I sent an online message and within the hour I was contacted by the sales person. I emailed the info on the vehicle to my husband and told him I wanted to go see it. The next day we left out to view the car but the dealership that I thought it was located at wasnt even opened yet. We were told to come back in a week for the grand opening. I sat back in our car uninterested as my husband drove around looking at all of the cars in the other dealerships where he would spot a Nissan Versa. I didnt care about the color of the car. I just knew that that was the make and model I wanted because of the great mileage that was the most important factor in my choice. Low and behold, as we stopped at one dealership to make inquiries, my husband looked up the hill and spotted the very vehicle that I saw the night before on my computer. We drove over to that dealership and a very nice man came out to assist us. What was unusual to the man was that the other dealer let us leave and didnt bring us over because apparently the two dealerships were connected. What was unusual to me was that this was the very car I saw and yet I thought I saw it listed under a different dealership. Also, I just knew that this car was mine. Week three: Three days after we took our first test drive, we returned to the dealer, test drove it again, and then sat and waited while papers were being drawn up. I sat in prayer the entire time we waited to see if anyone would approve a loan. I spoke to God that if this was the car that I was supposed to have, the car that I believed that he showed me, then everything would go through with no problem and that is what happened. My very first car, the car I wanted without a shadow of a doubt, is now sitting in my driveway and blessing me every time I use it. Every time I get in the car, I say Thank You to God for making it possible. I have been asking for a car for the past 2 years in prayer and HE gave me one. Also, the reason I mentioned the salesman earlier is because it turned out that he had just started working at the company a week earlier and we were his first sale. I believe it was destiny... ... and this experience: in how I found this car, in what I experienced in completing the transactions necessary to bring this car home, in those who assisted me with making this dream a reality, humbles me in ways I cant even begin to explain even as I try to write this review here. I don't think that, prior to my experience, I would have ever believed anyone if they would have told me that their car chose them. Yet, I know that I know that my car chose me. I have no doubt in my mind that this is what happened. It rides wells. There is no words to convey what I feel every time I get behind the wheel and turn it on. Am I crazy? I have never felt for any other car that I have had what I feel for this one. I just know that it was Destiny and with that being said, just now with the writing of this review, have I given a name to my car... Her name is Destiny.
Purchased a new car
Uses car for Transporting family
Does recommend this car
---
Surprized by Versa
by thefrogman from New Jersey | July 20, 2012
Usually not my type of car but very reliable, lots of leg room & comfortable for a small car, great on mileage. Friends & family are surprized after riding in it & say they would buy one.
Purchased a new car
Uses car for Commuting
Does recommend this car
---
Looks small but very spacious and useful
by missingyou from | June 15, 2012
Hatchback is very useful and gas-saving. Has enough leg room. Smooth and light. Worth for the money. Love the car!
Purchased a new car
Uses car for N/A
Does recommend this car
---
Great vehicle
by DaVinch from Lighthouse Point, FL | January 9, 2012
Pros: lots of room, good pickup, dependable, economical (29 MPG in city). Cons: high revving 6 speed, clunkcing during fast acceleration in 1st and 2nd gear Overall: great buy
Purchased a new car
Uses car for Just getting around
Does recommend this car
---
Fighting the gas fight!
by Sammyo5sp from RDU | December 28, 2011
2009 Versa bought it second hand with only 47k mi. and was a great buy @ 7000.00. Two year old vehicle @ the fraction of the price.
Purchased a new car
Uses car for Commuting
Does recommend this car
---
Some parts may be on the cheap, but a GREAT car!!!
by MSB from Toledo, OH | May 19, 2011
I have a 2008 Versa SL, I bought it with 19000 miles and it's now at 30000. The first thing you'll notice when you get it on the interstate is that the thing goes 80mph no problem and doesn't shake. The keyless entry and bluetooth are AWESOME. The only problem is the "clunk" when I turn. They replaced the strut bearings in the steering column once a few months ago and I hear the thumping again. If you are a lead-foot you won't get 25 mpg out of the car. If you're gentle it'll get you 30 mpg. Roomy interior, and cmon the exterior design grows on you once you drive it for a while! Seems very reliable so far.
Purchased a new car
Uses car for Just getting around
Does recommend this car
---
Does not get 31mpg
by Gertrude from Buffalo, NY | April 28, 2011
Hatchback version. Advertised at 31mpg highway, but I haven't gotten better than 28 & drive 90% highway. Handles like a toy in high winds. Otherwise, it's great - super roomy, peppy, comfy seats, easy to get in and out of. Would like to see better gas mileage and flat/level trunk space with back seats folded down. Then it'd get 5 stars.
Purchased a new car
Uses car for Commuting
Does recommend this car
---
People Who Viewed this Car Also Viewed
Select up to three models to compare with the 2008 Nissan Versa.
2007 Nissan Altima
Asking Price Range
$3,764–$10,900
Compare
2012 Nissan Frontier
Asking Price Range
$12,950–$27,782
Compare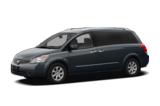 2006 Nissan Quest
Asking Price Range
$3,257–$9,245
Compare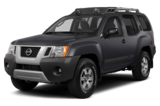 2014 Nissan Xterra
Asking Price Range
$15,486–$28,058
Compare
2012 Nissan Murano
Asking Price Range
$13,437–$25,381
Compare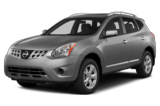 2013 Nissan Rogue
Asking Price Range
$12,074–$20,886
Compare
Featured Services for this Nissan Versa