Average Ratings
---
24 out of 29 people recommended this car.
---
2009 Nissa Versa is a great, reliable sm car
by happy from Upstate NY | August 5, 2016
I bought this car new and have had absolutely nothing but easy, reliable, comfortable transportation with good gas mileage and very low maintenance. I have never had to make a repair except a new muffler and a front coil recall, which Nissan paid. A great first car or additional family car. I'd give it to my children or sell it to a friend - which says it all.
Purchased a new car
Uses car for Commuting
Does recommend this car
---
Horrible car hate Nissan now forever
by mscat from Marlton NJ | March 9, 2016
I have NEVER had to replace things in a car that I have had to replace in this car. I have replaced mufflers, but NEVER an entire Exhaust system. I have NEVER had to replace an AC coil on a car. That was $1100 dollars. And now I get a recall notice on the front coil springs. It is a stick shift, and I read to late about how it shifts poorly. I bought this because Datsuns were the best car I had ever had. I have never had more issues; and more expensive issues EVER!!!
Purchased a new car
Uses car for Commuting
Does not recommend this car
---
First Class City Car
by nungman from New York City | September 8, 2015
My 2009 Versa S hatchback with 4-speed automatic was bought used with 47,000 miles on the odometer. It has excellent brakes--though no abs--a good ride for its size due to a relatively long wheelbase compared to overall length and very comfortable seats. It has a high roof making it easy to enter and exit with plenty of room inside, front and back. Careful attention to the right outside mirror setting can make up for lack of rear quarter vision. Engine power is not breathtaking but adequate for getting on the highway.
Purchased a new car
Uses car for Just getting around
Does recommend this car
---
Great on paper... Not so much in Reality
by Khol from DFW | February 28, 2015
We bought this Versa in 2009 used with 750 miles on the odometer. It is the base S trim and the only upgrade it has is the 4-speed automatic transmission. It now has about 20,000 miles At first glance the Nissan Versa seems like a pretty good car. It has a roomy interior, Nissan badge, and the promise of decent power and performance. However not everything is as it seems. Getting in the car is a hassle. It does not have electric locks or windows and the locking mechanism is located by the interior door handle which requires the driver to blindly reach in search for it. The locking mechanism should be the pop up type. While the back seat has ample space (for two) the front seats are cramped. For me the driving position is absolutely ridiculous. I am 6' and have size 14 shoe. While the seat pushed back as far as possible the pedals are way too close and the steering wheel is too far away. I have to bend my driving foot in an uncomfortable position, my arms are fully out stretched, and to top things off any type of key ring or keys brush up against the top of my leg. All of the seats in the car offer little to no lumbar support. The truck is adequate things like groceries. Dropping the seats for extra cargo space is a joke. Folded down the seats leaves nearly a foot difference the seats and the trunk floor. Additionally trunk door opening is relatively small which prevents the loading of larger items. The Versa does not handle well on the road. Its tall body, low weight, and soft suspension significantly degrade handling. On the highway the Versa is completely horrible. Acceleration is very slow. The back of the car has massive blinds spots which makes merging scary. In any wind the car acts as a sail and is pushed from side to side making it difficult to keep in its lane. For me the gas mileage is terrible. The absolute best I ever got was 23.7 mpg. The build quality of the car is also questionable. The sheet metal feels very thin. At one point one the car keys started getting stuck in the ignition and difficult to insert. After examining it we realized it was bent and we had to bend it back straight. On paper the Versa seems like a great car but in reality it just isn't. If you are in the market for a car in this class you look at the Honda Fit.
Purchased a new car
Uses car for N/A
Does not recommend this car
---
not so bad
by lovin it from Cleveland. GA | November 4, 2013
my grandparents bought this car new and now have recently given it to me. I love the car! its so ugly but fun to drive, I have to take it into the city almost everyday with my 1 year old and the backseat is not on top of me like some cars I have driven. Its easy to navigate threw traffic and so far not a single problem.
Purchased a new car
Uses car for Commuting
Does recommend this car
---
My dream car
by RissuhhLynn from Harrisburg, PA | October 13, 2013
Honestly, this review won't be too much a great one. I've loved Versa's since I first drove one as a rental and knew my first owned-on-my-own car would be in fact a white Nissan versa, any year. Beyond happy because it's the cutest, most perfect car for me! I've had cars the same age or just a little younger as me since I was 16 so this car is beyond my dreams lol! It's so fun to drive though I notice it's easy to squeal the tires when stopping suddenly or pulling out but that's the same experience I've had with other nissans I have driven before. Only thing missing for me is an auxiliary outlet
Purchased a new car
Uses car for Commuting
Does recommend this car
---
Nissan as always
by Vad from FL | January 27, 2013
This is my third Nissan, and second Versa. As I noticed the quality of all Nissans are about 4 of 5. They do not try making them perfect. But price is also good, and reason why I keeping on Nissan. Anyway Versa costs its money. It's reliable enough, the only problem I had - suspension while drove prev Versa on bad roads (not in US). I like: fuel economy, automatic transmission is not bad at all, plenty room, good for city, silent (for that class). I do not like: driver's seat is not comfortable for my not the best back, strong side wind a bit blow away car on 70-80Mph on highway and you need to correct steering all the time, and steering itself is not perfect, I mean softer than it have to be for this size car to be good on highway. Finally it's not so good for highways when you drive more than 2 hours.
Purchased a new car
Uses car for Commuting
Does recommend this car
---
One of the nicest cars I've owned
by family chauffeur from Greenville, S.Carolina | September 11, 2012
Not only is it easy to get in and out off especially one with arthritis but I love the gas mileage. I had a Taurus previously and the Versa gas mileage in the city is the same as the Taurus got on the highway. I have a daughter who is only 5 feet tall. She finds the car very comfortable adn easy to see over the steering wheel.
Purchased a new car
Uses car for Just getting around
Does recommend this car
---
Fun car to drive
by Working Soccer Mom from Tinley Park, IL | September 1, 2012
I bought this car to replace my minivan when they were doing the "Cash for Clunkers". I specifically was looking for a car that got >30mpg and was affordable. This one gets 32mpg on the hwy. I didn't get any deals on it but I did get $4500 for the clunker. The gas mileage was good on the hwy but only about 27mpg city. I really liked driving the car, it was tight and sits up higher than your average sedan. Our other car was a Honda Civic and I always felt like I was crawling out of a hole. The Versa sits up higher giving you more visibility and is easy to get in and out of. My husband who is 6'2" tall fits nicely in it. Drawbacks: very snug in back seat with two 10yr olds and an 8yr old and seems for this size car it should get closer to 40mpg.
Purchased a new car
Uses car for Commuting
Does recommend this car
---
Love/Hate
by Versa Owner from baltimore md | December 1, 2011
I baught this car brand new. Its a ok car. The fuel pressure regulator went up in this car 3 times and the whole air conditioning unit had to be replaced. Alot of it went up when it was under warrenty but i couldent understand why a new car had these issues. The good thing about this car is my husband my 3 year old and myself got into a very bad car accident 2 days ago. All airbags upfront came out, to make a long story short its deff. totaled That car did an AMAZING job protecting my family. I am recently pregnant and i walked out with only very bad bruising from the seat belt. I was told by first responders that the car deff did what it needed to do to protect us. So in my opinion i would deff recommend this car.
Purchased a new car
Uses car for Transporting family
Does recommend this car
---
People Who Viewed this Car Also Viewed
Select up to three models to compare with the 2009 Nissan Versa.
2009 Nissan Altima
Asking Price Range
$5,290–$12,518
Compare
2009 Nissan Rogue
Asking Price Range
$6,264–$13,500
Compare
2014 Nissan Quest
Asking Price Range
$14,007–$27,259
Compare
2013 Nissan Frontier
Asking Price Range
$14,091–$29,631
Compare
2005 Nissan Xterra
Asking Price Range
$3,964–$11,596
Compare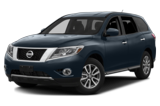 2013 Nissan Pathfinder
Asking Price Range
$16,289–$29,805
Compare
Featured Services for this Nissan Versa