Average Ratings
---
13 out of 15 people recommended this car.
---
2013 Ram 2500 4X4, 6.7 Turbo Crew Cab, Big Horn
by Dan from Santa Rosa, Ca. | October 21, 2015
I'm very pleased to own my first 2500 Diesel truck. Ball means not my first Dodge as I've lost count of how many Dakota and other Dodge products I've owned, raced and loved. I sold a 1500 Ram to buy this 2013 2500 and am happy as a clam. It has loads of torque and power. I bought it with 12,000 miles on it and everything is working just great. I had a goose neck set up installed for towing my 5th wheel and the truck tows it wonderfully. Love the styling, love the features and what can you say about that Cummings engine just great engineering and reliability. The 1500 I had was great but this just takes it to the next level. No vehicle is perfect that we all know but this seems to come about as close as one can get. My mileage is amazing for a truck this heavy, I'm getting 18 MPG in mixed town and highway, and about 25 MPG (or more) on the freeway. How do they do that for an 8000 pound truck??
Purchased a new car
Uses car for Just getting around
Does recommend this car
---
Horrible Truck Avoid
by Dave from haupauge ny 11788 | February 24, 2015
If your idea of a good truck is having to visit repair shop often ,have dreadful gas mileage than by all means buy this truck. I own this truck and everything on it breaks from simple things like the window and lock controls on the door handle, outside temp control to major things like the 4 wheel drive not working when you need it. By the way I wrote a blistering review on this dodge truck on here that was posted by this site.It was similar to this only the facts giving you the buyer something to consider before buying this flawed truck.It wasn't posted why? Only the good reviews on tis truck are posted? Seems like something is going on here and it is a disservice to you the buyer. In any event I regret this purchase, back to the repair shop again this week !!
Purchased a new car
Uses car for Work
Does not recommend this car
---
Best truck I ever owned
by woodboat from Baltimore MD | November 22, 2014
2014 3500 Laramie crew cab short bed single wheel, 6.7 cummins 3.42. Factory Fifth wheel prep. Added a super glide. I tow a 12000 Lbs. coachmen brookstone. Mileage keeps getting better. Brand new I got 10 MPG towing from Maryland to Oklahoma. Got 11.7 coming back. My last trip it climbed to 13 mpg. empty I get 25 on the highway. The exhaust brake is amazing. the stereo and interior make cross country trips comfortable. So glad my power stroke is gone and I have a cummins. If you were heading across the Atlantic ocean in a boat and your three engine choices were Power stroke, duramax or Cummins which would you pick? I made my choice.
Purchased a new car
Uses car for Towing
Does recommend this car
---
2013 crew Cab turbo Diesel
by ziggy from Cedartown, Ga | July 20, 2014
Have been a loyal Ford guy my entire life. I bought this Ram 2500 I. December 2013 new and have been happy with it for the most part. My biggest complaint is the poor quality of the paint and body panels. The paint scratched from melting ice that slid on the hood and the my truck bed has a dent in the side from leaning up against it. The inner bed has dents in it from tree limbs! Aside from those complaints I am extremely happy with the truck! Has the most comfortable seats on the market!
Purchased a new car
Uses car for Just getting around
Does recommend this car
---
Nice comfort
by big white ox from Ontario Oregon | March 4, 2014
I have owned 13 Dodge cars and trucks and a few with more options than this one but all around this is the most comfortable and pleasant one to drive and the ride, to me, is just like a cars only better because there is no floating feeling ever like a car has. The interior is nicer than any of the other Dodges as it is not flat plastic and it nicer to the feel and the upholstery is great to because like all Chrysler products it is stain resistant and you can just wipe the grime off. The other manufacturers don't have that as a selling point, at least when shopping I don't see that advertised, maybe I am wrong but that's how I see it as to the interior of the products available to the American consumer. The Mechanical side is also great. I have the Cummins engine and combined with Chryslers 68 rfe it is snappy and responsive and when I step on the accelerator it will get up and go right now even with the high ratio of the 3.42. The 5.9's were okay with the 3.55 but were far from the responsiveness of the 6.7 (408 cube) Cummins even with the lower gearing , I had a 08 6.7 before with the 3.73 and it was nice but I think the 2013 is faster from the blocks. I do not race or push my trucks ever but when I want to go a little faster the 13 ram 2500 seems quicker than my 08 ram and the ride is a little better even with the same gvw as my 08 3500 which was 10100 and the 13's is 10000. The 13 price was around the same as the 08 3500 and it is 5 years newer.
Purchased a new car
Uses car for Having fun
Does recommend this car
---
2013 bighorn diesel, (junk)
by Shoulda stated with GM from Illinois | March 4, 2014
Ill try to keep this short, 250miles BCM went out (no exterior lights), around 2500 miles batteries would be completely dead after sitting two days, around 4500 miles had error codes from def sensor errors, around 6000 miles engine Knock sensor went bad, around 6500 miles realized truck would not run below 0 degrees, found out Chrysler forgot to activate fuel filter heaters, finally made it to 10000 miles and now the temperature sensor in the mirror has failed, so in a nutshell I will be getting rid of truck asap. for $50k one would think you would get a reliable truck.
Purchased a new car
Uses car for Work
Does not recommend this car
---
2013 Bighorn Ram Cummins 6.7
by Huntinforit from | February 26, 2014
I am very happy with my purchase! Great engine, great style, great fit and finish. I have been a Ford fan for years and that is OVER! The 6.0 Powerstroke has exposed Ford forever! My repairs on my 2004 Ford Powerstroke have exceeded 15,000.00 on my engine alone! It has a current problem, number 4 injector and the cam position sensor need replaced ASAP. Some mechanics are having to pull the entire cab on the Ford Powerstrokes to replace injectors. That makes for alot of noise problems later. Very happy with my Ram and Ford lost a loyal customer. Smile!
Purchased a new car
Uses car for N/A
Does recommend this car
---
Best truck I have ever owned.
by X-man from Evansville, In | February 4, 2014
Being a Ford truck person for over 45 year (5 trucks), it was hard to believe that after driving the 2013 Ram 1500 crew cab with the Hemi, I was so impressed that I gave up my VIP Ford customer status to purchase this truck. Here is why I made the switch: (1) the all new redesigned suspension rides as good or better than my wife's Mercedes C230 (sorry Mercedes)... (2)the interior is spacious, quiet and so comfortable (the arm rests are in the correct position - rare)... (3) the power and towing capability is awesome... drove the Ford eco-boost v6 and it was so sluggish and shifted at erratic points, the Ram tows and drives like a dream with the smoothest shifts ever, even towing a trailer with a car on it!... (4)looks... this truck just looks great. I never thought I would ever give up my Ford truck, but sold my 2006 with less than 20k to buy this new Dodge Ram 1500, and after 6 months of driving this vehicle, I am still glad I made the switch... If you haven't driven this truck, be sure you do BEFORE you purchase any other truck... YOU WILL BE GLAD YOU DID !!! I rate this truck ***** 5 Stars, 2 Thumbs up, and the BEST TRUCK EVER !!!
Purchased a new car
Uses car for Just getting around
Does recommend this car
---
Second RAM diesel I've owned
by Yooper Jim from Gladstone, MI | January 2, 2014
I was the proud owner of a 2003 RAM 1 ton diesel that was very reliable and great on fuel! I was very confident with its power to pull our 5th wheel as well as plow snow in the U.P. of Michigan. I did try to compare other manufacturers when I decided to buy another truck this past October and was pleasantly surprised to find that the Dodge RAM was still king of the hill in performance, comfort and reliability. We did go from a 1 ton down to a 3/4 ton but found that we have not regrets and the towing performance is just as good as the 1 ton. mileage has been between 19 and 23 mpg around town and 15 mpg with a load. So far we are happy, happy, happy! After 10 years of owning just one truck with 187,000 miles, it was hard to let it go but now I am looking forward to another 10 years with my new Dodge RAM.
Purchased a new car
Uses car for Towing
Does recommend this car
---
Ram 2500 Cummins
by Rivertown Truck Guy from Arkansas | October 26, 2013
I have been a die hard GM man for 30 years. My first car was a '77 chevy short bed PU and I have owned 10 new Chevy/GMC trucks dating back to 1982. I have owned 3 Fords in that time period and currently have a F350 box truck that I use for my business. I needed a new 3/4 ton PU for personal and business use so I set out to trade my 2010 GMC crew Z71. I test drove the Duramax in crew 4x4 trim and liked it very much. I then tested the F250 loaded in same config. I am not much of a Ford guy but I was very impressed with the SuperDuty. It compared very well with the GMC, nice power and very nice interior on both PU's. As an afterthought I test drove the new RAM 2500. WOW. Very nice interior, comfortable 3/4 ton ride and that Cummins 6.7 just blew me away. Now after 20,000 miles I have not looked back. Great truck!! Pulls a heavy trailer with not issues, very nice milage (20 when not pulling trailer and mid teens when loaded), and comfortable as any 1/2 ton 4x4 on long road trips. I'm a new RAM fan. I nearly missed out on a great truck by not even considering RAM,,, glad that I took that extra trip to the RAM dealer. My truck is a 3/4 ton, 4x4 crew in silver. Very nice truck. I did rate the interior 4 stars instead of 5 only because of the steering wheel. I am not a big fan of the three spoke design as I like to hold the wheel at the bottom on long freeway runs and the bottom spoke is right in the way. Other than that small gripe, this is an outstanding PU. RAM did their homework and hit it out of the park.
Purchased a new car
Uses car for Work
Does recommend this car
---
People Who Viewed this Car Also Viewed
Select up to three models to compare with the 2013 RAM 2500.
2015 Ford F350
Starting MSRP
$32,705–$51,765
Compare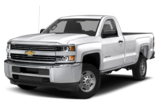 2015 Chevrolet Silverado 2500
Starting MSRP
$32,980–$55,875
Compare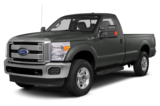 2013 Ford F250
Asking Price Range
$19,342–$56,642
Compare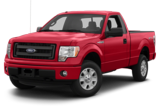 2013 Ford F150
Asking Price Range
$17,933–$42,025
Compare
2015 RAM 1500
Starting MSRP
$25,660–$50,990
Compare
2015 RAM 3500
Starting MSRP
$31,740–$56,910
Compare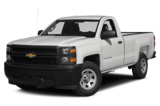 2015 Chevrolet Silverado 1500
Starting MSRP
$26,520–$51,890
Compare
2015 GMC Sierra 2500
Starting MSRP
$33,545–$56,550
Compare
Featured Services for this RAM 2500