Average Ratings
---
10 out of 11 people recommended this car.
---
Next one up
by Catfish from Kansas City, MO | June 6, 2016
I spent four months looking for the right truck with the right color. When it was all said and done i chose another color for the excellent deal. I called the dealership out of state negotiated the deal and flew to South Carolina to pick up the vehicle. I spent 13 hours in the drivers seat getting my new Ram home. I enjoyed the entire trip because the truck was a huge improvement over my pervious truck. If a person was in the market for a heavy duty pick up I would highly recommend the Ram 2500/3500 with the Cummins engine and the Automatic Transmission. Since purchasing the truck I have pulled my 40' camper and it does the jog effortlessly.
Purchased a new car
Uses car for Towing
Does recommend this car
---
dodge2500 cumminns
by copchr from nebraska | May 15, 2016
my truck has been a big disappointment, mechanical issues second ram I have bought and will be the last
Purchased a new car
Uses car for Work
Does not recommend this car
---
Not what they used to be.
by snerd from Vermontville, New York | January 31, 2016
I have had 5 Ram trucks, it seems that the quality of the trucks has gone down hill, yet the price continues to rise. The interior materials are a bit cheap. The truck is noisier than previous models I have owned, maybe the last one I own.
Purchased a new car
Uses car for Work
Does recommend this car
---
The tried and true
by Bravo16 from Texas | January 19, 2016
This is our second RAM Truck our first was a 2007 Dodge Ram 2500 5.9L Cummins,and after 398,000 miles we were spoiled by the auto show when we sat for kicks in a 2016 RAM 2500,well we thought it was time to transport us into the 21 century of techno world,and comfort.When opening the hood I was like wow,what a big difference in the Cummins.After a Sunday test ride,we decided it was time for the old faithful to join my sons ranch and serve her days as a hay hauler.After a 2981 mile trip over the holIdays yes a 2981 miles to be exaclt we average 22-23 highway at speeds of 70-80mph.All the while consumed only a little less than a 1/4 of DEF.Seat comfort was excellent never yerning to stop at all.All well thought out truck with the highest 5th wheel rating of 17210 lbs.GM comes in second,and Ford the lowest.We had such good luck with our Cummins Dodge truck we never even look at GM or Ford.
Purchased a new car
Uses car for Towing
Does recommend this car
---
excellent truck
by DannyB from Houma, LA | October 14, 2015
Excellent truck. Almost as quiet and comfortable as a car. We have the Big Horn package with crew cab, 6.7l Cummins Turbo Diesel, 8ft bed, and 5th wheel prep. it has just about everything we could want. Modern diesels run much quieter than they have in the past and they start almost instantly, without having to wait for glow plugs..The interior is beautiful and practical. The data given on the dash is useful and easily read. The U-connect works well, but has a little trouble understanding my wife (her accent or the French names of everything around here). We only have 2,000 miles on it, but no issues so far. Pulled our 8,500 lb 5th wheel effortlessly. The price was in line with GMC and Ford, but still expensive for us. We had so much trouble with the Ford Lariat with the 6.0L diesel, that we ruled them out before we started looking.
Purchased a new car
Uses car for Commuting
Does recommend this car
---
Baddest truck in the land
by Way out west from Tx | October 6, 2015
All I can say is wow,just wow,we have own our 2015 RAM 2500 for a total of 1000 miles and wow.Power,fuel mileage is excellent,compared to our 2013 F250,it is not even close both city,why,and towing the Cummin's straight 6 just well puts it to shame doesn't even realize that there is 10,000 lbs back on our 5er hitch,get the dealer 5er prep package,it is a savings for sure.This truck has the highest bed payload,and highest 5 wheel tow limit as well,no one comes close.I drove a early 900ft pound torque Cummin's and you can tell right off the bat,this Cummin's is the most powerful diesel in a 1 ton truck period.But it only comes in certain package's,and is little pricey.The 800 with Chrysler 6RFE does the job just fine for us.I just can not say enough the interior is beautiful and well and I mean well appointed,with a 8 inch screen our smart phones hook up with no problem and the 3-D Nav is awesome with weather and fuel prices it is a breeze navigating.Take care all,and hope you find nirvana like we have,with your selection.
Purchased a new car
Uses car for Towing
Does recommend this car
---
Best
by Tersans from Gold Creek montana | August 16, 2015
Best truck ever! The truck is so technically advanced I don't knowwhattruch could come close. The only thing they are missing is a heads up windshield display.
Purchased a new car
Uses car for Having fun
Does recommend this car
---
Another great Dodge Ram
by Big Ben from Eastern Oregon | April 30, 2015
Great performance and mileage Like siting in your Man Cave. Just be careful not to lock yourself out.
Purchased a new car
Uses car for Just getting around
Does recommend this car
---
A Very Good Truck, Room For Improvement Though
by Ltngdrvr from Southeast Texas | March 22, 2015
Ordered my 2015 RAM 2500 Mega Cab Cummins and picked it up 02/09/2015 and in the last 6 weeks have racked up over 10K miles. I traded in a 2012 F250 Crew Cab Long Bed PowerStroke that I had put over 200K miles on. So far I am really liking my RAM although there is room for improvement. * My ford pulled a trailer better, even though both trucks have the same amount of torque at 800 ft.lbs. I can only attribute this to the difference between the faster revving PowerStroke V8 and the big inline 6 of the Cummins. If RAM made the 3.73 or 4.10 gear ratios optional in the Single Rear Wheel trucks over the 3.42 ratio, maybe it would match the ford's pulling abilities. Of course that would probably hurt the excellent fuel economy the truck gets when not towing. I have achieved as high as 21.7 MPG at over 70 MPH on the highway, and that is a calculated figure, not just going by the dash readout. * The 68RFE transmission works much smoother in the RAM than the 6R140 in the ford, much nicer to drive. * The ride is very equal between my RAM and my old ford, even though my RAM has the rear air suspension. The best thing about the air suspension is the self levelling function, have yet to put any load on it that the suspension can't level up. * The interior is so much better than the ford that it is no contest at all. And on the RAM, all the upgraded electronic toys are available in the mid level SLT/LoneStar/Big Horn with the cloth seats. This is not the case with the ford, where you have to buy the uplevel lariat with leather seats to get access to the electronic toys options. * And again, on the exterior appearance, in my opinion, the RAM wins, hands down. And there are lots more colors available on the RAM. My truck's paint color is "Prairie Pearlcoat" and it is really pretty and very unique, sort of a green with gold, and really sparkles in the sunlight. * I gave an overall rating of 4 stars, as there is room for improvement, but the truck is very good and I like it a lot.
Purchased a new car
Uses car for Work
Does recommend this car
---
Great experiance
by chevy2much from Tallahassee Florida | December 8, 2014
I bought my 2015 Ram 2500 on 10/31/2014. I have never had such an easy buying experience. Robert D. and Shawn M. were great. I recommend them for your next car purchase.
Purchased a new car
Uses car for Towing
Does recommend this car
---
People Who Viewed this Car Also Viewed
Select up to three models to compare with the 2015 RAM 2500.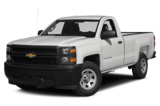 2015 Chevrolet Silverado 1500
Starting MSRP
$26,520–$51,890
Compare
2015 RAM 3500
Starting MSRP
$31,740–$56,910
Compare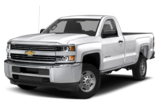 2015 Chevrolet Silverado 2500
Starting MSRP
$32,980–$55,875
Compare
2015 GMC Sierra 2500
Starting MSRP
$33,545–$56,550
Compare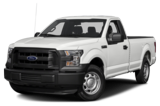 2015 Ford F150
Starting MSRP
$26,030–$55,305
Compare
2015 Ford F350
Starting MSRP
$32,705–$51,765
Compare
2015 Ford F250
Starting MSRP
$31,810–$49,665
Compare
2015 RAM 1500
Starting MSRP
$25,660–$50,990
Compare
Featured Services for this RAM 2500