Average Ratings
---
15 out of 18 people recommended this car.
---
Do Your Research first
by GoodLuck from Denver, CO | October 26, 2015
Many of the good reviews here are owners that are embarrassed to admit that they were wrong. BEWARE!! The Foresters from 98-2009 are good for about 60-70k miles, then the problems come, with head gaskets. We've had 3 in the family and all eventually get there. If you don't believe me, just Google Forester Head Gasket problems. Very disappointed at Subaru as they will not do a recall, for 10+ years they have known about the problem. If you go ahead and buy one, don't say I didn't warn you..... I can't wait for all the owners who gave a good report to do a follow-up review, not to mention..still uses rubber timing belt, there goes more money....please do your research before buying.
Purchased a new car
Uses car for Commuting
Does not recommend this car
---
My second Subaru
by Kickdown-169 from Germany | August 14, 2015
Traded my 1997 Subaru Legacy Wagon for the Forester Automatic, i like the quiet ride and the smooth transmission, leather-seats are nice to have, the AC is ice cold. I used to be a Volvo-lover, but i like the Subaru too. I´ve only got this car for a few days now, so let´s see.
Purchased a new car
Uses car for Outdoor sports (hiking, cycling, etc.)
Does recommend this car
---
Favorite car
by practicalovershow from South Carolina | July 12, 2015
The only reason it didn't get 5 stars overall, is the wind noise from the frame less windows, and not a lot of sound deadening for the cabin. The engine is quiet, but the heat shields for the engine tend to rattle at low rpm. Nothing extreme or annoying. There's also no middle arm rest, which we've gotten used to, but would be a nice extra. We've had it a few months, and have used it to tow a trailer and an engine/transmission for an old mercedes and it pulled without a problem. We get an average of 26-30 mpg which was bettter than expected. We love this car and will drive it until it dies, then replacing it with another Forester.
Purchased a new car
Uses car for Just getting around
Does recommend this car
---
So far, so good
by HereinNJ from Budd Lake, NJ | March 23, 2014
I've only had this car a few weeks, but so far I like it. My only negative is that it's too low, and that's just me. I have been driving either mini vans or larger SUVs for so long, I'm used to riding up higher & having a better view of everything; especially with the high piles of snow we still have here. Going from an 8 cyl. Ford Explorer (2 of them) to this 4 cyl. smaller car, I'd say I'm pleasantly surprised at the power, especially for an automatic. The smaller cars I used to drive were 5 speeds. It has a decent amount of interior storage compartments also. I did buy a narrow pillow to put between the 2 front seats because I'm used to having a higher console to rest my elbow on, which this doesn't have.
Purchased a new car
Uses car for Just getting around
Does recommend this car
---
Favorite Car, Ever
by Alex from Brooklyn, NY | November 15, 2013
In my lifetime, I've own 5 different cars. This is, by far, my favorite. We bought our '05 Forester in early 2011 with 76,000 miles and it's been a dream. It's extremely roomy inside and very comfortable. It has tons of cargo space for such a small SUV. It preforms very well, especially with our manual transmission and gets pretty good mileage at around 28mpg on the highway. It's also be extremely reliable with just a few relatively minor wear-and-tear repairs. This is the ultimate multi-use vehicle as it balances just the right size and fuel efficiency with interior space and comfort. I'm actually disappointed the newer model Foresters are bigger. You can't beat this generation of the Forester.
Purchased a new car
Uses car for Having fun
Does recommend this car
---
Disappointed
by Jersey Girl from Brick, NJ | September 18, 2012
We bought our 2005 Subaru Forester LL Bean edition brand new. We changed the oil every 4000 miles and had all necessary maintenance performed as required. The car is now 7 years old and has less than 140,000 miles and with no warning what so ever the car just died on the road. The mechanic diagnosed it as a blown motor. It siezed up and he said he has never run across anything like it. I have spoken to Subaru and due to it being out of warrenty there is nothing they can do for us. Our last 4 vehicles were Hondas and got well over 250,000 miles on each of them with no major problems. We currently have a 1997 Honda Odessey Van with 260,000 miles on it. If you are looking for a reliable vehicle that you will have for a long time Subaru is not the vehicle to buy.
Purchased a new car
Uses car for Commuting
Does not recommend this car
---
it's amazing
by justbloom from Santa Rosa, CA | October 12, 2011
i was forced to buy another car after my much older, 96 jeep cherokee was totaled. I needed a 4X4 because of where I live, but I was concerned about gas mileage. I settled on a Subaru Forester, which I bought in June. It is an 05, and it had 80k miles on it. It has given me no trouble and is relatively comfortable. The city gas mileage is 23 and I have not taken a trip with it yet, so I don't know what it will get, but I have heard the upper 20's. I am VERY happy with it in every way. Being a wagon, it has plenty of storage, and there is a cover for the back, so I don't have to let everyone know what I have. It has all power controls, plus a good CD player. All in all, I am perfectly satisfied, and I highly recommend it!
Purchased a new car
Uses car for Just getting around
Does recommend this car
---
XT Ecstacy
by XT Fan from York PA | May 1, 2011
I have a 2005 Forester XT Premium that is absolutely amazing in all respects. It certainly helps, in the performance aspect, that the engine is none other than the WRX XTI engine, though with a smaller intercooler, the WRX turbocharger, a less aggressive exhaust, and milder ECU programming. Nonetheless, it turns 0-60 mph in well under 6 seconds, and will never force you to struggle to merge into fast traffic on the interstate on-ramp. It is comforting to know the power is there--in abundance--if needed. Fuel economy for the turbo models suffers a little from the normally aspirated versions, though I can still squeeze nearly 30 mpg on the interstate if I resist the temptation to have a little fun. The seating is supportive and roomy, the visibility second to none in all directions, the interior well-appointed, and the sound system absolutely amazing. In terms of reliability, I've had zero issues, and maintenance has been limited to normal wear items. The National Institute of Highway Safety (or whatever they're called these days) has crash-tested the Forester and found this vehicle to be very safe. I might add that it is the ONLY SUV that does not require a roll-over safety warning label on the visors, because it is so resistant to such things (under normal road conditions, of course). In summary, I do not hesitate to recommend any model of the Forester to anyone who is looking for a sporty, all-wheel drive, compact SUV.
Purchased a new car
Uses car for Just getting around
Does recommend this car
---
Small but tough
by subaru owner from Fort Myers, FL | February 25, 2011
I traded a noisy but nice 2006 Corolla for a super low mileage 2005 Subaru Forester. Had the money for a new one but did not like the smaller windows and larger size of the new model, which still only holds 4 people in comfort. The Forester has the best visibility of any car I've owned with upright windshield and giant rear window. Guess I will not need a $500 rear TV to back out of the supermarket lot! Car is perfect height for getting in and out of. Averages 25 mpg which means the AWD is free compared to newer mini SUVs with 2WD. Finish of the car is impeccable and the 2.5 liter engine has plenty of ooomph when you need it. With seats down you can carry almost any HDTV Wal-Mart sells.
Purchased a new car
Uses car for Just getting around
Does recommend this car
---
Our Second '05 Forester
by Caritb from Potomac Falls, VA | February 22, 2011
My daughter totaled our first '05 Forester, which was bought new. She rear-ended a commercial van, but didn't get a scratch herself. In a less well-constructed car, she could have been severely injured. So I bought another '05 Forester. These cars retain their value! I put a few extra bucks into the "new" one to get one with lower mileage. It drives just like the first one - sure-footed, all-wheel drive handling, plenty of power to get out of a bad situation, but not too much for a young driver to get into one. Plenty of cargo space. Our first Forester never had a problem, and I don't expect any with this one. It's a great car!
Purchased a new car
Uses car for Just getting around
Does recommend this car
---
People Who Viewed this Car Also Viewed
Select up to three models to compare with the 2005 Subaru Forester.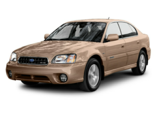 2004 Subaru Outback
Asking Price Range
$2,015–$9,151
Compare
2003 Mercedes-Benz M-Class
Asking Price Range
$1,939–$9,887
Compare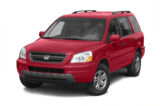 2004 Honda Pilot
Asking Price Range
$3,348–$10,252
Compare
Featured Services for this Subaru Forester