Average Ratings
---
47 out of 54 people recommended this car.
---
Good for me.
by K rock. from West Central Indiana | December 4, 2013
Just traded in my 2010 Civic for this, Really like the Subaru, its comfortable, looks like you could actually do some maintenance on it if you had to, rides well, drives well, has enough power, gets decent fuel mileage. Like the fact that it has some towing capacity as well, wont have to use the Old truck for towing every thing now, can tow a small trailer easily. Its not a luxury sedan but I don't expect it to be. The one I bought is a 5 speed manual and it shifts well also, easy to find gears. If your expecting a luxury car this isn't it, if you want something very functional this is a good choice in my opinion.
Purchased a new car
Uses car for Just getting around
Does recommend this car
---
Molly The Forrester
by regitchr from Erlanger, KU | July 1, 2013
I ended up purchasing a certified used 2010. I LOVE IT!! Handles great, is comfortable, and fun to drive. Just what I wanted! Ii LOVE the certified warranty, and the extended coverage.
Purchased a new car
Uses car for Just getting around
Does recommend this car
---
love me SB
by cv from Michigan | June 8, 2013
It's awesome and I love sitting up so high, very responsive and the handing is great, very quiet ride............... you have to have the correct tired I have Hankook, brand they are smooth as can be and they are quiet even after 2 years!!!!!! Gotta love it.......................
Purchased a new car
Uses car for Commuting
Does recommend this car
---
Good, reliable vehicle
by Maris from Philadelphia, PA | December 7, 2012
Owned two different Foresters and loved both of them. There is no amount of snow or bad roads that will stop you from getting to work in this vehicle. Heated seats are a bonus.
Purchased a new car
Uses car for Commuting
Does recommend this car
---
Incredible Functionality
by Dennis from Colorado | November 23, 2012
This car does just everything right. The door height entry level is just about perfect, not too low like our Civic, and not too high like our Lexus RX. Good room for taller people; plenty of headroom. Seating position is very good and seats are fairly comfortable with decent lumbar support. Sufficient power for a four cylinder, but if you're careful and lightfoot it, you can eek out 28-29 MPG. The four is a little noisy; wish Subaru would use more sound deadening. Road noise is this car's only weakness. The symmetrical all wheel drive is the best; the car is unsurpassed in the snow. Everything seems to be built for rugged functionaality. Interior is fairly spartan but quite resistant to the day-to-day wear from cargo in-and-out, and the scuffs and wear from boots, snow, ice and mud. We like the styling of this newest generation over the older models and with only 55K miles we think we're going to be driving this one for quite awhile.
Purchased a new car
Uses car for Just getting around
Does recommend this car
---
Love This Car!!!
by Lyonaire from Ansonia, CT | September 18, 2012
I live in Connecticut, during snow storms this car handles superbly. We live on a hill and have had no problems going up or down not even on snow. The back seats recline and the kids can snooze in the car when we go out of town. Love the heated front seats and the cargo area is large. Mileage is great. Huge sun roof. My next car will be Subaru.
Purchased a new car
Uses car for Transporting family
Does recommend this car
---
Cautiously Optimistic
by Town and Country from Columbus, Ohio | September 1, 2012
Three months ago, I sold my well worn and very reliable 2003 Toyota Corolla to a friend After much deliberation, I purchased a used 2010 Subaru Forester with only 19,000 miles. My only real complaint with the Toyota had been that it was not a hatchback as I often haul bulky cargo. Since then I have added more than six thousand miles of in daily driving and an extensive trip from Ohio to Montana, Colorado and back. While out west, I took Subaru far off road and through some very rugged terrain, a far cry from my very urban home. Overall, I am a bit surprised how pleased I am with the vehicle, my first Subaru. I had heard of the near cult like loyalty of Subaru owners and now I know why. On the highways, it is a comfortable and competent ride, although a little noisy. The kayak and bike rack increased the noise. The sound system could use an upgrade but serves my bare bones needs. Off road, the Forester handled extremely well on the rugged cow trails of the Badlands or in the deep mud fording shallow streams. In the downtown city, where I live, I was very pleased to at how easily it parallel parks, with a tight turning radius and great visibility. The five speed manual transmission was a good decision for me. It is a very forgiving shift that handles well on or off the road. I understand that some folks are not very satisfied with the four speed automatic. The interior is simple and appealing, with an uncomplicated dash the reads and operates easily. The seats and fittings have nice clean lines. Nothing fancy, plastic dash and paneled doors that are look nice. The hood looks like an old Saab and opens easily and will stay open on its own, without additional support. The back seat is one of the most comfortable I have experienced in this class of vehicle. The Forester can easily carry a couple of friends, my kayak, bicycle and gear when I go camping. At home it serves just as well to secure the groceries, go to the hardware store and ride to work . Friends and family constantly comment on how comfortable it is. I have to agree, at five foot ten inches tall, the drivers seat is well positioned for me. Older riders love the ease of access and exit. It is the first car I have owned that both my backpacking buddies and my sweet little old lady mother seem to want. My only complaint so far is the decreased gas milage compared with my Corolla, with only 21 mpg in city driving. However with the cruise control and moving at the speed limit on the highway, I have been surprised to get more than 30 mpg, with 34 mpg at prolonged 55 mph. With more of lead foot I will get about 29 miles per gallon on highway. The boxer engine is fairly quiet and does not strain on highway or off road. The cargo space is easy to access and spacious with lots of little fold out hooks to secure bags and gear. A plastic cargo mat is a good investment. The mirrors are very well placed giving a good rear view. So far, so good! At this point, I have recommended the Subaru Forester to those who think it would fit their lifestyle. I had considered a Toyota Matrix but now realize that it would have been too much of a compromise given the kind of activities I usually do. I did not expect to like it this much. A careful shopper can get a good deal on what seems to be a useful and reliable vehicle. However, I think the asking price of most Foresters is a little high. Shop for one at the end of the month or year if possible. Dealers seem more willing to bargain then.
Purchased a new car
Uses car for Just getting around
Does recommend this car
---
So So
by Lucy from new york, ny | August 28, 2012
purchased one new, great interior room, handles well, gas milage in city could be better. The seats are very uncomfortable. No matter how I adjust them there is no leg room.
Purchased a new car
Uses car for Just getting around
Does not recommend this car
---
Best SUV under $30K by far.
by Balzaq from Sacramento | February 28, 2012
Owned since new, I could not be happier. Serious performance after installing a Cobb chip. Love the accelleration, probably just under 6 seconds 0-60. Awsum. I did replace the stereo with a double din Kenwood KEH980 w 7" nav. Also new speakers front & rear with 12" W6 sub & amps. Sounds great after the weak factory system dissapointed me. I'm near 62 and have owned amongst others, an Infinity X45, an M5, 911 C4 convertible, Honda S2000, an Impala SS, couple of Tundras and several others. Wife currently drives a "chipped" 335i that REALLY scoots, so I've had some fast cars before. No other small SUV can touch the Forester. We also have a nice little Miata, and I mostly prefer the Subie. Mileage has not been great the way I drive, but am averaging 18 mpg. Mostly local driving. The one complaint is the smallish gas tank. I have to fill up every 180 to 200 miles. Just a blast to drive.
Purchased a new car
Uses car for Just getting around
Does recommend this car
---
Nice Styling- So-So Performance
by SUV DRIVER from Vestal , NY | February 4, 2012
I bought my Forester a little over a year ago. I have enjoyed the styling of this vehicle and the nimble handling for an SUV. However, I do have the following criticisims of the Forester: (1) poor gas milage, (2) 4- speed tranny(outdated), (3) poor braking, (4) very low passenger's seat, (5) stereo contol knobs that look like they belong on a Fischer Price toy. I know some of these things sound picky, but they are noticable. I have always driven Toyotas or Hondas and honestly loved each one. This is my first Subaru and I'm not sure it really measures up.
Purchased a new car
Uses car for Just getting around
Does not recommend this car
---
People Who Viewed this Car Also Viewed
Select up to three models to compare with the 2010 Subaru Forester.
2008 Honda CR-V
Asking Price Range
$7,514–$15,618
Compare
2011 Toyota Camry Hybrid
Asking Price Range
$8,754–$18,126
Compare
2012 Nissan Altima
Asking Price Range
$7,526–$16,070
Compare
2011 Subaru Outback
Asking Price Range
$9,850–$21,642
Compare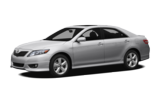 2011 Toyota Camry
Asking Price Range
$7,675–$15,615
Compare
2014 Volkswagen Passat
Asking Price Range
$10,238–$20,434
Compare
2013 Mazda Mazda6
Asking Price Range
$9,973–$18,405
Compare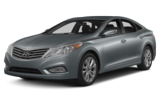 2013 Hyundai Azera
Asking Price Range
$14,492–$23,880
Compare
Featured Services for this Subaru Forester