Average Ratings
---
13 out of 14 people recommended this car.
---
outback
by knepco from Nebraska | November 18, 2015
I have recently purchased my 4th outback. I'm a rural mail carrier and wouldn't use any other vehicle on the route. Gets my through the snow and mud with superior handling. It handles all the mail volume I need, had 270 1 inch thick phone books in the back and still had plenty of room for the rest of my mail. I would recommend this vehicle to anyone who is looking for a reliable and affordable suv.
Purchased a new car
Uses car for Work
Does recommend this car
---
Subaru's are great cars
by Roger from Detroit, MI | July 29, 2013
I just purchased a Subaru Outback '04. It is the third Subaru station wagon I have owned. The car is perfect for me. The AWD is crucial for the snowy winter roads and occasionally off road driving I do. It was super easy to add bike racks, etc. There is a ton of interior space to carry camping gear, or whatever I need to haul. And the car is super reliable. My last one I had for 14 years, put 180K on it, and it rarely saw the mechanic. I highly recommend Subaru's for anyone with similar needs as mine.
Purchased a new car
Uses car for Just getting around
Does recommend this car
---
Reliable and Affordable AWD
by Don't Like Trucks from NJ | June 22, 2013
If you dont want to be stuck in a truck, this is the only AWD car that is affordable and stone reliable. I have a '99 with 220,000 miles and the '04 has 140K. Other than replacing leaking valve cover gaskets ($200), which all Subaurs do eventually, neither of these cars has had anything other than scheduled maintenance. Original struts, muffler, catcon (I know what the replacement interval is supposed to be but they both still pass NJ inspection). Oh wait, I did have tot replace the sruts that hold up the liftgate on the '99. Good gas mileage (25-30mpg), room for 4 adults, performs well enough. Doesn't have the performance of a BMW or Volvo AWD wagon, but doesn't have the reliability issues either. And 1/2 the price.
Purchased a new car
Uses car for Just getting around
Does recommend this car
---
Move over Honda
by Pennypincher from Freeport, NY | September 8, 2012
Comfortable ride with responsive/spirited performance. The 6-cylinder is a must and fun! My 5 member family w/2 teenage boys was comfortable on a 9 hour road trip.
Purchased a new car
Uses car for Transporting family
Does recommend this car
---
I like their performance.
by Cptn Chaos Mod Man from USA | May 15, 2012
I have had 4 used subarus so far. started in 92. Keep going for another one. I also tend to push them to their limits and have not been disappointed yet.
Purchased a new car
Uses car for Commuting
Does recommend this car
---
Love my Subie
by Clhoward from Appleton, WI | November 16, 2011
I worked my but off reviewing and educating myself on used Subarus - My dream car!. If I am looking for used I want a 2004. I found one w/low mileage - VERY RARE. Nice physical shape, lots of perks I will get spoiled with, and 1 repair issue that the dealer took care of immediately. So far I am very comfortable driving it and enjoying it. I hope to feel the same after this winter w/the all wheel drive as I just sold my 4WD pickup. These babies hold their value and you just need to shop intensely because there are not a lot to grab from.
Purchased a new car
Uses car for Just getting around
Does recommend this car
---
Love my 2004 Outback wagon
by Amy in Amityville from Amityville, NY | July 26, 2011
I purchased a 2004 Outback in 2005 from a Subaru dealer in Seattle. It had 18k miles on and had been a loaner car. This is my 6th year with the car and it has 90k miles on it. I love this car! The heated seats and side mirrors in the winter are fabulous. I feel that the car is very roomy and comfortable, especially on longer road trips. When I sit in the back seat with my daughter, there is plenty of leg room that many of the other hatchback/wagons I looked at do not have (ex. The Rabbit/Golf, older Forester/BMW wagon/Audi A3). I can fit so much in this car! I bought a twin mattress from Costco and with both backseats down, I got the mattress in flat and shut the back! Wow I was impressed. Furniture..dog.. my daughter...it all fits. The car is sturdy and has a great crash rating. The doors feel much heavier thatn the Forester. I drove the new Forester and was not impressed with the tin can feel. The Outback is solid. The MPG is not great, about 22MPG. I do both highway and city. But the AWD is worth it in the winter, this car is a BEAST in the snow. We took it up to the mountains outside of Seattle to the ski resorts and I always felt safe in it. We are talking 5000' up. And now we are in NY and we get snow here and there is never any question if we will be able to work or where we need to go the day it snows. In 6 years I have had to do the front brakes quite often at about $250 a pop. I replaced the tires once. And at 60k miles the Oxygen sensor went, that was $500. Replaced some belts recently for $200. And now the timing belt needs to be done at 90k so that and the water pump are $550 at my local guy. I also took it to the dealer and had it checked out, they put in a new battery 2 years ago. At $4/gallon I put about $40 in when I fill it. The 2002 models had head gasket problems and were recalled for that. I recently took mine in, and my mechanic said he thought the coolant was leaking. Which is a sign the head gaskets are going. I have watched it and I don't think there is anything wrong. So, this is actually my 3rd Outback and I think they are great cards, comfortable, reliable, great crash rating, fit everything in. Great family car if you don't want to drive an (ugly) mini-van.
Purchased a new car
Uses car for Just getting around
Does recommend this car
---
4th of 6 Subies
by Subie fan from osceola, wisconsin | May 18, 2011
Just sold this car at year 8, bought new for $25K, had 145K on odo, in perfect shape. Got $8K! This car went cross country over and over, also with a 6 cyl. was our go-to car for hauling boats and heavily overloaded trailers. The leather seats were much better than cloth in in 2008 model. Mileage was 23-25, winter-summer. My 6' boys preferred the back seat to the '08, and took the car many times loaded with 5 guys, suitcases and fishing gear aimed at the Rockies 1000 m. away. Only one unexpected repair: slight suspension problems at the end of our ownership, otherwise only routine stuff.
Purchased a new car
Uses car for Transporting family
Does recommend this car
---
Everything I wanted
by subaru fan from Omaha Ne | January 23, 2011
It goes anywhere . Starts in cold weather. It's a 3.0 motor just the right amount of power to pull my popup camper. The price was right
Purchased a new car
Uses car for Just getting around
Does recommend this car
---
Value for the Money
by LaYeti from Akron, OH | November 30, 2010
Great reliable car for the money. Get above spec gas mileage. Has plenty of power and is great in the snow. Has enough interior room for short trips. Would and will buy another !
Purchased a new car
Uses car for Outdoor sports (hiking, cycling, etc.)
Does recommend this car
---
People Who Viewed this Car Also Viewed
Select up to three models to compare with the 2004 Subaru Outback.
2004 Subaru Forester
Asking Price Range
$1,960–$10,080
Compare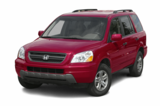 2003 Honda Pilot
Asking Price Range
$3,030–$9,198
Compare
2004 Mercedes-Benz M-Class
Asking Price Range
$3,930–$10,294
Compare
Featured Services for this Subaru Outback