Average Ratings
---
26 out of 27 people recommended this car.
---
Great mileage and comfort
by LuvmyCamry from Northfield, IL | August 30, 2014
Just bought my 2008 Camry Hybrid with 61K miles. First tank 42.5 mpg hwy, wow! Very comfortable and surprisingly good acceleration. BTW 36mpg city too. I am very impressed,
Purchased a new car
Uses car for Commuting
Does recommend this car
---
Why did I not go green earlier?
by Camry2x from Fountain Valley Ca | August 6, 2014
Being that it is a hybrid, a few things really exceeded my expectations. Obviously, the gas mileage is better than my old 6 cyl Camry that only had 19 mpg city. This car gets 33 mpg city driving. But the quietness of the engine was shocking and having halogen lights was an unexpected luxury. The cons of this car, which is no fault of Toyota, but the previous owners', is the after-market radio. It is a nice double din touchscreen, but certain features were lost, like Bluetooth, steering wheel controls of the audio system and backup camera.Whoever installed the unit did not fully integrate all of Camry's conveniences. So a word for used car buyers: make sure these features work if equipped, which this car did, before purchasing or negotiate the price down!
Purchased a new car
Uses car for Commuting
Does recommend this car
---
This is the one to buy
by dapacarl from Houston Texas | February 18, 2014
This is the most reliable and comfortable car I have own in fact I bought two of this Toyota Camry Hybrid the first three year old 2007 and second for my wife two week ago 2008 I have no problem so far
Purchased a new car
Uses car for Commuting
Does recommend this car
---
unbelievable car
by Jalte from Chicago | June 20, 2013
Unbelievable car! 41-39 MPGI Inside and outside looks great. A great feeling at the wheel. I am impressed with this car...
Purchased a new car
Uses car for Having fun
Does recommend this car
---
I miss my Camry Hybrid... time for another one?
by Nickvjr from CA to AZ | July 24, 2012
I bought my 2008 Camry Hybrid back in Feb-2010. It had 43k miles, fully loaded, NAV, leather, heated seats) and was one of the most feature rich cars (keyless entry, automatic lights, sunroof, power seats) I had ever owned. The Camry Hybrid was used for commuting back and forth from AZ to CA. I put approximately 1300 miles PER WEEK on that Hybrid and it performed wonderfully. Average MPG was 38 in city and 39-40 highway. I drive with a light foot and use coasting when I can but this Hybrid has plenty of power when it is time to merge into traffic. The ride was comfortable and the road noise was minimal at first but did get louder as the tires wore down. A new set of rubber would of fixed that. Great visability front and side but a little limitted in the rear (a rear camera would help in that situation). I drove the Hybrid till approximately 91k miles. Only problem I ever had was the water pump started leaking and was replaced at 90k miles (under the extended warranty). Never had any other issue with the Hybrid Technology or the rest of the vehicle; PERIOD! Then in Nov-2011 I got a bug for a convertible and traded in my Camry Hybrid for a '04 BMW 330Ci... worst mistake I have every done in regards to my vehicle. The 330Ci is fun, sporty and a convertible but the ride is harsh, gas is more expensive (premium compared to regular) and parts/service costs and arm & a leg if you can't do it yourself. Granted you can't compare a Camry Hybrid to a 330Ci Convertible; they are both very different cars. But I will say this: If you are looking for great MPG, spacious room, feature rich interior, family friendly transportation that doubles as a daily commuter then you can't go worng with a Camry Hybrid. As for me... once I sell the 330Ci... it is back to a Camry Hybrid... that is where I belong!
Purchased a new car
Uses car for Commuting
Does recommend this car
---
08 camry
by mo from rural pa | May 14, 2012
Best car ever! Comfortable with great style and the best mileage I have ever gotten from a car. I drove other hybrids while shopping for this purchase, and none compared, other than the prius, which was too small for our family. I get 38 mpg consistently and I do a lot of around-town driving. I love the comfort of this car and the roominess. I would advise anyone who can get one to snap it up!!
Purchased a new car
Uses car for Transporting family
Does recommend this car
---
Life saver
by Two Camry owner from Virginia | April 16, 2012
I have owned three Camry Hybrids in the last year. The first one was totaled in a "T-bone" accident at 45 MPH. I walked away from the accident with a minor seat belt bruise. 10 years ago, the accident would have been a killer. I replaced the totaled car with another and then sold my wife's 2004 Chevy Impala and bought her a Camry Hybrid. We are both very happy with the cars and their performance and hope never to test their safety features again.
Purchased a new car
Uses car for Transporting family
Does recommend this car
---
2008 Hybrid Camry
by GTManatee from Maryland | January 2, 2012
We enjoy our 2008 Hybrid Camry, excllent at the gas pump with today's greedy gas prices. Inside, nice interior, comfortable with the heated leather seats.
Purchased a new car
Uses car for Commuting
Does recommend this car
---
Sold on Hybrid now...
by Midwest Road Warrior from Overland Park, KS | January 2, 2012
I knew I wanted a Camry or Accord, but did not specifically look for a hybrid. Found a great deal on a certified unit and love it! Love filling up for under $40 instead of $80 for my Envoy!
Purchased a new car
Uses car for Work
Does recommend this car
---
Not your normal review
by Lucky Driver from Virginia | October 25, 2011
I bought my Hybrid last year, used, 100K miles. Last week another driver pulled directly in front of me. I did not have time to even apply the brakes. 45 mph collision. ALL safety features worked perfectly; bags, belt, front end absorption characteristics. Car was TOTALED. Passenger compartment was completely intact (the center console cracked behind the gear shift). Personal damage was sore (not bruised or broken) ribs, small cut on my shin. THIS CAR IS A LIFE SAVER! I am looking for an identical replacement now.
Purchased a new car
Uses car for Just getting around
Does recommend this car
---
People Who Viewed this Car Also Viewed
Select up to three models to compare with the 2008 Toyota Camry Hybrid.
2014 Dodge Dart
Starting MSRP
$16,495–$22,995
Compare
2015 Dodge Charger
Starting MSRP
$27,995–$62,295
Compare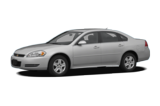 2010 Chevrolet Impala
Asking Price Range
$6,712–$15,276
Compare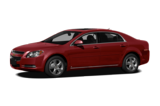 2012 Chevrolet Malibu
Asking Price Range
$10,366–$17,722
Compare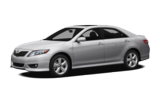 2010 Toyota Camry
Asking Price Range
$9,190–$17,458
Compare
2014 Mazda Mazda6
Starting MSRP
$20,990–$29,695
Compare
2013 Chevrolet Sonic
Starting MSRP
$14,185–$21,470
Compare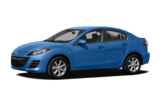 2010 Mazda Mazda3
Asking Price Range
$7,639–$15,551
Compare
2008 Toyota Prius
Asking Price Range
$6,537–$14,477
Compare
Featured Services for this Toyota Camry Hybrid