Average Ratings
---
17 out of 17 people recommended this car.
---
238,000 miles and still going strong.
by The Boogyman from OK | February 2, 2015
I am incredibly impressed with my 97 Camry. I bought this car when it had 186,000 miles on it. That was five years and 52,000 miles ago. I just crossed 238,000 miles and the "shazamry" is still my daily driver. Total maintenance has been under $1,500 in the time I've owned it. I still get 26 mpg in the city and 26-30 mpg on the highway. The paint is finally flaking off because it's outside all day but the interior and the mechanics of the car are still excellent. I'm about to start a 2,000 mile road trip in this beast with no second thoughts.
Purchased a new car
Uses car for Commuting
Does recommend this car
---
good car for money
by brenda51 from shelby nc | March 13, 2013
this car is doing great had it 1 month and havent had any problems this far i should have checked the tires a little better but it was raining the day i bought it and i do need 2 front tires. i think it should be mandatory for dealership to get tires if they need them before they sell car because they make a lot of money on used cars anyway
Purchased a new car
Uses car for Transporting family
Does recommend this car
---
Great Vehicle
by Loyal Toyota Camry Guy from FL now GA X Plant | June 28, 2012
I have owned and leased Camry's for years. My '97 I have held onto the longest. I have customized it with all kinds of aftermarket add on's. That now you can get from the dealers. My car has seen a few good accidents but after the repairs years ago it's still going strong. I have taught my wife and son how to drive in this Camry. Just perform maintenance as needed and this car has 170k mi on it and runs great. My camry is gold but still looks great by just keeping it out of the sun and in a garage or covered parking when not in use. I was considering letting this car go and getting a new Camry but after reading all these reviews and coming to the realization that it is nice not having those big car payments I think I will keep my '97 Camry. I'm sure I will get alot more use from my '97 Camry.
Purchased a new car
Uses car for Just getting around
Does recommend this car
---
Great value, but not my favorite car
by its okay from | December 30, 2011
I bought my gold 97 camry le in 2003 with 65,000 miles on it. My first mistake was buying the gold one. The paint on the car fades everywhere except the bumpers and the spoiler, so the whole car looks silver except for those spots they look freshly painted. At 115,000 miles the 4 cyl motor blew, this I didnt understand since I babied the car and the original owner was an elderly lady who barely drove over 35mph. I replaced the motor with a new 4 cyl from toyota. I have put about 25,000 miles on it since the motor was replaced, so the car now has 150,000 miles on it. It runs good, but the transmission is really slow and it tends to shift kind of hard going into 2nd gear. The stereo that came in the car is obviously fairly cheap because the tape player never worked even when the car was new, and the speakers arent the best. The stereo also seems to pick up any kind of cell phone frequencys near by because it will start making an unbearable screeching sound. Over all the vehicle has never left me stranded other than when the motor blew. The only other thing is the driver seat, I dont know what it is exactly but when I am driving on the highway I get really bad leg cramps from the seat, I dont understand this, but it only happens in this vehicle. Over all this is a great vehicle, and would be perfect for a first time driver. Since purchasing this car I upgraded to a 2010 camry which just turned 100,000 miles, but my 97 is still sitting in my driveway as a back up.
Purchased a new car
Uses car for Just getting around
Does recommend this car
---
Can't beat the value and reliability!
by Bowser from Whittemor, MI | October 22, 2011
I bought a 97 Camry with 104,000 miles and gave it to my son 5+ years later with 205,00 miles with some scratches on the paint, hardly any rust and in good shape. I paid $4100 for it then from the original owner. Gas mileage stayed at 30 mpg for the time I had it. It had great styling and about $1000 in repairs for the 5+ years. I can't think of any significant disadvantages. It lasted better than any used car I've had in the past.
Purchased a new car
Uses car for Just getting around
Does recommend this car
---
The most reliable car
by VERG from Miami, Florida | January 17, 2011
I bought this car used in 2003 with 116000 miles on it. This is the most reliable car I have ever owned. Since then I have put another 80,000 miles on it and it still drives great. I haven't done any major work on it even though it's been in two accidents, been stolen and in high speed chase and recovered. Have had body work done to it but that's all. I have owned cars after it and had issues with them but this Camry takes everything I put it through (and I have a heavy foot) and it still drives smooth and quiet. Now reaching 200,000 I know this car got alot more years in it. I now have a 2008 Highlander. Hope it's just as good.
Purchased a new car
Uses car for Transporting family
Does recommend this car
---
Excellent car
by Mike from New Jersey | July 30, 2010
I've had this Camry since I bought it lightly used in '97. Ever since I have not had any major problems with it. It has 128,000 miles on it now. Comfortable, quiet, and reliable. The only con I have for it is that the gas mileage isn't the best (about 18 MPG), since it's a V6. So if you're looking for something fuel-efficient, I would go with the four cylinder.
Purchased a new car
Uses car for Just getting around
Does recommend this car
---
most reliable car I,ve ever owned
by Crazy Cannon from pasadena | July 20, 2010
This car is unbelievable. It will not stop. I now have 380,000 miles on it and it still runs very good. I have never had any major problems with it. It;s not flashy but who cares when your aproaching 400,000 miles on it. I LOVE THIS CAR. I can't thank it enough as I have no fear of taking it on long trips with the high mileage. I recommend this car to everyone.
Purchased a new car
Uses car for Commuting
Does recommend this car
---
Not the best car I've owned
by sob1 from PA | May 25, 2010
I'm not going to slam this car too much since I only paid 300 bucks for it a few months ago, but this is my first Toyota, and it is 13 years old after all, but I heard such great things about Toyota's reliability that I am a little surprised about this one. It leaks oil, and it stalls at a stop on average of 5 or 6 times per week. The only way to prevent it from stalling is to keep giving it gas as you come to a stop. It isn't too high in miles, only 122,000. I will not judge all Toyota's on this one, because again, I did hear a lot of good things about them. So this car did not turn me away from Toyota forever. But I've had Hyundai's with high miles that were better than this Camry. Again, it was cheap. If I paid 2 or 3 grand for it, like a lot of 97 Camry's go for now, I'd be pretty angry.
Purchased a new car
Uses car for Commuting
Does recommend this car
---
Very Satisfied
by New to Toyota from Chicago | April 19, 2010
I purchased this Toyota from a private owner, the transaction went smooth! After looking at this car from dealers who wouldn't budge on the price, I decided to buy from a private owner. I was looking for a reliable, gas saver & that's what I got! I have 1 large car seat & 2 boosters in the back seat. I was worried that the backseat would be cramped but it's not. Very comfortable car, this is my 1st Toyota (we are a Nissan family) The only think I don't like is the radio/speakers...cheap quality but that can be replaced. My Camry is a 4-clyinder LE so the pick up is too be expected.
Purchased a new car
Uses car for Transporting family
Does recommend this car
---
People Who Viewed this Car Also Viewed
Select up to three models to compare with the 1997 Toyota Camry.
2017 Audi A3
Starting MSRP
$31,200–$40,300
Compare
1993 Volkswagen Jetta
Asking Price Range
Price Coming Soon
Compare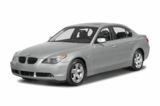 2005 BMW 545
Asking Price Range
$5,308–$13,484
Compare
2016 Chevrolet Equinox
Starting MSRP
$22,600–$31,690
Compare
2017 Chevrolet Sonic
Starting MSRP
$15,145–$21,215
Compare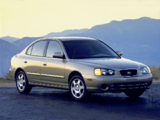 2001 Hyundai Elantra
Asking Price Range
$326–$5,614
Compare
2003 Hyundai Accent
Asking Price Range
$296–$5,264
Compare
Featured Services for this Toyota Camry