What makes a Toyota worth $65,000? Like a Microsoft Outlook reminder that wouldn't go away, that question sprang to mind every time I climbed into the Land Cruiser, a leather-lined gulley romper from a company better known for mild-mannered Camrys, Corollas and RAV4s. The Land Cruiser costs more than all three combined — and given its wide-ranging faults, I can't fathom why.

Redesigned for 2008, the Land Cruiser tops off a lineup that includes five other SUVs. Click here for a comparison to the 2007 model. The related Lexus LX 570 was also redesigned for 2008; it starts around $75,000 but includes many features that are optional or unavailable on Toyota's version.
Going & Towing
Toyota's 5.7-liter V-8, which also powers the Tundra pickup, is standard. At a portly 5,690 pounds, the Land Cruiser lacks the outright punch of its pickup sibling, but the engine's 381 horsepower and 401 pounds-feet of torque provide fluid, sprightly acceleration at just about any speed. The Cadillac Escalade climbs onramps with the same sort of unexpected gusto, while the Hummer H2 and Lincoln Navigator feel comparatively modest.

A six-speed automatic is standard. It shifts ably most of the time, but it occasionally dallies in a higher gear before downshifting on the highway. Activating the transmission's Power mode — accomplished via a button near the center console — produces more decisive downshifts, which make passing maneuvers rather effortless. Like most automatics with a performance mode, however, the extra power likely comes at the expense of gas mileage. Around town, anyone short of a complete leadfoot can probably make do without it. Even with a full load of furniture in back, I found stop-and-go power more than adequate.

Such driving revealed an annoying phenomenon: Under moderate or hard acceleration, several editors and I noticed a disconcerting whump from somewhere in the driveline. Toyota spokesman Bill Kwong said the phenomenon has been noted and fixed in later 2008 editions; those who experience the problem can take their Cruisers to a dealer for repair under warranty.

The drivetrain makes for a towing capacity of 8,500 pounds and gas mileage of 13/18 mpg city/highway. Both figures are respectable — especially considering Toyota recommends regular fuel — but if you're shopping for fuel efficiency, there are better options among crossover SUVs.
Towing & Mileage Compared
Max. towing capacity (lbs.)
Gas mileage (city/hwy.)
Fuel
Cadillac Escalade
7,700
12/18
Premium (recommended)
Hummer H2
8,200
n/a*
Premium (recommended)
Infiniti QX56
8,900
12/17
Regular
Land Rover Range Rover Sport
7,716
12/18
Premium (required)
Lincoln Navigator**
8,950
12/18
Regular
Mercedes GL450
7,500
13/18
Premium (required)
Toyota Land Cruiser
8,500
13/18
Regular
*H2 is classified as a heavy-duty truck and is thus exempt from EPA mileage ratings. Over a week of mostly city driving in a 2008 H2, Cars.com averaged 12 mpg.
** Ratings are for the 2WD Navigator; 4WD version is classified as a heavy-duty truck and is thus exempt from EPA mileage ratings.
Source: EPA and automaker data for 2008 models with 4WD, except Navigator.
Ride & Handling
Like most of its peers, the Land Cruiser employs body-on-frame construction. Toyota says it's been insulated to reduce noise and enhance on-road comfort, and the result is a relatively quiet highway ride on smooth pavement. On highway offramps and 90-degree city turns, the Land Cruiser remains unexpectedly planted; in such situations, many SUVs exhibit top-heavy body roll.

I found the steering comfortably firm at lower speeds; senior editor Joe Wiesenfelder thought it too under-assisted for a large SUV. It returns a relatively good 38.7-foot turning circle, but at higher speeds it has a slightly vague on-center feel, particularly compared to a Navigator I drove back-to-back with the Land Cruiser.

The steering won't be a deal-breaker for anyone, but the chassis response just might be. The Land Cruiser can't hide its truck-based roots: Quick lane changes seem to fly under the suspension's radar, unleashing the body roll that's absent in longer turns. Potholes and expansion joints produce little noise but plenty of floaty, lingering reverberations. The antilock disc brakes are strong — though one editor thought the pedal had an all-or-nothing response — but there's a great deal of forward dive as you come to a halt.

If these drawbacks were a concession to the Land Cruiser's offroad abilities, I might find them more acceptable, but even those strengths seem dubious. Standard equipment includes all the customary riggings — full-time four-wheel drive, a low-range transfer case, a locking center differential and a low-speed 4WD crawl mode — plus Toyota's advanced Kinetic Dynamic Suspension System. KDSS originated among Lexus SUVs; in extreme offroad conditions it can disengage the Land Cruiser's stabilizer bars for additional suspension travel, not unlike Jeep's Active Sway Bar System.

I didn't have a chance to put the Land Cruiser to the test (shocking given all the rugged terrain around our Chicago offices), but on paper it doesn't impress: Ground clearance and approach and departure angles fall consistently short of the offroad-inclined competition, in some cases by wide margins. I have no doubt the Land Cruiser could handle some pretty treacherous stuff, but I question whether it would do so any better than its competition.
Offroading Dimensions Compared
Toyota Land Cruiser
Hummer H2
Mercedes GL450
Land Rover Range Rover Sport
Ground clearance (inches)
8.9
10.1
10.9
8.9
Approach angle (degrees)
30
40
33
34
Breakover angle (degrees)
21
24
23
25
Departure angle (degrees)
20
37
27
29 (HSE); 27 (Supercharged)
Source: Automaker data for 2008 models with highest degree of offroad equipment.
Exterior & Styling
There gets to be a point among enormous SUVs where styling can no longer mask the bloated proportions. To wit: Chevy does not try to dress its Suburban, nor Ford its Expedition or Nissan its Armada, as anything but the giant people-movers they are. It's the same story here. Though nearly a foot shorter from bumper to bumper than the less-expensive Sequoia, the Land Cruiser has similarly upright lines, if a more congenial face.

Black roof rails, no side moldings and very little chrome give the Cruiser a plebian look that belies its price. Considering most — heck all — competitors wears luxury on their shirtsleeves, I suspect the incognito look will appeal to Land Cruiser faithful.

Standard 18-inch alloy wheels are the sole choice.
Cabin Quality
As you might expect of a pricey full-size SUV, the Land Cruiser boasts a tall driving position and a slew of standard features, including heated and power-adjustable front seats, leather upholstery, quad-zone climate control and a moonroof. I only wish quality matched quantity; features notwithstanding, the cabin disappointed one editor after another. Toyota makes plenty of first-rate interiors, but this isn't one of them.

There are a few bright spots, so we'll start there. Overall build quality is excellent, with tightly fit panels in all the places drivers see most. Certain elements, like the electroluminescent gauges and the PC-quality graphics on the optional navigation system, befit a $65,000-plus car. Silver plastic inlays line the faux wood trim along the doors, and the whole setup seems appealing enough.

The fact is, though, the wood and aluminum are fake — Toyota says the LX gets genuine stuff — and in other areas, from the center console to the wood-trimmed steering wheel, they feel cheap and plasticky. If Toyota can put genuine wood trim in a $40,000 Lexus RX, I'm not sure why the Land Cruiser gets imitation stuff.

It only goes downhill from there. The center controls operate precisely, but their shiny black surfaces seem out of place in this class. In a field where most contenders have weighty chrome door handles, the Land Cruiser's gray plastic ones are a joke. Materials atop the dashboard are soft to the touch, but those below — particularly the stuff flanking the center console — feel roughshod and low-rent. The silver-trimmed hazard button below the navigation screen flexes and crackles with the sort of flimsiness you'd expect in an economy car, and even the leather upholstery feels no richer than a $40,000 Highlander's. The standard 605-watt, 14-speaker JBL stereo sounds merely OK; I'm no audiophile, but I'd expect better. And in mid-80s July heat, the A/C had a tough time keeping up.
Seating & Cargo
With three rows of seats, the Land Cruiser can accommodate up to eight. The front two rows have plenty of headroom, but adults may find the 60/40-split second row too low to the ground for decent thigh support. It has the usual range of fore/aft and reclining adjustments, and either side tumbles forward in one simple step for third-row access.

Like most third rows — the Navigator and GL are notable exceptions — legroom in the Land Cruiser's back row is for kids only, unless those in the second row scoot forward a few inches. Headroom is good, but the seat sits low to the ground back there, too, so adults will be staring at their knees.

The cargo area has a two-piece liftgate/tailgate combination, a setup I have mixed feelings about. It allows you to open the top portion and remove groceries without watermelons or two-liter soda bottles rolling out, but it also means that when retrieving anything with the tailgate down, shorter drivers have to reach that much farther. Either way, it's inexcusable in this price range that the liftgate portion is manual. Most competitors have a power liftgate, and the Lexus LX includes one standard. Here it isn't even optional.

The 50/50-split third row folds upright to each side, while the second row tumbles forward. That creates a continuous load floor, but the whole operation is far from optimal. The second row has extending straps to hold the seats upright, and the third row takes three steps to fold. Most competitors with tumbling seats automatically lock theirs in place — so no straps are needed — and those with a space-saving independent rear suspension offer third rows that power-fold into the floor. Maximum cargo volume, at 81.7 cubic feet, also trails much of the competition.
Cargo Dimensions Compared
Rows/seats
Max. room behind 1st row (cu. ft.)
Room behind 2nd row (cu. ft.)
Room behind 3rd row (cu. ft.)
Cadillac Escalade
3/8
108.9
60.3
16.9
Lincoln Navigator
3/8
103.5
54.5
18.2
Infiniti QX56
3/8
91.7
61.2
20.0
Hummer H2
3/7
86.6
40.0
5.8
Mercedes GL450
3/7
83.3
43.8
14.3
Toyota Land Cruiser
3/8
81.7
43.0
16.1
Land Rover Range Rover Sport
2/5
71.0
33.8
--
Source: Automaker data for 2008 models.
Safety
If the Land Cruiser has one obvious strong suit, it's safety features. The Insurance Institute for Highway Safety has not yet crash tested the SUV, but the list of standard safety equipment is robust. The first and second rows get seat-mounted side-impact airbags, while rollover-sensing side curtain airbags span all three rows. Dual knee airbags join the conventional chest airbags up front; if you're counting, that's 10 airbags total. Active front head restraints, four-wheel-disc antilock brakes, traction control and an electronic stability system round things out.

All eight seats have head restraints and three-point seat belts, and the outboard first- and second-row belts include pretensioners and height-adjustable anchors. In most cars you'll find those features on the front belts only. A pre-collision system, which tightens the seat belts under hard braking, is optional.

Child-safety provisions include Latch child-seat anchors for the second-row outboard seats. All three second-row positions have top-tether anchors. The outboard ones sit midway down the seatback; the center one is less conveniently located at the base of the seat.
Features & Pricing
Excluding the destination charge, the Land Cruiser starts at $64,100. It comes well-equipped at that, with full-time four-wheel drive, heated and powered front seats, quad-zone climate control, and leather. Options include a navigation system with a backup camera, heated rear seats and a backseat DVD entertainment system. Load the Cruiser up, and the sticker tops $71,000. That puts it squarely among the H2 ($57,425 to about $72,500), GL450 ($55,900 to $80,000) and Range Rover Sport ($57,725 to $77,000).
Land Cruiser in the Market
These days, if any large SUV is to have even limited success, it needs a full deck of assets — roominess, luxury, towing grunt — to counter its residency on the wrong side of gas prices. Stacked against the luxury SUVs its asking price matches, the Land Cruiser consistently comes up short.

Allow me to preempt the hate mail: I'll accept the Cruiser lifestyle is about exploring the edges of civilization, and chrome door handles and leather-wrapped dashboards might have no place in those areas. Even then, though, there are untold savings to be had in a similarly capable but less feature-laden SUV.

I suspect a number of Land Cruiser intenders simply want a less ostentatious alternative to the reigning SUVs in their luxury suburbs — a way of keeping up with the Prescotts, as it were, without looking like it. Sure, I get that, but why not actually save some money and buy a more fuel-efficient crossover? If the answer is what I think it is, give me a call. I have a $30 hamburger to sell you.
---
People Who Viewed this Car Also Viewed
Select up to three models to compare with the 2008 Toyota Land Cruiser.
2013 Nissan NV Cargo NV3500 HD
Asking Price Range
$20,291–$22,175
Compare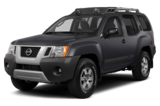 2014 Nissan Xterra
Asking Price Range
$15,495–$27,999
Compare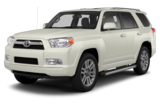 2013 Toyota 4Runner
Asking Price Range
$24,229–$37,885
Compare
2017 Chrysler Pacifica
Starting MSRP
$28,595–$42,495
Compare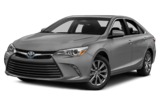 2017 Toyota Camry Hybrid
Starting MSRP
$26,790–$30,140
Compare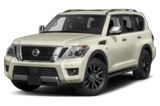 2017 Nissan Armada
Starting MSRP
$44,400–$59,990
Compare
2017 Ford Fusion Energi
Starting MSRP
$33,120–$41,120
Compare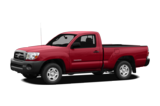 2011 Toyota Tacoma
Asking Price Range
$14,303–$31,439
Compare
2008 Toyota RAV4
Asking Price Range
$6,917–$15,005
Compare
Featured Services for this Toyota Land Cruiser