Average Ratings
---
57 out of 59 people recommended this car.
---
100,000 Miles and I still love it!
by DaGoose from Granbury TExas | July 26, 2016
I am 6'4" 260 pounds and got the "V" for the added head room, I did step up to the level 3 which I am glad I did. I bought the car with 3 miles on the Odometer. It now has over 100,000. It does what it claims it will do, and it does it to the tune of 39 mpg over 100,000 miles. Although it is not a road racer, it handles pretty darn good!. It is not dragster But can keep up with the anyone on the highway LEGALLY. Its not a 4x4, what it is, an economical roomy car AND very reliable. I do not baby the car on the road, I do not abuse it but I do DRIVE IT, but it has its limitations. I keep it in the "ECO" mode 90% of the time. Takes some getting use to at first getting onto a busy highway requires the "PWR" mode, but then its back to ECO mode. I did add some small spot mirrors on the regular mirrors to eliminate the blind spot of the rear pillar post. I change the oil and all filters every 8,000 miles has never used a drop of oil.The A/C will throw snow balls at me, The heater will cook meat! The road noise is on the noisy side but not out of line with any other small car. Love the "DOO-DADS" on the car, the steering wheel controls are wonderful. The GPS likes a little to be desired but it works (most of the time) I catch myself looking for the same "DO-DADS" on my other vehicles. (2 Tundras'03 and '07, one Ford F350 '01). The interior is mostly plastic but then that is becoming the norm now days. Only problem I have ever had is minor and it was a rear mud flap that kept dropping down on one end and dragging the ground. Dealer tried numerous times to repair it. And it held for several months, but the screw kept falling out. I finally used some JB Weld in the screw hole to hold the screw in place, took care of that minor problem. Local Toyota Dealer has been great, Even after 100,000 miles they take care of me as if it was just bought the car. Would I buy another Prius? In a heartbeat. I came from the muscle car era, always had High Performance cars, dripping horse power, fat tires, Chrome everywhere AND with LOUSY GAS MILEAGE. I now drive 60 miles one way to work in different driving conditions every day. Was filling up 3-4 times a week with a 20 gallon tank! That is what prompted me even look at the Prius. I wanted economical and the Prius was the 1st choice! Yes I get ribbed having come from a chrome plated fat tired 400 hp street rocket. Being 6'4" and driving a "TOY" But I just smile and know that it is my "TOY" and is doing all I have asked of it and more and smile when I fill it up (never more than 10 gallons) and know that I am good for another 400 miles of dependability and reliability. Thank you TOYOTA!
Purchased a new car
Uses car for Commuting
Does recommend this car
---
Overall a great car
by fleagle from Northwest IN | May 30, 2015
I've owned my Prius V for 2.5 years and put 44K miles on it. I didn't expect it to be hot off the line and it isn't, but the acceleration is enough to get me safely on the freeway. The car handles better than I expected, probably in part because the battery pack under the back seat makes for a low center of gravity. It's only adequate on ice and snow, however. The interior is amazingly roomy for a car this size, with plenty of leg room in the back seat and almost as much carrying capacity as my wife"s Outback. My major gripes with the car are the drivers' seat cushion, which seems to be breaking down after only 30 months, and the low beam headlights, which have a very narrow spread, making turns, especially right turns, onto dark streets an adventure. It's impossible to see the edge of the road. Overall I'm very happy with the car and do not regret buying it.
Purchased a new car
Uses car for Just getting around
Does recommend this car
---
Great gas mileage, blah performance
by Practical Car Person from Connecticut | April 28, 2015
Got this 2012 Prius V used at about 26K. After a little over a month, am averaging about 47 MPH with a combination of city/hwy driving. Can't beat that, except with an electric! Comfortable interior, lots of bells & whistles, roomy rear seat, and great storage in the rear for hauling. Cons: This car takes a lot of getting used to. Definitely not fun to drive. It's like learning to drive all over again. Acceleration is horrible. I try to keep it in Eco mode, but have to move it to Power mode to get up hills, pass other cars, or get onto the highway. It's not a big deal, but you have to figure it out. It wasn't until I put the car in cruise control, which of course is programmed by Toyota, that I got a sense of how Toyota expected one should drive this car. Rear visibility is poor at the rear pillars and I'm still figuring out the rearview camera. However, it is a practical, fuel-efficient car, perfect for getting from point A to point B. I would say the pros outweigh the cons and perhaps, after owning it for longer and getting used to driving it more, I will sing its praises.
Purchased a new car
Uses car for Transporting family
Does recommend this car
---
2013 Brand new prius gear shifts to neutral
by DRK35 from NC | January 7, 2014
I am absolutely disappointed becoz Gear shifts automatically into neutral from reverse as well as from drive. This is only a 2 month old car bought in november 2013 and having problems already in jan 2014. I will take it to the dealer but this should not happen to new cars. No more toyotas for me. Hondas are much better I guess.
Purchased a new car
Uses car for Work
Does not recommend this car
---
All good.....except
by jmk70 from Danville, Illinois | August 2, 2013
We like everything about the car EXCEPT: Plastic trim on interior scratches very easily; and if you get any tar or other blemish on the black plastic trim around the side windows; do NOT try to remove it. Any rubbing with any kind of cleaner will also remove the "black" from the trim and leave an off-white plastic underneath. A car in this price range should not be using plastic trim anywhere on the exterior where it will require cleaning. I have written Toyota as well as my local dealer to see what can be done about this problem, but seriously doubt they will take any action. Cheap materials if you ask me.
Purchased a new car
Uses car for Just getting around
Does recommend this car
---
Favorite Car Ever
by My Wife's Car from Florida | July 17, 2013
I call this car my wife's car because it is just not cool for a man to have a Prius V as his car yet, haha. Obviously the outside looks are not the coolest. I have had four brand new cars and and four or five used ones and this car is the best car I have ever had by far. It is just close to perfect. The drivers leg room is like a minivan with no middle console. In other words it is wide open. The back seats actually recline about a third of the way back and my kids often have them reclined for comfort and sleep. It gets way better gas mileage than it is rated for which is the exact opposite of what I have experienced in domestic models. We average 45 mpg all the time, though the console tells us we are getting 47. The only time the gas mileage is bad is on interstate trips going over 75 mph. then we only get about 39 mpg. Though it is close to perfect I do have a few complaints. The GPS is abysmal to say the least. It is so bad that it is completely worthless and I spent extra just to make sure we got it thinking that it would be a great convenience. We use our smart phones or our Garmin instead for GPS. The floor mat in the back always slides forward on top of the floor vents that are supposed to circulate air to the back. The floor vents back there barely blow any air and do not circulate air well at all. They need to put some regular vents back there on the middle console. Overall the car is a technological miracle and a joy to drive but it needs some minor refinements as I am sure it will get since we bought the first model year.
Purchased a new car
Uses car for Transporting family
Does recommend this car
---
Prius V
by Prius v owner from Bowie, MD | July 10, 2013
The only issues I have with the Toyota Prius V are road noise and engine noise. Perhaps in their next design they can buffer the sound from the road.
Purchased a new car
Uses car for Just getting around
Does recommend this car
---
new adventure in driving
by Yankee from Maine from Bethel Park, Pa. | May 13, 2013
The car is about one month old. We looked at about 8 cars looking for good gas milage and storage capacity and, for- tunately after we passed on the Rav 4, the Toyota salesman showed us the Prius v. The seating is wonderful and spacious with plenty of shoulder and elbow room . There are several areas for personal storage plus two glove compartments. It is like sitting into the future with a great instrument display to keep in touch with all of the battery/ engine modes. I admit that it does not have the torque of my wife's 2012 Jeep grand Cherokee but ,for a Yankee from Maine, I love driving around frequently without the gas engine engaged. I manage very well with the eco, non eco and power modes. So far, it is the best car that I have owned and, as mentioned, it seems like a step into what the future may bring to us. Plus, it has plenty of cargo space.
Purchased a new car
Uses car for Just getting around
Does recommend this car
---
Another great Toyota.
by Prius Pokey from Warrington, PA | May 2, 2013
After owning a 4Runner for 14 years I was optimistic about purchasing a Prius V. This car did not disappoint. Any negatives I read about the car simply did not come up for me. Road noise - nah. Bad acceleration - maybe a bit but not bad for a small engine. Cornering - Just fine. Love the Entune, especially the Bluetooth Phone interface. Electronic shifter can be confusing, but I am getting it. So far getting 44 mpg overall. Very happy with my purchase.
Purchased a new car
Uses car for Just getting around
Does recommend this car
---
Great Car, Great ride
by Sunnyx from East Texas | March 28, 2013
This car is very smooth, quiet, and comfortable, even for my 6'4" husband. I bought the Prius V II with upgrades (heated leather seats, etc.) It was used but with only 4k miles on it. I am getting slightly less than 40 miles per hour, but it is just under that. I commute 60 miles round trip to work with starts and stops in some stretches, and straight stretches in others. I love the extra features on the car. I've only had it for about a month, but it is doing great so far.
Purchased a new car
Uses car for Commuting
Does recommend this car
---
People Who Viewed this Car Also Viewed
Select up to three models to compare with the 2012 Toyota Prius v.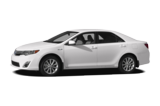 2012 Toyota Camry Hybrid
Asking Price Range
$11,212–$20,320
Compare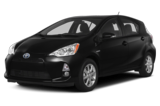 2013 Toyota Prius c
Asking Price Range
$10,560–$17,580
Compare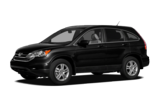 2011 Honda CR-V
Asking Price Range
$11,500–$19,940
Compare
2017 Toyota Corolla
Starting MSRP
$18,500–$22,680
Compare
2012 Toyota Highlander Hybrid
Asking Price Range
$17,831–$33,943
Compare
2016 Toyota Avalon Hybrid
Starting MSRP
$36,650–$41,950
Compare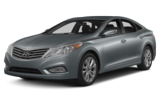 2013 Hyundai Azera
Asking Price Range
$14,463–$23,871
Compare
2014 Toyota Prius
Asking Price Range
$12,785–$21,245
Compare
Featured Services for this Toyota Prius v