Average Ratings
---
24 out of 28 people recommended this car.
---
2011 Toyota Venza 4cyl AWD
by Daily Commuter from Southern PA | April 14, 2015
Bought this car as a certified used with 18K miles in April of 2014. I have had it for a year now and I love it. The features that mine came with are the panoramic sun roof, remote keyless entry and power liftgate. I added a touchscreen stereo and a backup camera from best buy. Overall, the ride quality is great, especially coming from a 2009 Honda Accord, which was the noisiest vehicle I have ever drove. Got me through a rough winter here in PA, AWD was amazing. Gas mileage isn't terrible, but not great either. Getting around 18-19 around town, but 27 on the highway. I use this car to commute 32 miles one way to work, and I can get through all 5 days on one tank, traveling about 330-340 miles. Cargo area is very spacious, took it on a guys weekend with two of my friends, and we had more than enough room for our stuff. Ride is comfortable, road noise is relatively quiet. Did have one of the wheel bearings go about a month or so ago. Took it to the dealer, and even though I had exceeded the mileage of the limited warranty, toyota still honored it and fixed it for free. Haven't had any problems since then. Would definitely recommend this vehicle. Love it!
Purchased a new car
Uses car for Commuting
Does recommend this car
---
Think long and hard before buying a toyota
by Dislike my toyota from Portage la Prairie Manitoba | July 17, 2014
I have a 2011 toyota Venza 4 cylinder. Was good for the first year. Then came the beginning of the second year the paint on front bumper started to bubble. Water was under the paint and well you know what happens then it peels. The front and rear wheel wells also started to peel. NOT NICE! Put a claim in with toyota goes to some guy that looks at a picture where you can't see the fakes very well. You can see the fakes in person. The claim comes back and was told it's environmental conditions and toyota doesn't cover that. Good to know they don't mind ppl driving around with a peeled bumper and they can't stand up to their name. Took forever to hear back from him in the first place at least 5 months. REALLY!!! Body shops that I have talked to say it's all in the preping. Have had front driver and rear passangers shocks replaced due to leaking. Rear axel seal replaced. Venza can easily be jimmied by theifs and the alarm that toyota installs does NOT go off. Been back and forth to the garage due to this noise that is in the steering colum. Kinda like a clunk. Power steering in making a noise in the steering colum. All I have to say is I'm never buying a toyota again waste of time and money. Toyota CANNOT stand up to there name. My advise would be to think twice atleast before spending any money on one.
Purchased a new car
Uses car for Transporting family
Does not recommend this car
---
4 Cylinder with plenty of Power
by Cojac from Chi-town | March 25, 2014
4 cylinder with 40,000 miles, just love it. Gas mileage is 27-29 on highway depending on how fast I go. 21-22 in the city. The 4 has more than adequate pick up. It also has smaller tires than the 6, which helps with gas mileage. Absolutely zero problems with this car. I have FWD in snowy Midwest, once I changed my tires to Michelins, all was good. original tires had me spinning all over in the snow. I was able to get the Venza for less money than a similar RAV4. My salesman boasted about fit and finish in Toyotas, I pointed out that the Venza dash was atrocious. He was stunned, but agreed, the panels do NOT even come close to Toyota standards. We checked 2 other Venzas, both with the same fit. Also, if you are going to use the Bluetooth cell hook up in the car, you must get the JBL sound system. It has 13 speakers, which include "3" in the front dash. I have the basic 6 speaker system, the cell phone sends the sound out the front speakers which are only located in the front doors (2 speakers) , you cannot hear the person that you are speaking to. The LBL system has "5' speakers in the front. Other than that, I love my VENZA.
Purchased a new car
Uses car for Work
Does recommend this car
---
Happy Driver
by mailman from Magnolia, Tx | July 14, 2013
Bought this car online. Easy, fast and excellent purchasing experience. The way to shop for a vehicle!
Purchased a new car
Uses car for Just getting around
Does recommend this car
---
Good car, spoilt a bit by mpg
by Mini.Cooper from Champaign, IL | March 12, 2013
This is the end of my second year with my family's Venza, and I can say this is an excellent car, spoilt by the gas mileage, and to some degree, the material qualities and the equipment level. First off, I will start by saying this definitely does not feel like a $30,000 car. We indeed spent $30k on this car, and for that much money we got a good-looking, easy-to-drive, roomy crossover-com-station-wagon, with the gutsy, powerful V6, and FWD. Honestly, the equipment level in here is not that of the next $30k car. There's cloth seats, a decent un-complicated radio system, and *very* cheap-feeling plastics *everywhere*. Other than the sub-par interior fit and finish, driving it is easy when you're looking forward (because the visibility to the rear and in your driver-side blind spot is seriously bad...). Sitting in the car and riding as a passenger in the front is comfortable, but I want to say the back is where it's at for the passengers. The back seat is extremely capacious and comfortable, yet not a lot of cargo space is sacrificed. But now we get to the elephant in the room... gas mileage. The estimated gas mileage for this V6 FWD model was 19 city 26 highway. While the highway mileage is pretty close if not matching the estimation, the city mileage is abysmal. Luckily gas isn't as expensive where I live, as compared to, say, Chicago (I live 150 miles form Chicago and I can do a round trip in this car on one tank, just fyi.). However the city mileage is a problem. Overall this is a great car in design, that is comfortable, versatile, and easy to drive most of the time, which is hindered by its mpg, and can put off some potential buyers with some of its sub-par interior plastics.
Purchased a new car
Uses car for Transporting family
Does not recommend this car
---
Great Car for traveling or commuting
by Patti from Albuquerque, NM | December 12, 2012
I love this car its comfotable and large enough to carry everything i need to travel even my three Yorkies.
Purchased a new car
Uses car for Having fun
Does recommend this car
---
All I expected
by Bang for my bucks from Cream Ridge, N.J. | August 27, 2012
Our Venza fulfilled all our expectations plus! We were looking for a car that was comfortable, had superior styling and rode "like a dream" and our new Venza met all these requirements.
Purchased a new car
Uses car for Just getting around
Does recommend this car
---
VENZA THE NEWEST MEMBER OF OUR FAMILY
by FAMILY OF TOYOTA OWNERS from INDIANAPOLISIN, | August 23, 2012
Being a family of Toyota owners, we were excited to find the very sought after Toyota Venza. It took a month of searching the internet to locate this car because they would sell before we had a chance to drive it. Our luck changed. Finally found, drove and made our same day purchase of a Venza which was perfect in every way. I wanted a 'steppy' 4 cylinder, automatic, heated leather seats, a key fob which was new to us, but we love it, tinted windows, and my first all wheel drive for IN winters. Toyota forever!!! Welcome Venza!!!
Purchased a new car
Uses car for Transporting family
Does recommend this car
---
Crappo Gasso
by Aapcowboy from Spring, Texas | August 3, 2012
I have owned this car for 6 months now. Bought it as a demo from a dealer. I like the look and feel. IThis is by no means a tradional Toyota. Toyotas are supposed to get great gas mileage. This car gets HORRIBLE gas mileage. I am already wanting to trade it for another SUV. I got excellent financing on it thow and will lose for trading into soon. Toyota could have done better. My previous car (GMC Acadia) got much better gas mileage and was roomier and heavier.
Purchased a new car
Uses car for Transporting family
Does not recommend this car
---
Best Toyota I've had yet, and I've owned a bunch!
by Longtime Toyota Buyer from Albany, OR | June 9, 2012
This is the best toyota I have ever owned, and I have owned probably 20 in the last 25 years. Everything about this car oozes quality and attention to detail, especially compared to all the other Toyotas in my past. I have a new 2011 V6 AWD with everything but Navi. I got this one a month ago at my favorite dealer as they were trying to get rid of the last of their 2011's. I suspect this one was still hanging around because it is black, and black in Oregon weather means maintenance. But my car is my hobby... Anyway, there are so many things I love about this car: first, the V6 power and AWD, the 13 speaker JBL sound system, the front moonroof and rear skylight, very nice leather interior and heated seats, and so many other little surprises. Its handling is pretty nimble thanks to the 20 inch wheels and tires - it's not like driving the wife's Miata but that's to be expected. The tranny is pretty solid and does not constantly "hunt" for the right gear all the time like I experienced with my last SUV, a 2008 V8 Ford Explorer Eddie Bauer. The Venza is also much quicker than the Ford, likely due to the lesser weight of the Venza. I have read where many are disappointed with the gas mileage of the V6 AWD model. One must keep in mind that this is a 4100 pound vehicle and 18 city and 25 highway is pretty darn good with all-the-time AWD. Anything more I would like to have? The rear "tonneau cover" for the back part of the hatch does rattle, and the only way to get rid of it is to take it out of its bracket and lay it on the floor. It can also get in the way when using the rear seats folded flat (yea!). And it would be nice to have the passenger front seat fold flat as well. But these are minor things. I would definitely recommend this car to anyone looking for a "crossover" that is both luxury and utility.
Purchased a new car
Uses car for Just getting around
Does recommend this car
---
People Who Viewed this Car Also Viewed
Select up to three models to compare with the 2011 Toyota Venza.
1997 Volkswagen Jetta
Asking Price Range
$106–$4,770
Compare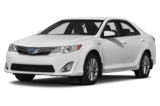 2013 Toyota Camry Hybrid
Asking Price Range
$13,110–$21,014
Compare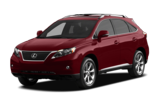 2012 Lexus RX 350
Asking Price Range
$19,558–$32,118
Compare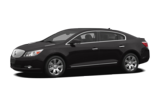 2012 Buick LaCrosse
Asking Price Range
$11,578–$21,634
Compare
2013 Nissan Leaf
Asking Price Range
$7,519–$14,427
Compare
2014 FIAT 500L
Asking Price Range
$9,230–$17,262
Compare
2005 Lexus RX 330
Asking Price Range
$6,778–$14,734
Compare
2013 Toyota Camry
Asking Price Range
$11,878–$19,590
Compare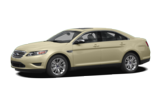 2011 Ford Taurus
Asking Price Range
$7,921–$18,693
Compare
Featured Services for this Toyota Venza