The shocking decline of Volkswagen during the past 15 years has been one of the more interesting, but sad, chapters in American automotive history. In the late 1960s and early 1970s, VW was selling as many as 500,000 cars and vans a year in the United States. But when the Beetle's life ended, so apparently did Americans' love affair with the German marque. Last year VW sold just more than 43,000 cars in the United States, and it lost $232.5 million in this country. Believe it or not, Volkswagen's troubles are why now is probably the best time to buy or lease a new Volkswagen. Because so many VW buyers have defected through the years, the company is practically desperate to get people back into showrooms so that it can prove that its new Jetta III and Golf III have the right stuff. When you buy either car, you will get a comprehensive warranty and benefits package that includes some things you would expect to find on high-priced luxury cars, such as a 10-year, 100,000-mile limited powertrain warranty and free scheduled maintenance - including oil changes - for two years. Other items include free 24-hour roadside assistance for two years; six-year rust protection; two-year bumper-to-bumper warranty; and a load of safety features that include dual air bags, ABS brakes and beefed-up side impact protection. The market has responded to the new cars. For the first three months of 1994, VW's sales have more than doubled compared with sales over the first three months of 1993. I just tested a bright red 1994 Jetta GLS, and I want to tell you that, for the money, this is one heck of a car. If VW is going to stay in business in the United States, the new Jetta must be nothing less than a huge success. After one week and nearly 400 miles of driving the car, I think the Jetta should be the car to put VW on the road to recovery. PERFORMANCE The Jetta III's 2.0-liter, 8-valve engine is not the smoothest or most powerful four-cylinder engine I have tested, but I think it is still a first-rate small engine. I like the way the 115-horsepower engine sends power to the wheels. The Jetta III will accelerate to 60 mph, VW says, in 9.6 seconds. Road & Track magazine tested a 138-horsepower BMW 318is and logged a 0-to-60 mph run of 10.1 seconds. That is interesting when you consider that both cars are about the same size and have pretty much the same equipment - but the BMW sells for about than $10,000 than the Jetta. The point is this: VW would like its cars to be viewed as a cut above Asian imports, such as the Nissan Altima and Mitsubishi Galant, and it would like to appeal to those who would like a BMW but cannot afford one. The Jetta delivers on performance. It's more than just peppy. The Jetta III is downright quick. The engine pulls strongly in the first four gears, delivering spirited performance and then settling into a relaxed fifth-gear cruising mode. T here is no switch on the clutch pedal to prevent the engine from being started when the car is in gear. On most cars, you have to press the clutch pedal to the floor to start the engine; this keeps the car from accidentally jumping forward should the ignition key be turned with the transmission in gear. Fuel economy was nothing short of excellent at 25 mpg in the city and 33 on the highway. HANDLING When I first looked at the Jetta III, I did not expect it to handle well. The 14-inch tires seem too small for the car because they really don't fill up the wheelwells. It turns out that notion was way off. The Jetta III is a lithe, and agile machine capable of slicing through a curve with finesse. The power-assisted rack and pinion steering allows you to change direction quickly and precisely. Point the Jetta into a curve, such as the high-banking entrance to Interstate 4 at Maitland Boulevard and the car will not only remain poised, but it als will almost encourage you to be less conservative. The Jetta handles such maneuvers with ease. Braking is another area where the Jetta excels. The power-assisted front disc/rear drum brakes are particularly well-engineered. For instance, in a hard stop, the front-end does not nose-dive, as it would on many other cars. Also, the brake pedal is firm, and it takes a powerful jab at the pedal to activate the anti-lock system, which is standard on the GLS model but a $775 dollar option on the base GL Jetta. Suspension is independent front and rear, meaning that each wheel reacts individually to road conditions. Independent suspension provides a better balanced and more responsive ride. My impression of the Jetta's road manners is this: It seems as if each system - suspension, brakes and steering - work in concert with each other to provide a solid, stable and quiet driving experience. FIT AND FINISH The interior of the Jetta is comfortable, if a bit conservative. Though I would not call the interior dull, it is, shall we say, very sensible. The cloth-covered bucket seats are firm and attractive, but they can be fussy to adjust. I found that it takes a while to get the seat adjusted to where you feel comfortable. One setting disrupts another. The instruments, electronic gauges with numbers on a black background, offer nothing in the way of style. But they are functional and easy to read. There are no oil pressure or volt gauges, just fuel and temperature, speedometer and tachometer. The switches for the headlights, washer and cruise control have a feel of quality. Like a Mercedes-Benz, you feel as if the Jetta will not wear out after100,000 miles. Rear seat leg and head room is good for average sized adults. Installing a baby seat takes just a few minutes. Rear visibility is excellent despite the high trunk. Our test car included a power sunroof, electric windows, an alarm system, power mirrors and cruise control as well as several other accessories. All four windows lower automatically with just one touch of the button, a sensible, convenient feature. Truett's tip: The all-new Jetta III is a safe and solid car that handles and performs well. It also delivers excellent value for the money.
---
People Who Viewed this Car Also Viewed
Select up to three models to compare with the 1994 Volkswagen Jetta.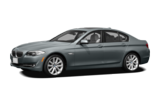 2012 BMW 550
Asking Price Range
$23,308–$40,120
Compare
2012 Ford Taurus
Asking Price Range
$8,756–$20,204
Compare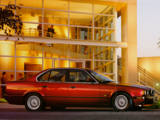 1995 BMW 530
Asking Price Range
$5,695–$7,599
Compare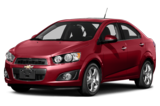 2015 Chevrolet Sonic
Starting MSRP
$14,245–$21,945
Compare
Featured Services for this Volkswagen Jetta