Average Ratings
---
12 out of 15 people recommended this car.
---
Absolutely Love This Car!
by Jetta Lover from | July 27, 2015
This is by far my favourite car to drive. Bought it as my first car. Previously had driven a Mazda 3, Pontiac Grand Prix, Ford Escape, Ford F-150, and I love my Jetta overall. I have a 5-speed manual transmission and it's GREAT on gas, shifts very smoothly, and is very reliable. I would recommend this car to anyone!
Purchased a new car
Uses car for Commuting
Does recommend this car
---
love it!!
by regular person from | March 25, 2011
we got our 99 jetta and i drove it for 8 years without even knowing that it had a broken transmission it drove so well even though i never did repairs on it, to be honest this thing would drive with three wheels and it did when my tire popped on the highway. it always got me to and from where i needed to go i love my jetta <3 its overall a very strong car i would recommend it to anyone
Purchased a new car
Uses car for N/A
Does recommend this car
---
99 VW Jetta
by car lover from Budd Lake, NJ | October 26, 2010
The car had only 76000 miles on it. My son uses it for college and it been good so far. The car handles excellent on the highway, has plenty on power for a 4 cylinder. The ride on broken roads is a little rough. But overall a very good car, The air works fine and comes equipped with alarm, power windows and door locks.
Purchased a new car
Uses car for Commuting
Does recommend this car
---
Good looking comfortable car, with problems
by Kickdown-169 from Germany | May 13, 2010
We purchased the Jetta 2.0 automatic with 52.000 miles in 2006 and sold it 2008 with 78.000 miles on it. We had a lot of fun with this car, its comfortable, the interior with wood trim looks very nice and its a safe car too. But the Jetta also makes a few problems, we had many eletronical issues with the power windows, the door locking, the alarm system. We fixed the air mass flow meter (twice), the damper flap and the seat heating.
Purchased a new car
Uses car for Commuting
Does recommend this car
---
OHHHH NO HERE COMES TROUBBLE
by JettaNoNo from | April 9, 2010
Please dont buy this car! it has been nothing but troubble i paid 10,000 for this car in 2006 and has been giving me nothing but problems since 2007 from power steering to broken break light switch(RECALL) water pump 2 times 2,000 smakers the check engine light stays on and its a HOT MESS i hate hate hate this car but since i paid it off i will not buy another one Heck might as well buy a new engine!!
Purchased a new car
Uses car for N/A
Does not recommend this car
---
Ok Car it Could Be Better
by CMS from Sacramento, CA | March 3, 2009
I bought my 1999 VW Jetta used with 22,000 miles on it, and for the most part it has been a reliable car. I have kept up a regular maintenance schedule, and it's now at 75,000 miles. The bad: it has what I would consider an abundance of problems not related to wear: brake lights won't turn off (fixed 3 times, covered by warranty each time); fuel mix error (paid for engine light checks 3 times before I figured out the problem and they fixed it); and rear door lock (2 times). This seems, to me anyway, to be more than my previous car (Japanese maker) ever had. In addition as a previous reviewer mentioned I have had my catalytic converter replaced (covered by warranty at around 50,000 miles) but the car has always passed CA smog. Another odd repair, my heater smelled like maple syrup, come to find out that would be freeon, that was not a cheap repair (had to remove dash). Of course it should be noted that these repairs have occured over a 8 year period. Other stuff I've noticed: It's a little wonky in the rain, for some reason it feels like it slips on wet leaves when you accelerate from a stop, it's loud inside; provides a slightly bumpy ride; it's small inside, this car is definitely made for short people and honestly while there are 5 seats, that would really be 4 short adults. If you place 2 kids car seats in the back that would mean no one can sit in the front passenger seat (unless they're comfortable kissing dashboard). So what redeems this car from all those repairs in addition to the regular wear and tear repairs? Oh it is so much fun to drive, it is quick, if you hit the gas it goes, if you need to stop on a dime, it stops on a dime. It has a very small wheel base so it parallel parks very easily, it fits in my tiny one car garage. A very good car if you live in a city.
Purchased a new car
Uses car for Just getting around
Does recommend this car
---
Great Car
by Mechanic1 from Princeton NJ | January 16, 2009
I had a Jetta for years and loved it. It drove great and looked pretty cool! My wife always wanted to drive it.
Purchased a new car
Uses car for Work
Does recommend this car
---
I laugh at the Gas stations...
by Ghost from new york, new york | December 2, 2008
99.5' MK4 GLS with a 5spd manual stick let me tell you this 4cyl. 2.0L has held up and done everything i wanted a car to do, plus more. Rear cup holders are a suprise, vanity lights are a plus, side airbags are a huge saftey feature...i mean, this car pretty much has it all, even in base form. The GLS form adds power windows, power brakes, ABS, all the powerd features that help against those 1980's roll-up style windows. This car gets 24mpg city driving, using 87' octane..got it to 31mpg cruising at 70mph. I have 119k on this car and all it just needed was simple service like the timing belt and water pump, tires and oil changes. Never left he stranded, never regreted it. Id buy another one tomorrow. Even over a BMW.
Purchased a new car
Uses car for Commuting
Does recommend this car
---
Best Car in the World!
by Nicky from Columbus, GA | August 13, 2007
I recommend this car to anyone! I still have my 99 and have over 200,000 miles on it! Still rides smooth! Never has broken down, just new battery and everything else is still original!!!
Purchased a new car
Uses car for N/A
Does recommend this car
---
Excellent Car
by John from Rhode Island | January 6, 2007
I've owned a 99 Jetta for about 4 years so far and it has been a great car. As long as you do the simple oil change and regular maitenence it seems to be fine. I've heard alot of rumors about this model not being as good as the old ones. HA this one actually has a stronger frame and for features and most of all doesnt look like a box.
Purchased a new car
Uses car for N/A
Does recommend this car
---
People Who Viewed this Car Also Viewed
Select up to three models to compare with the 1999 Volkswagen Jetta.
2016 Chevrolet Colorado
Starting MSRP
$20,055–$35,450
Compare
2002 Chrysler 300M
Asking Price Range
$864–$6,468
Compare
2017 Chevrolet Spark
Starting MSRP
$13,000–$17,425
Compare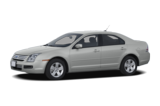 2009 Ford Fusion
Asking Price Range
$4,485–$11,701
Compare
Featured Services for this Volkswagen Jetta