Average Ratings
---
35 out of 41 people recommended this car.
---
2009 jetta disappoints
by camogirl from pa | May 28, 2014
I bought my 09 jetta certified pre-owned has been nothing but constant headaches and burning holes through my wallet. I loved the car at first. I bought the standard model with low miles. Is a blast to drive, when it runs right. I've had to put a new alternator, something with switch ignition (sorry I can't remember exactly) I've had issues with headlights, sensors, and the check engine light is on every other day literally. I would not recommend this car to anyone and unfortunately thanks to this car I will probably never own a vw again.
Purchased a new car
Uses car for Commuting
Does not recommend this car
---
best bang for your buck
by savage from adirondacks,new york | November 4, 2013
its the best vehicle my wife and I have ever owned plenty of power and all the options of a 50thousand dollar vehicle
Purchased a new car
Uses car for Commuting
Does recommend this car
---
Terrible Experience 2009 Jetta
by Unsatisfied Customer from Charleston, WV | November 1, 2013
The car is beautiful but almost impossible to keep running. I have had the car for only two years and I have already had to replace the transmission, alternator, coil pack, and some kind of sensor. I have had to buy new tires on a frequent basis as well. My repair costs for this past year have amount to almost $6,000. Also, my air conditioner smells horrible and only works on full blast, one of my back windows does not work, and my remote key is no longer working correctly either. Needless to say I've shed quite a bit of tears over this car!
Purchased a new car
Uses car for Commuting
Does not recommend this car
---
Practical and Stylish
by First Time Buyer from Collinsville, Il | April 26, 2013
I am a first time car buyer and I could not be happier with my purchase. I was recently driving my husbands new jeep wrangler every day 50 miles and I was miserable. I wanted something cheaper on gas and more comfortable and I found myself having to leap up into the jeep. I was looking for something practical for me and my laid back lifestyle with just me and my dog, but also something that would transition well with children in the future. And then of course I wanted style. So far this car has it all. I easily fit my nephews carseat in the back seat and my dog in the cargo area, I took the car on a weekend trip 1500 miles total and it averaged 28.5 miles. I am filling up roughly once every week and a half and I am driving a mix of city and hwy. Most notably I love the interior, the seats are a dream, heated and contoured so no back pain on my long trip. The panoramic sunroof is gorgeous and seems to be a hit with all backseat passengers. Overall I love my 2009 Jetta Sportwagen, I would buy it again in a heartbeat, maybe get the diesel next time just to improve the gas milage.
Purchased a new car
Uses car for Work
Does recommend this car
---
Volkswagen Jetta defects
by Disgruntled Jetta Driver from Australia | March 6, 2013
I bought a demo model Jetta in mid 2009. Since then the car has experienced major defects. After 12 months the car experienced complete engine failure. A new engine was shipped from Germany and this took over 3 weeks to resolve. Since then car has had a new gear box and cluth pack fitted, 3 new tyres with only 15K on odometer, new ignition valve, new passenger occupancy pad sensor has been installed on 2 separate occasions, a new purge valve and charcoal canister solenoid valve have been installed and the latest issue is a problem with the mechatronics in the gear box and thus the car has been towed away again. These problems have caused serious inconvenience and so much time wasted being stranded road side, continously take the car for repair, continously trying to negotiate loan cars at the last minute, not to mention the depreciation of the car and concerns about its safety and roadworthiness. Volkswagen is supposed to pride itself on innovative technology and precision engineering but this car has certainly not lived up to this reputation!
Purchased a new car
Uses car for Work
Does not recommend this car
---
Jetta TDI
by Vito.A from Tucson AZ/Rosamond CA | February 23, 2013
Just purchased a used 2009 VW Jetta TDI. The 2009-2010 Jetta's have lots of extras that were deleted on the cheapened 2011 and newer models. We have driven it almost 2000 miles and it has been great. It gets just over 40mpg and has lots of performance. I would recommend the DSG automated transmission. It works just like any other automatic trans, but is really two 3 speed manual boxes with a clutch and is all computer controlled. It shifts the first four gears extremely fast from a dead stop. The low end torque of the TDI diesel is fun and adicting. Negatives: I'm having a tough time figuring out how to add a bluetooth phone interface systen to this car. It has the steering wheel phone buttons but is missing the interface box. Also, the paint does not have the sheen it should. It has severe "orange peel" on the hood. All in all, it's a very good economical car.
Purchased a new car
Uses car for Commuting
Does recommend this car
---
Turbo Diesel Delight
by Retired weather dude from Winchester, Virginia | December 17, 2012
After literally years of research and test drives I purchased a used 2009 Jetta TDI. I gat a very good deal as she had 98K miles--quite a lot for a 3-year old car but was told diesels last longer but some mechanic friends... What can I say--I am getting 40+ MPG while sitting in THE most comfortable vehicle I have ever driven. The 2.0L engine has tremendous tourque and coupled with the 6-speed manual transmission gives it a very racey feel even when driving to Costco for a 15 pound bag of French fries. I commute just over a hundred miles a day and love, love, love only needing to fill up every 600 miles--it means no need for mid week fill ups to supplement the weekend top off and saves me time! The sound system is amazing and the sunroof and other appointments are spot on. The fit and finish on the 2009 are stunning and it boasts a visually striking interior, unlike the 2011 I drove as a loaner when my car was being serviced which appeared to look cheaper somehow. The exterior is not as exciting as it could be but does present a nice clean image--this was the only element I marked <5. While it has only been about 6 weeks & 2K miles, I am cautiously optimistic that this is the beginning of a beautiful friendship!
Purchased a new car
Uses car for Commuting
Does recommend this car
---
Outstanding performance
by Vdubluver from Alabama | December 1, 2012
Purchased slightly used with 4k on it. Paid just under $20,000 Had severak issues with the rear running through tires but with that exception I have loved every minute of this car. Sporty,stylish,easy and fun to drive. After driving for 40 years I can honestky say that for the first time in my life, I love my car!
Purchased a new car
Uses car for Work
Does recommend this car
---
HAD BOTH THE MANUAL AND AUTO
by SDF from Copperas Cove | March 12, 2012
The 2009 VW Jetta TDI Manual is fun to drive, spacious in the front seats, adequate in the back seats for three children or two average sized adults with plenty of room on long trips. It offers excellent fuel economy and while the clutch travel may be a bit long, once engaged, is responsive, agile, and has a grin-inducing ability when passing other vehicles on the highway. I put 57K miles on my manual transmission TDI and have not one single complaint about it. The interior fit and finish is world class quality, feels MUCH more upscale than the pricetag suggests. VW is spot on on this model-year's styling on the outside too. It has a low, aggressive, European stance with extremely competent suspension and handling. It is FUN to drive. I recently traded my manual in for an automatic to appease my wife who has wanted to drive it but doesn't do manual, and did not want me to simply buy her one too (I absolutely would have at the drop of a hat). While I am not quite as impressed with the automatic transmission, it is responsive and adequate to the task of grin-inducing acceleration but can struggle for the right gear at lower speeds. But my wife loves it and since I am deployed, she has made it her daily driver; and my wife has never historically cared what she drives. I may have a hard time getting her out of it, which would be fine, I will just go get another one. I paid $22k for mine brand new with 0 miles, and when I traded it in with 57k miles, received 17k in trade. Pretty solid value and minimal depreciation. VW got this TDI model year right on.
Purchased a new car
Uses car for Transporting family
Does recommend this car
---
Good...for the money
by Sportwagen 2009 from Boise | March 2, 2012
This review is for the 2009 Jetta Sportwagen S with the 2.5L 5 cylinder gas engine. Picked it up new about 25 months ago - first new car I've ever had and I've had over 20 cars in the last 25 years. I'll start with the good. 1. Paid just under $20k brand new. Amazing value. 2. Pretty standard features - no leather, no nav, but it does have heated seats and alloy wheels. 3. I love the exterior styling - it's one of the nicest looking (non-luxury) wagons out there. 4. Amazing amount of room behind the rear seats! You can pack for a long road trip with room to spare. With the rear seats folded down. I can fit a large mountain bike in the back (with the front wheel removed.) 5. Great handling - there's a reason they call it a "sportwagen." 6. The braking is really good. 7. Better than average stereo. 8. Heated seats standard. 9. Good snow traction (with winter sport tires) for a light vehicle. Now, the average to not-so-good. 1. The engine is raspy and underpowered. You'd think that a 5 cylinder engine in a smallish car would have more get up and go, but it doesn't. You really have to mash it if you need to pass on the highway. And 2, even though it's underpowered, it doesn't get great mileage. My car sees about 50/50 hwy/city miles and it's very rare to get anything over 24.5 mpg (and I do NOT have a heavy foot.) 3. The transmission has some really funky shift points. I think this detracts from what power the engine actually has. I wish there were a "sport" setting on the transmission. That said, the ability to manually shift does overcome the transmission deficiencies in certain situations. 4. The PAINT IS AWFUL!!! I've never had a vehicle - and I've had lots - with such soft paint! I've got so many chips in the paint that you'd think I drove behind a gravel truck on a daily basis. 5. Road noise is very pronounced. My other vehicle is a Toyota Tacoma - it's far quieter on the highway than the Jetta. 6. The lumbar support of the driver seat isn't the best. And last... Let's face it - this is an economy car. The interior plastics are very hard with rough edges and some gaps. The driver's door has been out of adjustment since I bought it - wind noise - and the dealer denies it or can't fix it. The passenger front door was poorly aligned with the body. With less than 25K miles, it already has lots of rattles. But, that's what you get for the price you pay. All that said, it is still one of the best values in vehicles on the market, if not the top! I don't think any other manufacturer can get this kind of feature level and styling in a vehicle for less than $25k. I don't keep vehicles for very long - and would LOVE the Audi A4 Avant - but this one will have a spot in my garage for a while and maybe long enough that I'll hand it down to my 10 year old son in a few years. Great job VW!
Purchased a new car
Uses car for Just getting around
Does recommend this car
---
People Who Viewed this Car Also Viewed
Select up to three models to compare with the 2009 Volkswagen GLI.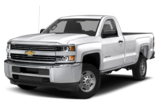 2017 Chevrolet Silverado 2500
Starting MSRP
$33,310–$57,910
Compare
2014 Chevrolet Impala
Asking Price Range
$14,612–$27,472
Compare
2013 Rolls-Royce Ghost
Asking Price Range
$142,663–$204,183
Compare
2010 Chevrolet Colorado
Asking Price Range
$7,113–$22,785
Compare
Featured Services for this Volkswagen GLI