Average Ratings
---
32 out of 33 people recommended this car.
---
Just bought it but have questions...
by Ohionana from Ft. Worth, TX | April 3, 2016
Was needing an AWD to move from TX to CO. (retirement). Looked at MazdaCX5 and couldn't stop looking for a Tiguan. Just loved the look. Found a 2011 with only 25,,000 miles...sunroof, heated seats (nice for CO right) and nav. All the bells and whistles. Beautiful car, so for that I can give it a five. After reading all the reviews makes me scared of the little things that might go wrong? My question is .. I was told I don't HAVE to use Premium gas,, but..I want to do whats best. Can I get some answers on what you use and what you think? I traded in an Altima Coupe I was getting 24 mpg. Just interested in the gas you all use. Thank you.
Purchased a new car
Uses car for Just getting around
Does recommend this car
---
Volkswagen quality, where are you?
by tiredoftiguan from Edmonton, Alberta Canada | May 1, 2015
My husband and I purchased a 2011 Tiguan and had traded our 2006 Jetta in. With the Jetta, we had normal maintenance and very few problems. That all changed when we purchased the 2011 Tiguan. Having the problems: fuses overheating, back-up camera issues, struts and our list goes on. From December 2014 to April 2015 our struts have literally died. The shop we took it to (a dealership) could not believe how horrible they were and how quickly they had deteriorated. Having their used car warranty, we were told that at least one of the struts would be covered, only to be told that they were not covered and for $1500 we could get this repaired. Yikes! Now, if this was the first major issue we had had in the year and half we have owned this car, that would be one thing. Yet, the amount of time I have spent at the shop is ridiculous. It took me over a year to have one problem resolved. The back up camera wasn't working consistently and of course there was nothing wrong with it. I was told to video it if it happened again. I did, however I still had to fight to get it fixed. Fixed, not really. Just a few days ago both the radio and the back-up camera died. I made a video and have no doubt that this will be another battle. The first took so long our regular warranty almost ran out. Now it's gone and we are on the VW used car warranty from them and it is the most comprehensive coverage available. Yet, we have just been told NO! to having our struts replaced. Be very, very careful when purchasing a used 2011 Tiguan. This has been a huge money pit and we have never had to put out this kind of money on any other vehicle we have owned. I am hopeful that no one else has had the problems we have and that Volkswagen will step up and do what is right. Both for the struts and the media center.
Purchased a new car
Uses car for Work
Does not recommend this car
---
2011 SEL
by DG from 60521 | June 12, 2014
I bought this car for my daughter with 11k on it. The bang for the buck is untouchable. I have found myself driving this myself a few times for errands. It drives like an AUDI and has everything anyone could want in a car. I wouldn't think twice about buying one again.
Purchased a new car
Uses car for Just getting around
Does recommend this car
---
Jay Glazer is the best!
by Stacy from Silver Spring | April 12, 2014
I recently moved to the DMV from NY and wasn't planning to purchase a vehicle for at least a year. After finding my dream car, it was too good to be true and I jumped in to make the purchase. My sales rep, Jay Glazer from Ourisman of Rockville, was the best. He jumped in head first when I saw the car pop up on the Ourisman website and ran out to take photos/provide details to me before it hit the lot. He bent over backwards the entire process, and he never once made me feel pressured to make the purchase. This is something rare in car salesman's, and something I appreciated wholeheartedly. If you are looking for a no hassle, help-friendly sales person... GO TO JAY!!! The car has been great. Drives incredibly smooth. Perfect for a quick jaunt or a long commute. Only issue I'm having is with a possible leak in the moonroof, which is being examined today per the warranty.
Purchased a new car
Uses car for Just getting around
Does recommend this car
---
German Engineering and Performance at Modest Cost
by Car Lover with First SUV from Evanston, IL | February 3, 2014
We have been looking for a small SUV for several months, and have test drove the 2014 Ford Escape, Mazda CX-5, Toyota RAV4, Honda CR-V and Nissan Rogue--all small SUVs in the mid to high 20s in cost. The VW Tiguan was an outlier because of its typical cost in the mid 30s. Used models, though, can be had in the mid-20s, so we test drove a 2011 Tiguan as well. For all test drives, our top priorities were: engine performance and handling, fit and finish, outward visibility and ease of entry/exit. The Tiguan and Mazda were tops for engine performance, handling and fit and finish. Although the used Tiguan did not have all the latest electronic wonders of the Mazda (back-up camera, blind-spot monitoring) we were particularly impressed by the Tiguan's sporty feel, interior style, comfort, and no-nonsense layout of controls. And the Tiguan's panoramic sunroof is SPECTACULAR. The main downsides of the Tiguan are fuel costs (mediocre gas mileage for its class, and the need for premium gas) and less expected reliability than Japanese vehicles, the latter issue we handled by buying a Certified vehicle. Yes we stop more often for gas, and yes we pay more for that gas, but I smile every time we step inside. Its a sporty handling joy to drive, and we love it.
Purchased a new car
Uses car for Work
Does recommend this car
---
Great vehicle
by relee from Pompano Beach, Fla. | April 27, 2013
Bought used for a good price and had about a month now...I put on a lot of miles and have enjoyed the quality of a VW. Best car I have ever owned. So far everything works and no problems. Use it for work and will be testing the longevity and reliability. Really like the motor, handling and looks. Everything you touch seems to be engineered a cut above what is needed. I would recommend based on what I have experienced....
Purchased a new car
Uses car for Work
Does recommend this car
---
Some electrical issues
by Tig driver from Lexington, KY | April 8, 2013
I bought a 2011 Tiguan S 4 motion as a certified used vehicle in Feb 2013. The first day I had the car I noticed that the bulb burned out indicator was lit. Since I had just bought it the day before I took it to the dealer. It turns out that the fuse panel had a slot that was melted due to a bad contact. Took 3 days to get the part and it was fixed; however, now I am getting an intermittent bulb out indicator when the temperature warms up and it is sunny out. The only other electrical complaint is that the blue tooth interface is slow and buggy. The cargo space is limited; however, the rear seats move forward to expand this. The automatic transmission shifting program takes some getting used to. The car is sometimes in too high of a gear when going 25-35 MPH. Giving the accelerator a gentle tap will cause it to downshift and alleviate the problem. Having said that, the car looks awesome, has a very solid build quality, and is a joy to drive. The turbo gives it great acceleration. It is extremely comfortable. I bought the car because of the good experience we had with my wife's 2007 Jetta. While still clearly superior to Japanese or American build quality and styling, VW quality and reliability has been going down slightly since 2007. Overall, I recommend the car. The styling and joy of driving it make up for the electrical issues.
Purchased a new car
Uses car for Just getting around
Does recommend this car
---
Love this car
by Tiguan Owner from Southern California | April 9, 2012
Love the way it handles and the quick pick up. Easy to park. The overall size of the SUV is perfect. Works for 1, 2 or 4 passengers. My only complaint is fresh air flow. I don't like having on AC unless I really need it. However, with the design of this vehicle when you have just the fan on it blows warm air in. Having one window down creates weird noise in car. Don't like having to have driving lights on all the time either. Bluetooth works wells but manuel difficult to follow even for my husband an engineer.
Purchased a new car
Uses car for Commuting
Does recommend this car
---
Love it!
by Me from Ithaca, NY | April 9, 2012
I've only been driving it for a couple of months now, but I love my Tiguan! It looks great, and it quite zippy. The only downside, these days anyway, is that it wants high-octane fuel.
Purchased a new car
Uses car for Commuting
Does recommend this car
---
Love my VW's
by VDUB GURL from Providence, Rhode Island | March 29, 2012
I've owned my Tiguan for 8 months now. It's a SE with navigation and panoramic roof. I traded in my 2008 Passat wagon for this vehicle. I have been driving VW's since I was 16 yrs old (wow, that's 40 years!) so I may be biased. I love all the features of my Tiguan...it's really easy for me to get in and out of as I am a amputee. Actually that was the main reason I went from my Passat to a SUV. It was a transition going from from my cushy Passat wagon to the Tiguan. Now, I have to say the only thing I miss is the trunk space. I took off the cover for the trunk in my Tiguan and it's much better. I love the 2.0 turbo...love that I can shift the automatic because I miss my manual shift. I use the auto hold when I'm in traffic..great feature. Even though I am an amputee I have no problems driving my Tiguan without special controls. Awesome vehicle!
Purchased a new car
Uses car for Transporting family
Does recommend this car
---
People Who Viewed this Car Also Viewed
Select up to three models to compare with the 2011 Volkswagen Tiguan.
2015 Volkswagen Jetta
Starting MSRP
$16,215–$29,280
Compare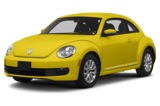 2012 Volkswagen Beetle
Asking Price Range
$8,813–$16,929
Compare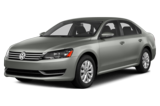 2015 Volkswagen Passat
Starting MSRP
$21,340–$35,995
Compare
Featured Services for this Volkswagen Tiguan