Average Ratings
---
11 out of 13 people recommended this car.
---
No confidence anymore
by not sure from Minneapolis, MN | July 11, 2016
This is my second VW. The car overall is a good ride. Performance is wonderful for a 2.0 turbo. Gas milage is fantastic. Cargo space is limited. Maintenance: Injectors replaced under warranty. Intake manifold replaced just out of warranty - broken motor or something. second intake replaced out of warranty - had a hole in it. Turbo replaced - seals failing. Injectors replaced out of warranty (stuck wide open - again). And now my heater core is leaking. I have 118K miles on the clock; have changed the oil at the service interval - with factory specified oils. Done all services. All my driving is highway driving.
Purchased a new car
Uses car for Commuting
Does not recommend this car
---
Surpising find with the VW Tiguan
by Car Guy from St Simons Island, GA | October 2, 2015
I found a great deal on a Tiguan when I was out shopping for a small SUV. The car handles like a sports car but gives me the room I need to do light hauling. I love the styling and the interior feels very luxurious. The leather is well crafted and the controls feel solid. I have only two issues but they were not enough to dissuade me form the vehicle. #1 I wish the steering wheel would adjust down further. I am a top wheel hand driver and it only stays high angled making it feel awkward driving the way I do. #2. The infotainment system takes a little long to start up thus making the back up camera not come on right away when I start the car and put it in reverse. All in all, I really like the cars styling, drivability and comfort. I would highly recommend this car for someone in the small SUV market.
Purchased a new car
Uses car for Commuting
Does recommend this car
---
Nice SUV for the money
by First time vw buyer from Aurora, CO | May 30, 2014
Having driven every 2014 compact SUV (other than the CRV and the Hyundai's), we found the 2014 Tiguan to be the most sporty feeling, but with an unacceptable price in the mid-30's. We decided to buy used, finding that loaded SEL 4motions were in the mid to low 20's, and with low miles. As the mechanical bits have remained essentially unchanged over the years, the 2012's drive identically. We bought a lightly used SEL 4motion with 20k miles on it, and in the last two months it's proven to be a fun and reliable vehicle, if a bit noisy on the freeway due to the 19" tires (if you want a quiet, soft ride, go with a smaller wheel/tire combo). The seats are exceptionally comfortable, and the stereo solid. It's a nice road car.- a complaint I've been unable to address is the wonky navigation system, which does not appear to be designed for Denver street names. We will address this with a vw dealer as we find it cannot find many familiar street addresses. Overall, the tiguan has proven to be reliable, sporty, and fun to drive- we have found it to be an excellent used value.
Purchased a new car
Uses car for Commuting
Does recommend this car
---
Best choice all around vehicle
by VW all the way from Denver, CO | September 20, 2013
This is a excellent car for the price. I've logged over 40k miles and having driven it twice from Denver to Chicago. Have had no issues other than a occasional low level rough idle from the engine. This car gets great gas mileage, looks good, has a ton of cargo space and is very responsive. Handles the mountain passes in Colorado with ease and has enough clearance for any forest service road you can find. I opted for the S model with the stick and front wheel drive. AWD would be better but it's only available with a automatic.
Purchased a new car
Uses car for Outdoor sports (hiking, cycling, etc.)
Does recommend this car
---
Best Small SUV for the Money
by ripsaw from Orlando, FL | December 21, 2012
I've often heard that Subaru owners are Subaru owners for life. Not in this case. As Subaru owners, we expected our next car to be a Subaru Forester. After test driving the Forester, my wife and I were both disappointed. The car was sluggish at best. Living in a busy city, we need to have enough confidence in the car that we know we can merge into freeway traffic. The Subaru simply didn't cut it. Our reaction was "under powered and over priced." We did our homework, test drove the competition, and settled on a Volkswagen Tiguan. It's roomy and comfortable, has a solid feel and ride, and it has plenty of zip. We're extremely happy with the Tiguan and have already recommended it to friends and family.
Purchased a new car
Uses car for Transporting family
Does recommend this car
---
WOW
by DanInRoanoke from Roanoke, Va | December 20, 2012
Great accelleration. Great styling. My wife is 4'10" - short - and the seats fit her. Doesn't get tired. Be careful, though. She want's to drive MY car. Everyone at work fell in love with it. Feel the road like a sports car. Mileage 23 in town, 27/28 on long hauls. I love the rear camera. Never thought I would. I put the back seats dodown and can carry almost anything - at least much more than the sedan (which I loved).
Purchased a new car
Uses car for Just getting around
Does recommend this car
---
Best small SUV for money and Value
by Chuck from Upstate New York | August 8, 2012
The 2012 VW Tiguan is the best value in its class. To have the solid German engineering for the same price as a Toyota Rav4 or Honda CRV.. the best bet is on the Tiguan. The engine provides all the power necesary to climb long hills and the automatic transmission allows for engine breaking on those long down hills, for saving the brakes. The comfort of the ride is beyond comparison with any other car in its class. I have owned other Japanese imports in the class, and they were quaility cars. But after driving and owning the VW Tiguin, there is no comparison of ride, comfort or value.
Purchased a new car
Uses car for Just getting around
Does recommend this car
---
Feels like a more expensive car
by Tiguanhead from Brooklyn, NY | January 23, 2012
I had read that the styling and details of this car were likable. When I saw it in person, I was expecting high quality but was surprised to find that it exceeded my expectations. It's fun to drive, I feel safe in it, and I get good mileage. I love it.
Purchased a new car
Uses car for Just getting around
Does recommend this car
---
Happy Camper!
by New2VW from Elmira, NY | January 23, 2012
My 2012 VW Tiguan SEL is my very first AWD vehicle and VW for that matter and they will certainly NOT be my last. I was in the market for a new '12 Audi Q5 (too harsh a ride), '12 Volvo XC60 (perfect, but hard to find - shortage), '12 Jeep Grand Cherokee Overland Summit (#1 choice, but my neighbor has one and I want to keep the peace in the neighborhood), a '12 Honda CR-V (gorgeous, but the introduction of this gem was delayed due to weather disasters in Japan and I needed a new car ASAP) and a '12 Dodge Durango (the roomiest of all and too big for me - a 7-8 seater - ideal for large families). The only downside to buying my new VW SUV/crossover is the price of a completely loaded SEL (top-of-the-line trim edition) model: Roughly $40,000.00 with a few accessories. Granted, I would have paid more for an Audi or Volvo, but the near 40 grand Tiguan seems steep for a VW. Well, I must admit, it is worth it, as I love this easy to drive wonder! The Tiguan is surprisingly roomy, nibble, elegant (nearly Audi-like inside), nice riding (like the Jeep GC and Dodge Durango), loaded with safety features (not as many key items as the Volvo, but impressive nevertheless), cute (like the extremely attractive '12 Honda CR-V EX-L) and spirited on both back roads and highways (like the JGC HEMI V8, Durango Pentastar V6 and turbo charged XC60 I test drove and fell madly in love with). The panoramic roof on the SEL is a wonderful feature for sun lovers and fans of plenty of fresh air. This feature found on far costlier SUVs and crossovers I considered is a "must have" item, especially when trying to justify the price of this smaller than many loaded vehicles we initially had opted for. There is nothing we do not like about the 2012 SEL. I hope resale value is good. There are other trim levels, but I am enjoying the bells and whistles of the top model Tiguan. Quality is 1st rate, no reliability issues thus far.
Purchased a new car
Uses car for Just getting around
Does recommend this car
---
Found a VW Tiguan on the way to a CR-V
by scorsone from New Orleans | December 23, 2011
I happened upon a VW Tiguan when about to purchase a Honda CR-V. I love Hondas and have purchased 6 models in the past - so no knock on Honda. But for not much more in price, the VW Tiguan is a class above in quality build inside and out. Very quiet and with the 2.0 liter turbo, it move out like a sports car. On the road I'm getting a real 25-26 MPG, and about 21-22 MPG in city. The only thing I don't like is that it requires premium gas but, for me, that amounts to about $10/month.
Purchased a new car
Uses car for Just getting around
Does recommend this car
---
People Who Viewed this Car Also Viewed
Select up to three models to compare with the 2012 Volkswagen Tiguan.
2014 Hyundai Santa Fe Sport
Asking Price Range
$14,919–$26,055
Compare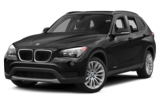 2014 BMW X1
Asking Price Range
$19,086–$32,538
Compare
2012 Volkswagen Passat
Asking Price Range
$7,941–$16,973
Compare
2013 BMW X3
Asking Price Range
$19,122–$35,226
Compare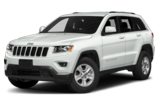 2014 Jeep Grand Cherokee
Asking Price Range
$18,649–$39,001
Compare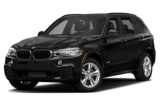 2014 BMW X5
Asking Price Range
$34,933–$58,645
Compare
2016 Subaru WRX
Starting MSRP
$26,595–$30,395
Compare
2016 Volkswagen Jetta
Starting MSRP
$17,680–$29,280
Compare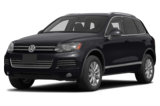 2013 Volkswagen Touareg
Asking Price Range
$20,351–$36,511
Compare
Featured Services for this Volkswagen Tiguan