Average Ratings
---
22 out of 23 people recommended this car.
---
Volvo - Safety isn't just a slogan
by 2nd time around Volvo rocks from So Ca | July 3, 2016
My first Volvo, a 1995 940 was a great car and we drove it 330,000 miles. But our S60 proved to us they are a safe well designed car, both mechanically and safety. I got rear ended yesterday, and the impact was pretty substantial. I got rear and side panel damage, but no body damage. The gal tried to avoid me (didn't bummer), went to the right, sheering off the stop sign post, all the landscaping and hit a small tree. She got her foot caught, and evidently could not stop in time. She wasn't injured, and we weren't either. My S60 protected us from the energy absorption, keep us injury free (seats did well), and the damage to the car blew my mind. I was expecting an accordion. Off to the body shop on Tuesday. I'm impressed. I love the performance, comfort, and bells and whittles, but I now get the safety thing. No wonder the symbol means Iron. My husband is replacing his Vette w/ a Volvo. We're sold.
Purchased a new car
Uses car for Commuting
Does recommend this car
---
Coolest Volvo ever
by Volvo lover from VA | June 25, 2014
I have owned 3 Volvos, drove my 2004 S60R for about 78K miles with no problems. Should have kept it, turned it in after 4 year lease. Terrific acceleration, I thought that the Nav was okay, has a remote, so wife can put in the address while I drive. Great stereo, comfortable front seat. The cowl is very low, so watch out for parking spaces and curbs. The turning circle is so wide that it is dangerous, can't do U-Turn. I now drive a Jag XF, very similar car, never had mechanical problems, motor seems to be built like a truck. Smooth at 100 mph
Purchased a new car
Uses car for Work
Does recommend this car
---
'06 Volvo S60R represents Euro Power
by Martin277 from Stow, OH | January 20, 2014
I own a 2006 Volvo S60R, titanium color Pegasus wheels in a perfect Magic Blue body color. The car has huge torque, I make it up huge gradients with only 2K RPM, as the torque given from the turbo is there already. You do need to take good care of her, spark plugs a little more often, syn oil often and running premium will keep the car tip top. The inside leaves nothing to disappoint, the seats are perfect and fit around you very well. One feature which almost NOBODY knows about the '04-'07 S60R, is that it was the only Volvo in history which you can change the suspension thickness. Comfort is a smooth ride like a Cadillac, Sport is a tougher more S60R ride, and Advanced mode makes you feel every crack on the road, but you get perfect cornering and faster acceleration with the drive-by-wire gas pedal. If you ever find a '04-'07 S60R, buy it, you wont regret it.
Purchased a new car
Uses car for Having fun
Does recommend this car
---
T5: Near-Luxury & Quasi-European performance
by Tag from Kentucky | August 11, 2013
My thoughts on my 260HP '06 T5 w/ a 2.4 liter & larger turbo: PERFORMANCE - The T5 has good, but unrefined power. The turbo boost is harsh & if the turbo engages when the transmission downshifts the torque-steer jerks the steering wheel & the car lurches left. The stability control isn't as refined as Euro cars-- it uses the brakes to re-balance the car, which is noisy and un-nerving. (I drive hard on mountain roads so I experience this more often than I should!) The traction control is unimpressive in super-slick conditions; when the tires get no traction at all, the computer simply turns off all the power to the wheels. COMFORT- The cruise control is poorly placed, and I frequently hit it unintentionally. Very comfortable except for the inexcusable back seat, which is only good for kids. Good radio. Good visibility. Previous reviews about dismal turning radius are true. I've turned tighter circles in pickup trucks. RELIABILITY - I've had problems with seat belt retractors, remote lock, plastic door handles breaking twice and the turbo intake hose rupturing, but otherwise its been reliable. Don't loose your key-- Volvo charges $400 to replace it.
Purchased a new car
Uses car for Commuting
Does recommend this car
---
love my 16th volvo
by kat from | March 19, 2012
Great car - my only concern is the non-volvo like turning radius - could be better it is in my S40 as well as no heated seats in this agre group. I compromised and I love,love, love it - found on cars.com
Purchased a new car
Uses car for Commuting
Does recommend this car
---
Stings like a Beemer floats like a Caddy
by Khan from Chicago, IL | June 21, 2011
Purchased this car brand new in 06 and it has been a beaut. This car flies down the road and is an amazing ride. i have raced many cars off the line and this car is quick. And on the highway this car feels like its going 30 not 80. if anything i wish the steering was tighter and the visibility was better and the navigation is a bit outdated. great car. Volvo S60 T5
Purchased a new car
Uses car for Commuting
Does recommend this car
---
Thoroughly researched purchase
by Demanded a reliable and sexy car from Phoenix, AZ | May 1, 2011
I absolutely love my car. Many people complained about the turn radius and while it's slightly tight, it does not phase me a bit. The car is fast, safe, spongy, and all around a terrific car to drive. I had previously made poor auto choices so I was set on loving my car. I accomplished it! I love my car.
Purchased a new car
Uses car for Just getting around
Does recommend this car
---
Best Money for AWD
by MN Suburban Dad from Minneapolis, MN | April 25, 2011
I have never owned a Volvo before. I have a 2006 S60 2.5 Turbo. I was looking at Audi but got scared off by the mechanical reviews. The key for me was AWD- I live in MN and the winters can be tough- but it also had to get good MPG. The Volvo has very stylish features and little add ons that make it... ahhh. The little pocket under the drivers seat for gum, nail clippers, etc. It comes standard with back up alarms, auto windows, heated seats, heated side mirrors, rear seat head rest control. The 5cyl is a little doggie between 0-25MPH. I wish it had more torque like a 6cyl but to get the 25-27MPG with AWD the 6cyl might put you into the low 20's. I drive 70miles a day and this is a great highway car. Good passing power, quiet, comfortable. Quality- I will say I had a minor bumper to bumper and there was no damage. I hit the guy ahead of me and there should have been some more damage- nothing. I think Volvo put some meat in the bumpers. Had I hit him my my previous car, Honda Accord, there would have been a cracked bumper. This car is heavy (which probably affects the torque at low speeds, too) but I feel very safe in it. Over all this is a great car and I plan to have it for a while. My only complaints are the less than torque at city speeds and a small rear seat. Otherwise, great car. If I do upgrade I may go to a S80.
Purchased a new car
Uses car for Commuting
Does recommend this car
---
Good friends, for a long time...
by G2 from Maine | October 21, 2010
I purchased a `06 S60 AWD almost 4 years ago. It had 20k when I bought it; it now has 110k. I have enjoyed 90k trouble free, comfortable miles. The car drives as well now as when I initially bought it. The seats are wonderful - they envelope you. I would like a power lumbar support instead of the difficult to reach knob, though. Whenever I have new passengers with me, they typically comment on the comfort and the beautiful, artful layout of the dashboard. The AWD works seamlessly and makes the car VERY surefooted. As I live in Maine, I like that. The steering has a heavy, substantial feel, which I like as well. And the power...LOVE IT! When you need to pull out into traffic or pass someone, this things hauls! And it gets 28MPG - pretty good for a heavy, powerful car. If I had to say anything negative, it would be that this car is not as agile as a BMW, Audi, or even a Passat. It is a great highway car, though. My S60 has been remarkably reliable and dependable. I expect to keep this gem for another 2 or 3 years. When I do replace it, my guess is it will be because I want a new car, not because I need one.
Purchased a new car
Uses car for Work
Does recommend this car
---
Great value for Money
by Faruk from Perth | August 23, 2010
I bought it used on 69,000 KM. Exterior great sporty look. Interior is very comfortable - I needed a bit more leg room for the rear seats though. I can compare with BM's 3 series - Volvo S60 is much better choice over BM's 3 series. S60 interior is more luxurious, not cheap plastic dash board! Steering wheel is a bit heavy feeling which I like. Excellent brake. BM's 3 series may accelerate a bit quickly.
Purchased a new car
Uses car for Just getting around
Does recommend this car
---
People Who Viewed this Car Also Viewed
Select up to three models to compare with the 2006 Volvo S60.
2015 Volvo XC70
Starting MSRP
$35,400–$45,650
Compare
2008 Volvo S80
Asking Price Range
$5,085–$14,197
Compare
2016 Volvo XC60
Starting MSRP
$36,600–$51,300
Compare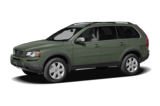 2009 Volvo XC90
Asking Price Range
$8,073–$20,257
Compare
Featured Services for this Volvo S60