13 Infant Car Seats Earn Best Rating in Consumer Reports Crash Tests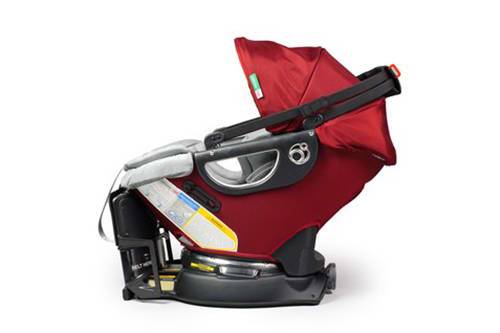 CARS.COM — Of 34 infant car seats crash-tested by an independent lab hired by Consumer Reports, only 13 of those rear-facing car seats earned the highest score of best. Sixteen car seats earned the midlevel better rating and five received the lowest rating of basic. The infant car seats tested had a fixed base and a removable baby carrier.
19 New Booster Seats Earn IIHS' Best Bets Title
Car seat safety is a huge concern for parents, and, while some parents may believe that paying extra for an expensive car seat will keep their child safer in a crash, Consumer Reports' crash-test results show that added cost doesn't equal increased safety. The car seats tested range from $55 to $440. The $55 seat — the Evenflo Discovery 5 — earned the better rating, but the Orbit Baby Infant Car Seat G2 (photo above), which rings up at $440, received the basic score.
The Orbit Baby infant seat wasn't alone in its ranking. Four other car seats earned the basic score:
Both the Evenflo and Snugli car seats detached from their bases in the crash tests, The New York Times reported. The Graco SnugRide Classic Connect experiences cracking in its base, and the Orbit Baby and Maxi-Cosi car seats rated basic because head-injury risk was higher than with the other infant car seats tested.
"Basic does not imply unsafe," Jennifer Stockburger, director of operations at Consumer Reports' auto test center in Connecticut, told The New York Times. "We aren't going to say, 'Don't buy this child seat.' "
All car seats sold in the U.S. must meet Federal Motor Vehicle Safety Standards, and car-seat manufacturers certify their own compliance.
For the infant car seat crash tests, Consumer Reports updated its test parameters, increasing the simulated vehicle speed to 35 mph from 30 mph and installing the rear-facing infant seat on a bench back seat that uses cushioning and hardware found in a vehicle — in this case a 2010-11 Ford Flex's second row. It also added a simulated front seatback to the test.
Consumer Reports says its crash test and rankings account for an "extra margin of protection" that these car seats provide beyond the federal standards.
The 13 infant seats that earned the top score of best are:
Britax B-Safe
Chicco KeyFit
Chicco KeyFit 30
Cybex Aton 2
Cosco Comfy Carry
Evenflo Secure Ride 35
Graco SnugRide 30 (Classic Connect)
Maxi-Cosi Mico
Safety 1st Comfy Carry Elite
Safety 1st Comfy Carry Elite Plus
Safety 1st onBoard35 Air
The First Years Contigo
The First Years Via I470
Click here for Consumer Reports' full test results (subscription required).