Lexus, Mercury and Buick Top Latest J.D. Power Rankings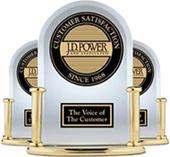 While we don't advocate using J.D. Power's dependability rankings as the sole source for car research, they do offer an interesting snapshot into consumer perception. The company surveyed almost 50,000 people who bought new 2003 models and quizzed them on their ownership experiences over the past three years. It doesn't survey service records or any other concrete evidence, so we're taking the subjects' word for it on whether the car is dependable.
The top five nameplates in the rankings were Lexus, Mercury, Buick, Cadillac and Toyota. Mini and Kia were the most-improved brands on the list. Click below for the full list of winners and losers.
2006 Nameplate Problems per 100 Vehicles
Lexus 136
Mercury 151
Buick 153
Cadillac 163
Toyota 179
Acura 184
Honda 194
Jaguar 210
BMW 212
Infiniti 215
Lincoln 220
Ford 224
Oldsmobile 224
Industry Average 227
Chrysler 232
Pontiac 232
Subaru 232
GMC 239
Mercedes-Benz 240
Chevrolet 241
Nissan 242
Mazda 243
Porsche 248
Hyundai 253
Dodge 258
Mitsubishi 260
Jeep 264
Volvo 272
Audi 279
MINI 280
Isuzu 283
Saturn 289
Volkswagen 299
HUMMER 307
Kia 310
Suzuki 318
Saab 326
Land Rover 438