Jeep Commander Dead After '09?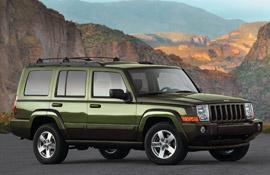 J.D. Power analysts and sources at the United Auto Workers union both say that the much maligned Jeep Commander large SUV will stop production after the 2009 model year. Introduced as a 2006 model, the Commander was to fill a perceived gap in the Jeep line-up of a large-SUV with its three rows of seating, unlike the two-rowed Grand Cherokee.
In 2006, Jeep sold just 88,497 Commanders, and many of those were heavily discounted. Cars.com currently lists $2,500 customer cash back and 1.9% financing for the 2007 Jeep Commander, but last summer's employee pricing saw much larger discounts on 2006s.
We're not surprised that the Commander followed the trend of most other large SUVs in 2006 when gas prices were high; the Commander's love-it-or-hate-it styling, and the competition from within the Jeep family, probably didn't help either. Even if the Commander is phased out after the 2009 model year, that doesn't mean Jeep won't design a replacement that could look radically different while using the Commander's existing platform. Until then, expect rebates to remain.
[Big Jeep SUV's Ride May End, The Detroit News]